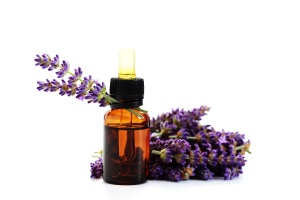 Soothing Sunburns:
It's that time of year again. The sun is out there baking our brains and our bodies. Did you know that one of the fastest and safest ways to cure minor burns including sunburns is with lavender essential oil? (Not to be confused with some types of lavender scented chemicals but the actual pure essential oils.) The lavender oil immediately stops the pain and has antiseptic properties. It's always a good idea to consult a doctor if you have a severe burn.
The wonderful lavender plant holds many healing properties. You can apply it directly to the sunburn or mix it in with lotion to help heal and sooth your skin. My favorite way is to add 6 or so drops of lavender oil to a cool bath. In addition to mixing it with your favorite lotion, you can mix it with mineral oil. Mixing it helps distribute the oil more evenly.
Minor Skin Infections:
It can also help heal minor infections (such as pimples) or small wounds. It can be placed near the wound or right on it. It's a good idea to test for allergies first.
Help You Sleep
It can be used in eye pillows or also on a cotton ball near the bed when you, your children, or pets are having sleep issues. Just remember its very potent so using less is always better!
Soothe a Stressed Out Pet:
Lavender essential oil can be used to help relax a stressed pet, especially dogs or cats that don't travel well or are stressed by storms or fireworks. For the car just add a couple drops to a cotton ball and place it in or near a car air vent or near a fan and it will distribute the lavender scent around the car or home for many hours. (I found this to be the most effective).
You can place lavender essential oil near the carrier as well. Lavender essential oil is very strong so a drop or two will do. You don't want to distress them further with making their nose run or making them sneeze so don't place it inside the carrier or on the animal directly. Their sense of smell is much stronger than ours.
You can place a drop on their collar or leash as well. Just make sure it's not directly under their nose, towards their back is better. It can also help with dogs that have socialization issues and get stressed when out for walks. It will bring them down "a few notches" but it's not to be used instead of proper socializing and training. It won't guarantee your dog won't run off or fight with other dogs. It just helps soothe them. It usually works within five minutes or less.