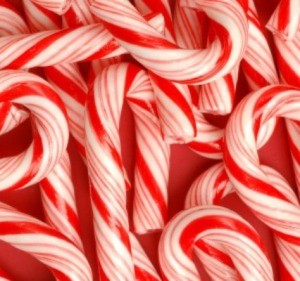 If you're wondering what to do with all those extra candy canes, here are a few ideas you might want to try.
Spice up last year's Christmas wreath by attaching a few candy canes to it.
Use one to stir your cup of tea and get a flavor bonus.
Give your ordinary coffee a holiday flair by crushing a few and adding some of the crushed cane to the brew basket of your coffee maker when making coffee.
Crush and sprinkle onto iced cakes, cupcakes, and cookies.
Glue two candy canes, side-by-side and upside-down, to a strudy cardboard or wooden backing and use the hooks to hold your Christmas cards.
Decorate a plain gift bag by gluing a few candy canes to the front and back.
Decorate a two layer cake by placing small candy canes into the icing around the outside of the cake.
Add large bows made from wide ribbon to a few and use them to decorate your tree.
Tie several jingle bells to a large candy cane and hang in on the inside knob of your door to enjoy the sound of holiday cheer each time someone opens the door.
Glue two candy canes together in a heart shape on the top of a gift box. Just place the hook ends touching each other and the bottoms touching each other and you have a heartfelt holiday wish for someone.
By Marie from West Dundee, IL
Read More

Comments
Tips for using candy canes that are leftover from Christmas. Post your ideas.

Answers

January 15, 2005
0

found this helpful
I always have a lot leftover after the holidays so I came up with a few ideas.
- Dissolve in mugs of coffee or hot chocolate for a tasty drink.
- Crush & use as a topping for cakes, cupcakes, cookies, ice cream, etc
By Kim
By (Guest Post)
January 16, 2005
0

found this helpful
I buy candy canes in after Christmas sales just so I'll have them to make things like peppermint brownies (crush and stir into the batter). I've seen lots of different flavors of candy canes, so the possibilities are endless.
Camilla

January 16, 2005
0

found this helpful
Use the broken candy canes for making Christmas chocolates... add crushed candy canes to melted white chocolate and pour into candy molds. Let set and pop out of the molds. Enjoy!
Very pretty and tasty. If you have too many for next fall's chocolates remember that candy canes do not go "bad". Keep them for the next fall after that.

January 17, 2005
0

found this helpful
Use for Valentine's Day heart shaped candy. Unwrap two candy canes, place on a baking sheet in the shape of a heart (hook to hook and tail to tail). Bake at 350 for a couple minutes til they stick to each other. Cool and remove with a spatula. They look great placed on top of frosted cupcakes!
By melissa <>< (Guest Post)
January 17, 2005
0

found this helpful
Use almond bark or chocolate bark sold in baking good aisle near chocolate chips. Melt in microwave, add 3-4 Tablespoons (to taste) of peppermint extract. Stir well. Pour onto sheet of tin foil on a cookie sheet (I use the "release" kind of foil) & then sprinkle with crushed candy canes.
Pop into fridge for 15 min & remove break up & store in ziplocks. Cheap, Easy, Yummy! Great gift!
December 27, 2015
0

found this helpful
I grind hard candies ( red hots, hard fruit flavored, mints, etc.) in my coffee grinder and use the sugar to top cookies and such. I also melt jello into marshmallows and make different flavored marshmallow rice krispy bars. I even mold the different colored into egg shapes for Easter time.
Answer

this Question