10 Ways to Use Extra Candy Canes
If you're wondering what to do with all those extra candy canes, here are a few ideas you might want to try.
Spice up last year's Christmas wreath by attaching a few candy canes to it.
Use one to stir your cup of tea and get a flavor bonus.
Give your ordinary coffee a holiday flair by crushing a few and adding some of the crushed cane to the brew basket of your coffee maker when making coffee.
Crush and sprinkle onto iced cakes, cupcakes, and cookies.
Glue two candy canes, side-by-side and upside-down, to a strudy cardboard or wooden backing and use the hooks to hold your Christmas cards.
Decorate a plain gift bag by gluing a few candy canes to the front and back.
Decorate a two layer cake by placing small candy canes into the icing around the outside of the cake.
Add large bows made from wide ribbon to a few and use them to decorate your tree.
Tie several jingle bells to a large candy cane and hang in on the inside knob of your door to enjoy the sound of holiday cheer each time someone opens the door.
Glue two candy canes together in a heart shape on the top of a gift box. Just place the hook ends touching each other and the bottoms touching each other and you have a heartfelt holiday wish for someone.
By Marie from West Dundee, IL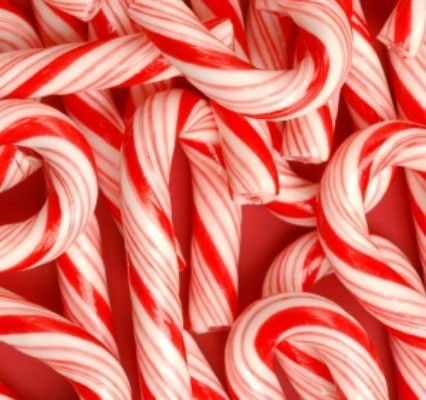 Add your voice! Click below to comment. ThriftyFun is powered by your wisdom!
December 16, 2009
0

found this helpful
Great Ideas, Marie! I guess I'll be buying some more candy canes this year. Thanks :)
December 17, 2009
0

found this helpful
Thanks for the ideas.
December 17, 2009
0

found this helpful
One more variation. Melt chocolate to form the bottom of a cupcake baking insert, put vanilla ice cream in the cupcake area and then sprinkle on top.
December 24, 2017
0

found this helpful
We used candy canes as straws. Break off the crook end and suck through.
after a little bit it would hollow out. We also liked to stick them in a fresh orange for straws. They would hollow out faster in an orange.
December 19, 2009
0

found this helpful
Google : "candy cane syrup" I saw it the other day in one of my daily crafty emails. It looked really easy & sounded super tasty!
December 26, 2009
0

found this helpful
We use them to stir hot chocolate and for peppermint bark (some type of chocolate and broken peppermint pieces). For the peppermint bark, break candy canes in small pieces and melt chocolate chips (milk, semi-sweet, dark or white) in a double boiler or metal bowl over boiling water.
Mix in candy cane pieces and pour onto wax paper or into a baking dish. I do this with other candy cane flavors also.
February 27, 2010
0

found this helpful
Going through a box. I found three boxes of mini candy canes (individually wrapped) that I had bought after Xmas sale. Uhh... in 2008! I googled the shelf life and according to them they never go bad! So I had my hubby brew me some fresh, hot coffee and I put two but three (I like it sweet) is even better for an peppermint java drink. Not bad, smile.
Add your voice! Click below to comment. ThriftyFun is powered by your wisdom!