Uses for Pool Noodles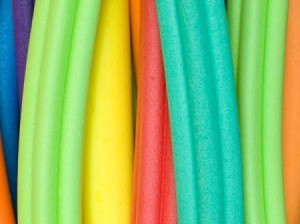 Foam pool noodles can be put to other uses around the house. This is a guide about
uses for pool noodles.
Solutions
Share on ThriftyFunThis guide contains the following solutions. Have something to add? Please share your solution!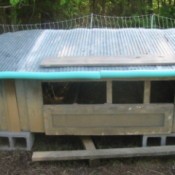 Someone gave my husband and me their old chicken coop that needed repair. We fixed it up best we could, but the only real problem was that the edges of the tin roof would scratch my head when I was cleaning the coop, gathering eggs, and so on.
I was in the Dollar General one day and noticed they had their pool noodles (those long foam things people can float with in pools) on sale, so I bought a couple and brought them home. I took some sharp scissors and put a split in each one. I took them outside and put them around the edges of the tin chicken coop roof, and, presto, no more scratched head.
I also think this will work for parents with toddlers who are just learning to walk or or already getting around good. They can put them on tables and such with sharp edges so baby won't get hurt if they bump into them. They can be cut to fit, covered up with a table cover, or just taken off for when company comes.
By Jennifer J. S. from Mercer, TN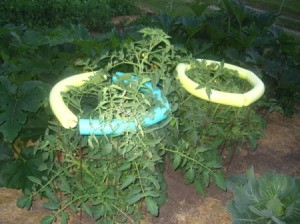 When I plant tomatoes, I put the wire rings around them. They invariably grow over the top of the metal rings and since they get heavy and there is no cushion, it cuts the stem almost in half. I solved this problem by buying the noodles at the dollar store, slitting them in half but only the first layer. Then I cut them to fit the metal ring.
By Elaine from Belle Plaine, IA
We did this along with water fun outside. We made light sabers out of pool noodles and PVC pipes. Of course we chose red, green, and blue (pink for a few girls that came). I cut the noodle into 3 pieces or 2 and then took a long PVC pipe that I bought at Lowe's and cut it into 9 pieces. Stuck the pipe into the noodle and there you have it.

By Tami from Indian Trail, NC
A friend of ours made "bumpers" for a rowboat he had newly painted by cutting up a foam swimming noodle and stringing a pair on some nylon rope. You could make small ones for your boat - or throw a double-edged pair over your car if you have to park closely in a carport. (I am thinking about THAT.)
The foam noodles yields at least 4 potential bumpers!
By Pamphyila from Los Angeles, CA
Related Content