Uses for Juice from Canned Fruit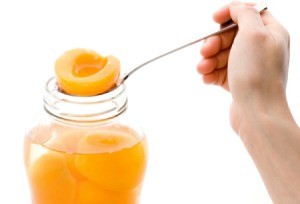 Instead of discarding the juice from canned fruit, it can be used in creative ways. This guide is about
uses for juice from canned fruit
.
Solutions
Share on ThriftyFunThis guide contains the following solutions. Have something to add? Please share your solution!
Juice can get pricey. Our juice was running low, and instead of buying more, I simply added 2 free ingredients and our juice bottle was suddenly full again! One of these is all that yummy but syrupy sweet juice left in the bottom of a can of peaches. It's a shame to just throw it away, now you don't have to. This was tested and approved by 3 kids so far, so I was happy, and it saved me a trip to the store!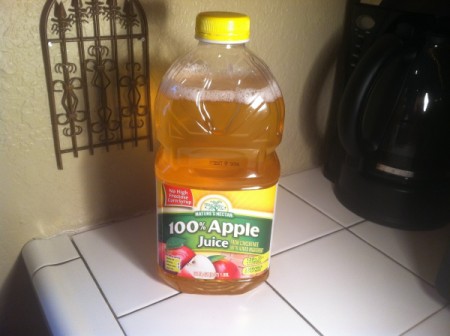 Start with a large bottle of apple juice, about 1/2 empty. Add about 3 cans of leftover peach juice (a funnel works great!), and as much cold water needed to fill your bottle to the top again. Replace cap, shake vigorously, enjoy!
Use it when making yeast breads; including cinnamon rolls and or quick breads. It adds another layer of delicious flavor and nutrition. You may want to reduce the amount of sugar by a Tbsp. or so to keep from having your breads or rolls too sweet. I especially like to use peach syrup (heavy syrup) in cinnamon rolls. Yummy.
It is also one of the best additions when making Jello, instead of cold water.
Canned fruit liquid or syrup is a delicious addition to making salad dressings. I add a bit of vinegar and a dash of black pepper. Use over any sort of green leafy lettuce.
Thicken it with a spoonful of corn starch, cook until mixture thickens, cool and spoon over ice-cream or pudding, fresh fruit salad or pound cake.
Source: My dislike of having to waste anything good.
By Julia from Boca Raton, FL
I always have a pitcher of orange juice made, so whenever I open any can of fruit I always add the juices left at the bottom to the orange juice so as to not waste a drop!
By AlaskanAurora from Dutch Harbor, AK
During the summer months I save the juice from our canned fruit. I do one of 4 things with the juice.
Freeze in ice cube trays to add to tea. Frozen peach cubes or orange cubes are great in ice tea.
Add to Koolaid when making it.
Make Popsicles with it.
Add the juice instead of cold water when making Jello Jigglers. Gives it an extra punch of flavor.
Source: Myself, I am too cheap to throw anything away.
By mom-from-missouri from NW Missouri
January 6, 2005
2

found this helpful
Whenever we eat canned fruit or frozen fruit, I save the juice and put it in ice cube trays. Once frozen, I put them in the baggies and put them in the freezer. We then use them for milkshakes by taking a few ice cubes and milk or plain yogurt and mixing them in the blender. My kids love them and it is sweeter than any store bought yogurt.
By Tina
These are made from juice you've already paid for, and fairly healthy popsicles. I freeze the juice from canned fruit in popsicle molds. I also use the liquid that forms in a bowl of cut watermelon. My kids love them and they keep me from wasting the extra juices.
By Tina11 from Ottawa, IL
If you enjoy canned fruit, buy it in heavy syrup. Save on sugar and use the syrup instead to sweeten and flavor your iced tea.
Read More...
Questions
Ask a QuestionHere are the questions asked by community members. Read on to see the answers provided by the ThriftyFun community or ask a new question.
I have made several peach cobblers using canned peaches. When I drained the peaches I hated throwing the juice from the can down the drain. It seems like a waste of money, so I freeze it. I now have several frozen bags of sweetened peach juice. What recipes can you share that I can use them in? Thanks!
By Nena5 from Hopewell, VA
September 5, 2011
0

found this helpful
Best Answer
You might be able to use it to make 'jelly', just omit the sugar, and use the pectin products. I do know that if you bake, you can use the juice in place of the water or milk called for in the recipe. I did that just last night with some pineapple juice. Hated to throw it away, so I used it in place of the water, and just topped it off with milk, to make the volume of liquid required for the recipe. It didn't make a strong taste, but just made it a bit different.
September 8, 2011
0

found this helpful
Best Answer
Use it in your cobblers. I thicken the juice with cornstarch and sugar and add nutmeg to my peach cobbler along with some pats of butter.
September 10, 2011
0

found this helpful
Best Answer
This is not really juice. It is very thick high fructose corn syrup and you really should just pour it down the drain. The liquid in "lite" peaches is pear juice with a small amount of high fructose corn syrup.
January 14, 2014
0

found this helpful
I have looked high and low, and can't find (or discover through trial and error) a method of cooking and thickening, the canned fruit juice to then use in a cobbler. If you do nothing, it's just too runny. I want that thick almost jam-like juice around the fruit like my grandmother used to make, but she's gone and I can't ask her.
By Vickie
Answers
January 15, 2014
0

found this helpful
Best Answer
Drain the fruit, and put juice in a saucepan.
In a small bowl, combine 2-3 teaspoons of corn starch with enough of the fruit juice to make a soft paste.
Add the spices in your recipe to the juice.
Stir paste into juice, heating until bubbly. Should thicken up in a few minutes.
Pour over fruit in pan, add top crust and bake as usual.
This works for me. Hope it helps you.
January 15, 2014
0

found this helpful
Best Answer
Have you tried cooking it with arrowroot? (generally cheaper at a health food store than a grocery store). Arrowroot makes a clear "sauce" and thickens like cornstarch or flour.
Archives
ThriftyFun is one of the longest running frugal living communities on the Internet. These are archives of older discussions.
May 20, 2009
0

found this helpful
I used to drain off the juice from canned fruit and let it run down the sink. Was I crazy? Yes! And we eat lots of canned fruit as we eat some form of fruit, canned or frozen, with yogurt every morning, and I wince when I think of how much money I've wasted. So I wanted to post some uses I have found for this "free" product. I collect the drained juice in recycled plastic jars and keep it in the freezer until needed, mixing all flavors.

Popsicles are the most obvious use. I also blend in yogurt or whey off the yogurt and sweeten to taste with honey or sugar. You can also mix in a pack of Koolaid or knockoff drink mix to punch up the flavor. Or scavage some older or blemished fruit and blend in.

Pour the juice in ice trays and freeze to use in smoothie type drinks, or to make a facsimile of ice cream. I use whatever fruit I have on hand and blend with the frozen juice and powdered milk, some NutraSweet and a bit of water if needed for the blender to work, and either leave it thick for "ice cream" or thin it for smoothies. When the cubes freeze keep them in a bag in the freezer.

Use some of the juice for the liquid in homemade bread.

Rice is delicious when you replace some of the cooking liquid with leftover fruit juice and add curry powder, onion, celery, and sliced almonds.

Use unflavored gelatin and 2 cups of leftover juice to make desserts and snacks. Or use flavored gelatin and 1 cup of water and 1 cup juice.

One of the best uses for the juice from canned fruit is to make a topping for pancakes and waffles. I cup juice to 1 tablespoon of corn starch and cook til thick in the microwave. We love pancakes at our house and this is a favorite.

I mix juice, soy sauce, honey, vinegar, onion, and use as a marinade and basting sauce for chicken.

One thing I am going to try next is making a cake glaze using this juice and powdered sugar.

I am interested in other's ideas. For something I used to toss out it sure is useful.

Susan in Omaha
Answers:
Using Juice in Canned Fruit
Well, duh, I forgot to add the use that originally sparked the reason for this post. I use the juice as part of the liquid when I make granola. Susan in Omaha (02/26/2005)

Using Juice in Canned Fruit
When using a white or yellow cake mix, substitute juice for the liquid called for. Good! (02/27/2005)
Using Juice in Canned Fruit
I use juice from canned fruit to baste chicken and ham while baking. Gives a nice flavor and caramelized texture.(03/10/2005)

By Steamer
Using Juice in Canned Fruit
Instead of milk on cereal, use fruit juice. peach, and apricot juice are very good. (10/21/2005)

By Jon
October 5, 2010
0

found this helpful
To extend your juice supply, use the liquid from canned fruit. Drain the liquid into the juice pitcher and stir. You can add the liquid at any time and I've never seen it turn out with a bad taste. I love peach!

Source: My mom

By Beth from Tuscaloosa, AL
Answers:
Add The Juice From Canned Fruit To Your Juice Pitcher
Too much sugar in most canned fruits. Check label to determine whether the liquid is juice or syrup. (01/22/2008)

By R. Smith
Add The Juice From Canned Fruit To Your Juice Pitcher
I'm with R. Smith. Pediatricians and nutritionists tell us our kids get way too much sugar already. Most want us to cut down on even plain fruit juice because it's too sugary (even natural sugars make kids fat.)

Since the best thing for kids to drink is water, try cutting the juice with water, lots of it. Get them used to drinking plain water or water with a little splash of fruit flavor.

Canned fruit isn't a very good food for kids (or adults) anyway. You're taking healthful fruit and adding a lot of sugar. (01/22/2008)

By Elaress
Add The Juice From Canned Fruit To Your Juice Pitcher
This is a good idea. My husband has AD and is not eating well and is dehydrated. The doctor said to get as many calories into his system as possible. He won't drink water so am having to give him good fruit juices and coaxing him to drink as much as possible. This will be helpful to me. (01/22/2008)

By Billie
Add The Juice From Canned Fruit To Your Juice Pitcher
You can get canned fruit that has no sugar added. It is canned with pear juice, Walmart has it and it is priced reasonably. (01/22/2008)

By suzin
February 22, 2010
0

found this helpful
Does anyone have recipes that use fruit juices from canned fruits in them? Tips and recipe ideas from the ThriftyFun community.
Sauce For Dessert
You could freeze them for use later in a fruit punch or just drink it. Or instead of "throwing away the juice", why don't you do what we do quite often. Drain the juice, heat in a microwave and then thicken with cornstarch, cool and add your drained fruit back into it. This makes a nice easy fruit dessert.

Make Jelly
I have been saving the peaches with real fruit juice to make jelly. I have it in my freezer.

Add To Soda
You can add ginger ale or 7-Up to make a great tasting drink, kind of a punch. Years ago we had a lady in our church that made the punch for Vacation Bible School and they were all made with fruit juice, delicious!

By Luvyabye
Ice Cube Trays
I use it as a substitute for the cold water when making gelatin. Or freeze it in ice cube trays, and add to fruit punch to keep it chilled.

By Zballoongirl
Use In Marinade
Fruit juices make a great addition for a marinade for meats. Pineapple in particular is great for tenderizing less than tender cuts of meat. Gives a great flavor too.

By Cjgeo
Use With Cereal
Use canned fruit juice on cold cereal instead of milk. Peach and apricot are good.

By John
Replace Water With Juice In Recipes
You can use the juice from canned fruit when you make jello. Use the juice in the amount that you normally would use for cold water. If there isn't enough, just add water to it to give you the required amount. You may not taste any difference but at least you know that you added nutrition to the jello and didn't waste it.

Also I use pineapple juice when I make baked pears instead of the water it calls for. Very tasty.

By Joesgirl
Use In Baking and Cooking
I often use canned fruit juices instead of water when making a cake mix. You could also use the fruit juice when cooking rice. Or you could add it instead of water when reconstituting frozen orange juice, lemonade, or other from-concentrate juice drinks.

By Ness
http://groups.yahoo.com/group/WasteNothing/
Fruit Liquids
Canned fruit liquids can be used instead of pouring them down the drain. Heat and thicken with cornstarch. Serve over a plain cake.

By Chell
Smoothies Or Koolaide
Use the juice from canned fruit in your homemade fruit smoothies. Or substitute for some or all of the water when you make Kool-aid.

By Becki in Indiana
Pineapple-Cherry Jelly
My kids love pineapple and cherries. A couple of years ago I made pineapple-cherry jelly, out of Dole pineapple juice and maraschino cherries. I actually made it up myself from estimating. But it would never gel like it was supposed too.

By Stephanie
Can Pears In Apple Juice
I just canned pears and to prevent them from turning color, I put them in apple juice. Then heated the juice with the pears and put them in jars and canned them. No need to add sugar. The taste is excellent.

By Lilas
Thanks For The Great Ideas
Some great ideas! Thank you! Some I had heard of before, just had forgotten about them!

The one about using for a marinade was a new idea to me and I cannot wait to try it. It reminded me of a marinade I used to buy and is hard to find a store that carries it, but it is called "Cheryaki". It was a cherry flavored teriyaki and it was so good on chicken, pork, or beef! I could put it on any kind of meat and my kids would devour it! Especially if it had been grilled. One time we even used it on hot dogs to try something different. It was good! (But you have to wrap the hot dogs in foil to keep from burning.)

Post your ideas below!
Answers:
Uses for Juice from Canned Fruit
I save mine and use it to flavor plain oatmeal for my kids in the breakfasts, etc.
Bobbi-Jo (01/11/2008)

By bjgould1213
Uses for Juice from Canned Fruit
Make home made fruit cocktail. Put the following in a large jar with a tight fitting lid: fruit juices, ginger ale (really picks up the flavor!), 1 jar maraschino cherries (with juice). Add grapes, pineapple chunks, and diced peaches and pears. Refrigerate for a few days (give the jar a gentle shake every now and then) so the flavors can blend. So much better than canned fruit cocktail!

Pour into a popsicle mold and make fruit pops. If you mix several juices together the kids will just marvel!

Add some fruit juice to barbecue sauce. Apricot or pineapple are especially good.

Use fruit juice instead of water when making gingerbread. (01/12/2008)

Uses for Juice from Canned Fruit
When you're making Jello, use the juice from canned fruit in place of some of the water to make the Jello.
Regards, (01/12/2008)

By Carol in PA
Uses for Juice from Canned Fruit
I see some people use or have trouble with pineapple juice. Canned pineapple has the tenderizing enzymes boiled out of it. Frozen (or fresh) doesn't, which is why gels don't gel-- the enzyme works on the gelatin protein. So for tenderizing use fresh or frozen, for jellies and gelatin desserts canned, or cook the juice. (01/13/2008)

By peseta
Uses for Juice from Canned Fruit
Makes great homemade popsicles for the kids (01/14/2008)

By karen
Uses for Juice from Canned Fruit
My parents are pediatricians and they recommend the syrup from canned fruit for children with an upset stomach to quell the nausea and help prevent dehydration. (02/02/2010)

By noonles
Related Content