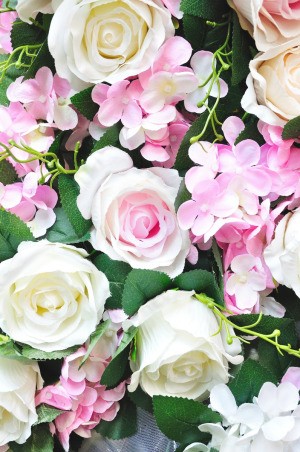 I have a flower arrangement in a vase with acrylic water and would like to re-use the vase. Can I get the acrylic water to become liquid again or have I lost the vase?
Craft Amateur from Ocala, FL
Answers

SL Edens
Bronze Feedback Medal for All Time! 139 Feedbacks
August 17, 2006
0

found this helpful
I think you've lost the vase....sorry :(

August 17, 2006
0

found this helpful
Try Bar Keepers friend...they have a website. I get it at my Savemart. Mix as a paste, take a toothbrush and rub on. leave it for around twenty min. rinse it off. Check to see if any results. Try again, at least a couple of times as I don't know how long or thick the residue is on your vase. good luck. Be sure to notice all things bar keeper's friend does. You'll never be without it once you've tried it!
Jennifer CA
By Jeremy (Guest Post)
January 3, 2009
0

found this helpful
I know this is an old thread, but perhaps it will save another vase sometime. If the vase is glass, you can use acetone, and just fill the vase with the acetone and let it sit for several days. You will probably have to repeat this step several times, as the acetone dissolves the acrylic. It will eventually all come out.

October 22, 2016
0

found this helpful
Some of the stuff I have says reheat to reuse. Hope it works.

March 16, 2017
0

found this helpful
Found on E-how by Laurie Rappeport
How to Remove Acrylic Water From a Vase
Flower-arrangers and centerpiece creators are enthralled with the new acrylic water material. Acrylic water looks like real water but is actually a solution that will solidify into a hard mass that still looks like real water. Before solidifying, silk flowers and other objects can be put into the acrylic water, creating beautiful decorations and projects that can be presented as gifts or used as centerpieces.
Sometimes, expensive vases are used and the creator subsequently decides to reuse the vase. In that case, the acrylic "water" must be dissolved so that a new project can begin.
Fill the vase with acetone (the acrylic water will be filling up about half of the vase, so there should be enough acetone to completely fill the rest of the vase).

May 11, 2021
0

found this helpful
Where do I get a it one? My glass vases are about 25 tall with rocks in the fake water. When the fake water liquifies again do I just pore it out? And where do I do that. And does it stick to the sides of the glass vase when I do this.

December 27, 2022
1

found this helpful
I need to find out how to remove fake water from a vase. I never asked this question before
Answer

this Question
I would like to know how to make and the ingredients necessary to make acrylic water. As soon as possible please.
By Gloria A

Answers

Alicia
Bronze Feedback Medal for All Time! 122 Feedbacks
June 8, 2011
0

found this helpful
I don't think you can "make" the ingredients it takes, but Wal-Mart sells kits to make acrylic water in the craft department- look near the floral supplies. Any hobby type store should have it too- Hobby Lobby, Pat Catan's, Michaels, etc. I'm sure there are a thousand sources online for it too.
Answer

this Question

I have 4, 4oz liqueur glasses; I do not plan drinking from them. They will always will be decor. I went and bought an acrylic water kit and some little acrylic things that look like ice. My question is would it be OK to add a little food coloring so it looks as if there was a cocktail made in them?
By juanita from Stockton, CA
Answers

susan
Silver Feedback Medal for All Time! 472 Feedbacks
January 25, 2010
0

found this helpful
I've found it extremely helpful to call the company and ask them any questions that I have about what can be done to/with their products. They really know their product's limitations, what others have tried, and what their experiments and research have showed.
It saves a lot off guess-work, time, and aggrevation. Often, I wish that I'd called sooner.
Answer

this Question