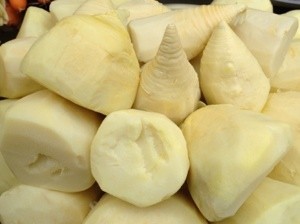 Also Known As:
Mang, zhu sun jian, sun, juk sun, gaz, kardi, take no ko, daenamu ssak, sandhna, rebung, labong. naw mai
Description:
Bamboo shoots are young bamboo trees that don't have a hard exterior yet. The leaves are dark and hairy which cover the white meat inside. When harvested the bamboo shoot leaves are peeled off and the white meat that is left is used.
You can often find bamboo shoots sold in the Asian food section at the grocery store. They come in a small can, when opened you will find thinly sliced rectangles in water. If you venture out to an Asian food market you can often find this fresh (pre-boiled), this variety will be long and stringy. The later will have much more flavor. The kind in the can won't have much flavor at all but will add a nice crunchiness to a stir fry.
Uses:
Bamboo shoots are great when added to stir fry or egg rolls. The fresh variety can be found in many Southeast Asian dishes.
Buying Fresh:
Freshly boiled can be found in many Asian food stores.
Preparation:
Rinse canned bamboo shoots before using. If you happen to find fresh bamboo shoots that have not been pre boiled, you must boil it thoroughly before using in a dish. Fresh bamboo shoots have cyanide in them and but be boiled in a large pot of water many times. This also gets rid of any bitterness.
Storage:
For the canned variety: Check the date stamped on the can
For the fresh boiled variety: These bamboo shoots can last in your refrigerator for many weeks before going bad.
Substitutions:
Water chestnuts are great for adding crunchiness to stir fry and egg rolls.