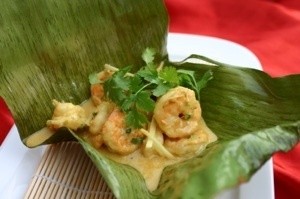 Description:
Banana leaves are cut from the banana plant and are used as a wrapping to cook food in, instead of tin foil. Banana leaves give a slight aroma and flavor to the foods cooked in them. Food wrapped in banana leaves can be steamed, baked or grilled. They can be purchased at many Asian or Hispanic markets, often in the freezer section.
Uses:
Leaves are never eaten, just used for wrapping. Banana leaves look beautiful and make a nice platter for finger foods. When storing something wrapped in a banana leaf in the fridge for later use, drape a damp towel over the top to keep the banana leaf moist. Do not leave them in the fridge uncooked for more than 2 days. Once cooked the banana leaves and what is contained inside will keep for a relatively long time. In Viet Nam (and many parts of South East Asia), many sweet treats, fish, and rice dishes are wrapped and cooked in banana leaves.
Preparation:
Thaw the banana leaves for about 2 hours. Then run under cool water to soften and rinse off any debris. (Or you can submerge a few leaves in very hot water to thaw). Wipe off excess water with a kitchen towel, be sure to wipe in the same direction as the grain of the leaf in order to reduce the risk of tearing. Cut off any torn or yellow edges (Note: cutting off the yellow part is purely for aesthetics sake). Cut off the thick middle vein because it makes it easier for the leaf to split. If a leaf happens to split just place another piece of leaf over the tear running in the opposite direction.
Soak some tooth picks or kitchen string with the leafs, and use them to tie the leaves together when you have place your ingredients inside. Be careful when using toothpicks because they can rip the leave easily. If the parcel is small enough you can use thin strips of banana leaf to tie it together. When wrapping a large parcel use about 4 layers of leaves, each layer should have the grain of the leaf running in the opposite direction as the previous layer. Any leaves not being used should be re-frozen.
Storage:
Put in a plastic bag in the freezer. If you pre-made your meal and do not want to cook it yet, you can keep it it the refrigerator for a few days with a damp towel draped over your package. If you already cooked you meal, it should keep for at least a week in the refrigerator.
Substitutions:
Banana leaves are a great substitute to cling wrap or tin foil for storage. They can also substitute for parchment paper in sweet or savory dishes.
Interesting Facts:
In many parts of Asia, Latin America and Africa have used banana leaves to keep food good for long periods of time before there was access to refrigerators.
Here is a recipe using banana leaves. If you have a favorite recipe, post it below.