Judy
Gold Post Medal for All Time! 677 Posts
August 18, 2018
0

found this helpful
I would use a sheer curtain if I were you. That film is very difficult to remove.

August 18, 2018
0

found this helpful
I agree with Judy that the adhesive backed film is difficult to remove when the time comes that it's aged looking and needs to go. The only way I could get rid of the residual glue was with varsol and it wasn't a pleasure to work with.
What I currently have in my home in one of my bathroom windows and the basement window which looks out into a window well, is Artscape window film that is applied with water, a drop of dish soap and a soft plastic scraper type thing that came with the roll. The film has been in place for 3 years and hasn't shifted, shrunk or come loose at the edges. I love it.
I purchased it at Home Depot at about $25 a roll and it's worth every penny. There a lot of colors and designs to chose from and offer the lighting and the privacy you're looking for. You won't need a sheer curtain on top. Do an internet search on the product or better still, mosey down to Home Depot and take a look at it. I bet you'll be surprised. Artscape is the brand name.
By the way, I like your new 9 pane kitchen door.

Pghgirl40
Bronze Feedback Medal for All Time! 196 Feedbacks
August 18, 2018
0

found this helpful
The film work in the short term but I never liked them for a long term. They yellow, lose stick, fall off, and are hard to clean. I like sheers or a privacy curtain that can be tied back when you want light.
Is there enough depth for a tension rod? I like those and have them on 6 windows in my house. It makes it super easy to have winter and summer curtains and can be flexible where you place them to let in and block out light.
Discovering those at a dollar store back in 2010 was the best decorating and privacy investment my windows ever had!

15mhhm15
Diamond Post Medal for All Time! 1,298 Posts
August 19, 2018
0

found this helpful
I have the film on my bedroom and sliding backyard door for some privacy. But I do not physically adhere it to the window.
I just put tape because I do not want the long term commitment. It does not bug me that it is not as pretty.

haysie
Silver Answer Medal for All Time! 424 Answers
August 19, 2018
0

found this helpful
I think just sheer curtains would be enough, a panel of two so you can tie them back for more light . And put up a pastel color, a nice pastel yellow would be nice, it would be like letting the sunshine in. !!

Hello
Bronze Post Medal for All Time! 107 Posts
August 20, 2018
0

found this helpful
i have put stuff like that up before and it is hell to get it on there without bubbles or wrinkles. It is incredibly unsightly to have random air bubbles on your window.
YOu have to use a squeegee type thing but it still fails to address the problem completely

Jess
Silver Post Medal for All Time! 267 Posts
August 20, 2018
0

found this helpful
I have used something similar on my garage door for about 10 years now. It hasn't yellowed and still looks pretty good. It's not sticky but adheres with water. I got it from Home Depot and I'm pretty sure they still have the product, where they have blinds and such. Very affordable and easy to remove.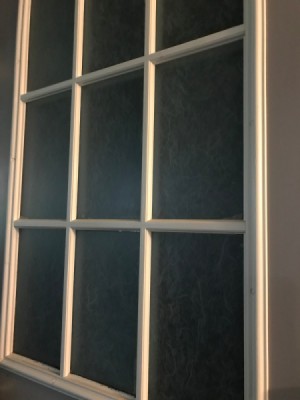 Jess
Silver Post Medal for All Time! 267 Posts
August 20, 2018
0

found this helpful
It's the same product that Mina recommended, Artscape.

August 20, 2018
0

found this helpful
I've had my Artscape film for 3 years without problem but for the heck of it I looked up to see if there is a guarantee against yellowing or peeling. There is a 3 year warranty so that's not bad on a $25 purchase. I'm pleased to know that yours has lasted 10 years Jess.
I'm of the opinion that like everything else, there are various brand names and product grades that are available with some being better quality than others. Artscape has proven to me that it's a reputable product and it's nice to hear it from someone else too.

August 24, 2018
0

found this helpful
All of this intrigued me as I also have some window panes that I have been thinking about doing something similar.
It looks like a lot of stores carry Artscape but the largest variety of designs seem to be in their online stores.
The number of different designs seem to be almost unlimited.
www.homedepot.com/.../N-5yc1vZarc3Z6x

August 24, 2018
0

found this helpful
Try it. I don't think you'll be disappointed. I have New Leaf on both my bathroom and basement window and after 3 years I'm as pleased as the day I put it up.
The film gives me the light and privacy needed and look especially nice at night from outside with the light turned on. And it's without the shadows, which is especially important in the bathroom. The stained glass look has garnered a number of compliments.

August 26, 2018
0

found this helpful
Thanks to all who helped me with this project.The Artscape film seems to be the way to go. I think I will go with the Etched Lace pattern. By it not being so busy, I think I can use sheers with it, plain if I have to, but I would like to have a lace panel.
The inset for the glass panes is about a half inch deep. I have a tension rod that will work except for being too long. I think I should be able to find shorter ones.
With new cabinets, flooring and sink to go in, I have plenty of time to shop.
Thanks again to all