Using Dehumidifiers
Solutions
Share on ThriftyFunThis guide contains the following solutions. Have something to add? Please share your solution!
I've always hated to throw away the water I accumulate daily in my dehumidifier. I water outdoor plants with it. I'm sure my neighbors think I have a strange watering can, but I think this is the best way to recycle this free water.
By Elaine from Concord, NH
August 18, 2004
1

found this helpful
I live in a high humidity area during summer, so my basement dehumidifier is always filling up. Rather than just dumping the tank when it's full, I pour it into my clothes washing machine when I start a load of clothes. It's a great way to recycle the water, and I save money on my water bill.

By Scott J.
This is in regard to a tip I read several weeks ago. A reader said she uses the water from her dehumidifier for the birds. My dehumidifier has a WARNING: DO NOT DRINK THE WATER, IT MAY MAKE YOU ILL. I am sure the same would be for birds or any animals.
Thank you,
Louise from Delmar, NY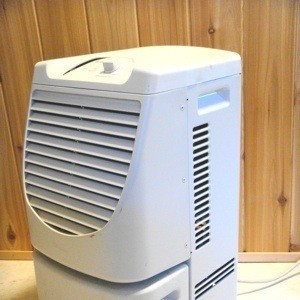 If left untreated, too much moisture indoors can lead to a host of issues, the least of which is the growth of mold and mildew. Dehumidifiers work by removing excess moisture in the air. Here are some tips for getting the most energy savings and efficiency out of your dehumidifier.
Cost-Saving Reasons to Use a Dehumidifier
Prevents the growth of mold and mildew.
Helps maintain structural integrity.
Dry air feels cooler. That saves energy (and money) by reducing your cooling bill.
Eliminates musty odors.
Reduces "sweating" on cold water pipes
Before You Buy
Humidifiers fall into three categories: residential, commercial, and industrial. Unless you're working with a very large area or extremely moisture-laden air, most homeowners can get by fine with residential-grade models.
Determining the Best Size
Dehumidifiers vary greatly in size and price. Capacity is measured by the number of pints of water the unit can remove in 24 hours. The size you will need depends on two things: the size of the area to be conditioned and the amount of moisture present in the air. Common residential sizes include 25, 30, and 40-pint models. The Association of Home Appliances recommends a 25-pint model for most areas up to 1000 square feet and a 40-pint model for areas up to 1500 square feet.
Bigger is Generally Better
To see long-term savings, it's always best to buy the unit that best fits the size of your space. As a general rule of thumb, it's always better to go with a unit slighter larger than you think you need. For example, if you're choosing between two models, one rated for 1000 sq feet and the other for 1200 sq feet, and your space is only 900 sq feet, choose the model with the larger capacity. A larger unit won't have to work as hard to dehumidify the same space as a smaller unit. In addition, a smaller unit will run longer, leading to higher energy costs and greater wear and tear.
Assessing Humidity Levels
One way to assess humidity levels is with an inexpensive humidity gauge. These are available at most hardware stores and big box home centers. A less accurate way is simply to try to "feel" how much moisture is in the air.
Moderately damp: The space feels damp and smells musty only in warm, humid weather.
Very damp: The space always feels damp and smells musty; walls and floor show damp spots.
Wet: The space smells and feels wet. Seepage occurs, mold and mildew are visible.
In the summer, outdoor humidity levels can reach 60 to 80 percent. Indoor relative humidity levels of 40 to 50 percent are generally recommended.
Tips for Maximizing Energy Savings
Run your dehumidifier on the continuous setting (high) only until humidity drops to an acceptable level, then set the dial settings to as low as possible. Dehumidifiers are only effective at removing moisture when humidity levels are higher than 50%. This is usually in the summer. Using a dehumidifier in the winter months to remove condensation and frost from windows is not effective.
If your dehumidifier is operating where the temperature is less than 65 F, check occasionally to see if frost is forming on the evaporator coils. If it is, turn the unit off until the frost melts and until the room is warmer.
Depending on the model you buy, your dehumidifier may have air discharge vents in the top, side, or back of the unit. Make sure you allow for at least 12 inches of space around these areas so that air can flow freely across the internal coils.
Air passing through the coils may carry dust, lint, and fungus spores. Clean dehumidifier coils annually, either with a vacuum, or by misting coils with a hand-held spray bottle and wiping them with a soft cloth.
Keep windows and doors closed during use. The only time to open windows is when the outside humidity and temperature is low.
I use the water from my dehumidifier to water my plants.
Read More...
Questions
Ask a QuestionHere are the questions asked by community members. Read on to see the answers provided by the ThriftyFun community or ask a new question.
I have an older central a/c unit? With the cost of electricity going up all the time, some of us in Canada have gone to TOU (time of use) with our hydro, summer cooling could get costly.
My central air is an older unit and I don't have the money to replace it. I live in a mobile home that gets very hot in the summer. Does anyone know if I can use a dehumidifier to help? I know they are mainly used in basements but was just wondering if it would help.
Thanks for any help that I can get.
By Judi
Answers
May 20, 2011
0

found this helpful
My understanding of ac is that it cools not only by removing heat from the air but also humidity which makes your body cool itself more efficiently through evaporation (perspiration). To add more humidity would make the ac work harder by adding what it is designed to remove but also in lowering the efficiency of your body's own cooling system you will feel warmer.
May 21, 2011
0

found this helpful
He's right, what we do here in the south and my ac has a dehumidifier on it is to work the thermostat and use ceiling fans in the room or if you don't have ceiling fans floor or counter to feel cooler in the room. This way I keep my bill where I want it and don't stay hot either. Yes I know the ac people say not to do this but they don't pay my bills either and it is cheaper this was. Just don't add water you'll end up with mold and higher bill.
May 21, 2011
0

found this helpful
Dehumidifyers use a lot of electricity, and throw off a bit of heat of their own, so I am not sure it would help you. A fan to circulate the air in the room you are in would be much more efficient.
Some things that can help:
Close the curtains and pull down any shades on the sunny side(s) of your home during the day. I have even seen people put aluminum foil in windows to block the sun.
If the air cools in the evening and it gets cooler outside than in, open your windows and, if you have fans, get them in the windows to either pull the cool air in, or blow the warm air out--whichever seems to work more efficiently for you. Sometimes, one good fan blowing air out will cause air to be pulled in through the remainder of windows.
Don't set your thermostat too cold. For every degree below 75 (fahrenheit) (22 or 23 C?) you use a LOT more energy. My family sets the thermostat at about 78 F, and if one of us is too warm, we use a fan. I avoid using the oven on hot days, and try to use my crockpot, which I put in a covered porch, as much as possible. I try not to run the dryer any more than necessary.
We drink a lot of cold water, too. It helps quite a bit.
June 1, 2011
0

found this helpful
Judi, I don't know if a dehumidifier would work for you. If you live in a very damp area, it might, but an AC already does that. You have a battle keeping a mobile home cool as they do not have good insulation in the roof. Ceiling fans are a good investment. I live in a house, but we have one in the living room, one in the kitchen, and one in each of the upstairs bedrooms. At night, I set up large window fans, one or two are set up in front of a window to suck cool air in from outside and then another at the other end of the house blowing out, to suck hot air out, and this sets up an air flow. I also have one that blows on me while I sleep.
Be very sure you seal up the house in the morning to keep the cool air in. Cover your windows with heavy drapes & tin foil, as well if you think you need it. Keep the fans running to circulate the air, and that keeps you feeling cool. You want to keep the hot air out, but a person thinks open windows+cool, even though it is hot outside. Resist this!
Answer

this Question

...
I have extreme allergies,and I've heard that dehumidifiers help. I have tried everything and then some. Have any of you had any experience with dehumidifiers? If so I would love your comments. Thank you and God bless.

Betty R.Bazzle from Summerville,S.C
Answers
June 4, 2008
0

found this helpful
There are fewer problems with allergies when it's dry - a dehumidifier would help guard against mold problems - I would still use an air cleaner against pollen. (And make sure your A/C filters are cleaned regularly.)
Have you tried adding any homeopathic remedies to your arsenal? I have added BioAllers tinctures, when needed, against prevailing allergies (grass, tree, mold, etc.) as well as nettles and combinations like Allertonic. I also use A. Vogel's Allergy Relief (or Boerick & Tafel's Allergyaide) This is in combination with lots of vitamins across the spectrum, and ginseng and other adaptogens (like astralagus) to help your immune system. I also add eyebright, good for the eyes. (& I like similisan eyedrops - and Ocuhist otc) These seem to work similarly to allergy shots, i.e., they rev up your immune system - and can be used in addition to your medication. (when things get BAD, it's back to meds + other remedies - & when all else fails, benedryl + sleep...)
There are a lot of good meds out there OTC now - including Zyrtec, which I had had prescribed. I do it ALL when I have to & it does seem to help - just a kind word from another sufferer...
June 4, 2008
0

found this helpful
I don't know about dehumidifiers but an air purifer works great. I got one several years ago and I haven't had to use any medication since!
By (Guest Post)
August 27, 2008
0

found this helpful
TOO much dehumidifiying (air too dry) is actually not good. However, I use it b/c of my classroom and the high humidity. Block buildings are notorious for moisture.
TOO much humidity is bad for allergies in that it allows for mold to grow. You have to experiment and see what works for you. Too much or too little is bad. You need it just right!
Answer

this Question

...
I have an indoor pool in which I am recycling my dehumidifier water by draining it back to the pool. I've read various postings here about the dangers of drinking the water, but is it a problem introducing it back to a 6000 gallon pool?
By Jeffrey Leef from Backus, MN
Answers
December 27, 2009
0

found this helpful
The reason you are not supposed to use it for drinking is that it can have a lot of bacteria or mold spores, etc. in it. However, I would think your pool's purification system would take care of any of that. I think it would be a great way to re-use that water. It can also be used for plants, and in the garden.
August 29, 2011
0

found this helpful
Why do that? If you can afford a pool you can afford to fill it. If you must use the water from your dehumidifier just water your trees or plant with it. There is such a thing as being too frugal.
Answer

this Question

...
I have a Sunbeam dehumidifier. I think it's a 30 pt. size, but size is not important. My problem is that after I empty it, the "full" light stays on and it will not run. The book says that if the light remains on, the water drawer is not in place properly. There is only one way to put the drawer back in and it fits properly when I replace it, but the light stays on and the dehumidifier will not run.
When I fool around with it long enough, I can finally get it back in it's proper place, but this is a bit unnerving after awhile. I did not have this problem when it was new. It's a little over a year old. I tried to call the 800 # listed in the manual, but no response. Is there a trick or two to getting the water drawer back in place properly so it will run. I would appreciate your help.
By Kathy from Sylvania, OH
Answer

this Question

...
Related Content