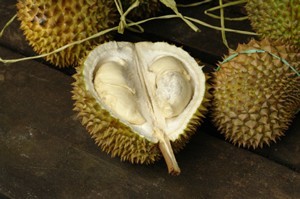 Description:
Durian often referred to 'that stinky fruit' to those who are not accustomed to the smell, but cherished by many who grew up around it. Known as 'The King of Fruits' throughout Asia. This fruit has large spikes on the outside and creamy yellow-orangish fruit on the inside, with a similar consistency of avocado.
Uses:
The durian is eaten at many stages of ripeness and used to make sweets such as ice cream and also made into savory dishes in some countries.
Buying Fresh:
Often it is said that the durian is ripe when it starts to split open, although it can be eaten at many different stages of ripeness. When picking a durian to buy, look at the stem, if it is dry the durian is probably old.
Where as if it is thick and sturdy, it is ripe. If the stem is cut off, shake the fruit and listen for the seeds knocking around, if you hear this the pulp has probably lost some moisture and therefore not as tasty.
Preparation:
The durian has natural sections, if you can find a seam, start by cutting down the seam. If the durian is ripe it should open fairly easily. Once you got it open you should be able to scoop out the fruit from one section then open another wedge and scoop out the fruit from each section. There is seeds inside the flesh of the fruit about the size of chestnuts, the seed can not be eaten raw.
March 26, 2009
0

found this helpful
I have heard about this fruit and even 'googled' it but I have never once seen it in a any grocery store in the USA and I've lived all over the states. I would love to try it! But until they get them in the stores here, it seems I never will be able to try it! Good info tho.
April 28, 2010
0

found this helpful
Its also called Jackfruit. There are many things that can be made,such as curry,pickles and chili bites.It can be left to ripen and eaten as a fruit.
It is very messy to cut,you have to apply oil on the knife so that the sticky substance doesn't stick to your palm and knife. It is a very good dish when prepared well.
September 19, 2016
0

found this helpful
When I was in Vietnam, I saw both durian and jackfruit for sale. I think they are different. Jackfruit was very sweet and yellow. It tasted like Juicyfruit gum. Durian is supposed to smell rotten.