EllenB
Gold Post Medal for All Time! 858 Posts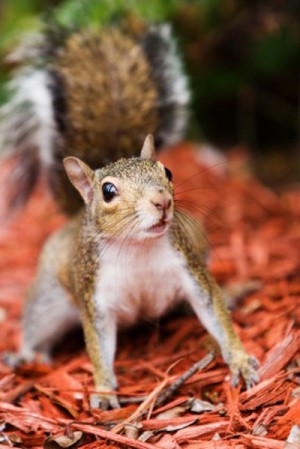 In recent years, the use of dyed wood mulch has become more and more popular with homeowners. It's often used to create eye-catching walkways, colorful backdrops for ornamental plants, or to add visual interest to otherwise barren parts of the landscape.
Unfortunately, dyed wood mulch is not without its problems, and many gardeners wonder whether or not it's safe to use on their plants. The answer is yes, and no.
Not All Dyes Are Created Equal
When colored wood mulch was first introduced to consumers several years ago, the dyes used to color it often contained toxic heavy metals and other hazardous contaminants.
Today, some manufactures of colored wood mulch still use dyes made from petrochemicals. This means that as the mulch breaks down, these chemicals leach into your soil (and local waterways) where they can be absorbed by the roots of your plants.
The good news is that things are improving. Many of the larger manufactures are switching to dyes that are vegetable-based and biodegradable. Still, make sure you read the package before buying. Even if a manufacturer claims that the mulch is organic, it doesn't mean that the dye is also safe.
Covering Up Substandard Wood
The greatest downside to using colored mulch is often not the dyes themselves, but rather the inferior wood that they are often covering up. Colored mulches are made by grinding wood waste into chips that are then dyed. The wood used for this purpose is usually being recycled, which is good. The downside is that the waste being recycled may contain CCA-treated (pressure-treated) wood.
Chromate copper arsenate (CCA) is a chemical wood preservative containing chromium, copper and arsenic (a carcinogen). Although phased out by the EPA in 2003, pallets and other scrap wood containing CCA may still find their way into mulch. Mulch containing CCA should never be used around plants intended for consumption. Again, read the labels carefully. Look for colored wood mulch made from raw lumber, or mulch featuring the MSC Certification Logo, which certifies that the mulch is free of CCA-treated wood.
Short-Lived Color
All dyed mulches will fade over time. If you want to retain the same bright color, plan to replace your colored mulch often. As the saying goes, you often get what you pay for. Expect organic mulches colored with vegetable-based dyes to be more expensive.
To keep prices lower, some manufacturers may use powdered dyes to color the wood. This quickly sloughs off and either becomes airborne (where you may inhale it) or it attaches to the bottom of your shoes and you take it for a walk around the garden.
Tips for Using Colored Mulch Properly
When used correctly, colored mulch can be used safely in the garden.
Always look for mulch that is MSC certified and colored using vegetable-based or biodegradable dyes.
Never use colored mulch around plants intended for human consumption.
All wood mulch takes nitrogen out of the soil (at the expense of plants) as it breaks down. If using colored mulch on flower beds, apply a thick layer of compost first, then add a thin (1-inch) layer of colored mulch over the top.
Avoid mulch with a "sour" vinegary smell. This usually indicates wood containing a lot of sap, which can quickly lower the pH of the soil around your plants.
Keep pets and children away, and always wear gloves when handling it.
Comments
Read More

Comments