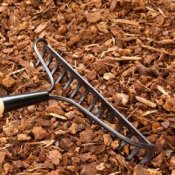 In most cases, mulch is pure magic for our gardens. It aids in weed control, insulates the soil, conserves moisture, and feeds hungry plants. However, when applied improperly or used at the wrong time, mulch can actually do more harm than good. Here are some tips for when to avoid using mulch.
When to Avoid Using Mulch
When garden soil is cold and wet. In many gardening zones, early spring weather is cold and muddy. Everything, including the soil, needs time to warm up, wake up, and dry out before planting can begin. Applying mulch before the soil has had a chance to warm up will delay your ability to dig in the dirt and may slow the growth of existing plants. Spring is a good time to move aside the mulch you applied over winter-at least until the soil warms up and your plants start to grow.
When plants are sensitive to late-winter moisture. Some plants, such as chrysanthemums, coral bells and blanket flower, are very sensitive to late-winter moisture. Mulch that is piled heavily around their crowns encourages standing water and can result in rotting stems. Either avoid mulching around these plants entirely, or remove mulch in the early spring before new growth appears. If you remove mulch too late your plants may rot or develop long, gangly stems.
When plants are young. Mulch should be applied around plants only after they become well established and grow tall enough so that the mulch will not smother them. The exception to this is using light mulch like straw or salt hay to prevent erosion, conserve moisture, and shade the soil during seed germination (e.g. when sowing grass seed in hot weather).
When your soil lacks adequate nitrogen. Some woody mulches, such as raw wood chips or sawdust, deplete the soil of nitrogen while decomposing in a process called "nitrogen mobilization" (the carbon molecules in wood need to bond with nitrogen in order to breakdown). To avoid starving your plants of important nutrients, use well composted wood chips, or compensate for nitrogen loss by feeding plants with a water soluble fertilizer. Rubber should never be used around garden plants. As the rubber breaks down, it leaches zinc and other pollutants into the soil. It also smells terrible when heated up by the summer sun.
When pests become a problem. Over time, mulch can attract rodents and other types of pests. They may burrow under the mulch to hide, nest, or to hunt for seeds and insects. Unfortunately, they may also start to nibble on your plants. As the growing season progresses, mulch may also attract slugs, snails, and other insects, which when left unchecked, can inflict serious damage to your plants. Inspect the mulch around your plants regularly. If you see problems starting to develop, remove the mulch near susceptible plants until you can get the problem under control.
Too Much Can Be Harmful!
Have you ever heard the term "mulch volcano"? This is how horticulturists and arborists describe mulch that has been piled up around the base of trees and shrubs. Too much mulch can be harmful. In general, depths of 2 to 4 inches are usually plenty during the growing season-double that depth for winter protection.
Trial, Error, and Common Sense
Most gardeners use mulch on a regular basis. A few, like me, use it religiously. Mulch is incredibly useful, but using it incorrectly can end up causing your plants more harm than good. Certain types of mulches are less desirable in certain situations, so it pays to experiment. For example, cocoa mulch is very nutritious for your soil, but it can be harmful (even deadly) if ingested by dogs. Wood chips can attract subterranean termites, and are not a good choice near houses or buildings.
What type of mulch is great for all garden situations? The answer is compost. Applied 2 to 3 inches deep, compost will help improve your soil, feed your plants, suppress weeds, and fight disease. Plus, the rich black color really sets off the color of garden plants.