My friends are always admiring my flower garden, but can't seem to get theirs to grow. Here goes the only key to a happy garden in the south and other hot places - mulch, mulch, mulch, and water!
But under the mulch, I add an old sheet, blanket or piece of material before I put my mulch down. No, I don't buy the store bought kind of stuff, because the ones I mentioned are less expensive and easier to work with. An old sheet will last for 2 - 3 years and the store bought stuff tears apart because, in the fall, I turn over the whole thing and put new leaves, straw, bark, or mulch on the same material.
Putting the new mulch on top of material and old under, is the easiest way to kill weed seeds. Remember that the ground bark you buy now has the whole tree cut up in it and doesn't provide the food value bark, leaves, or pinestraw does. Cypress mulch makes you use more water and does not provide any food value to the soil for year. If you like colored cypress bark, then remember to water more and always keep feeding plants.
By fuzzytufts
September 30, 2011
1

found this helpful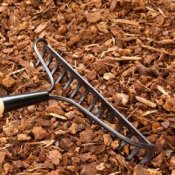 In most cases, mulch is pure magic for our gardens. It aids in weed control, insulates the soil, conserves moisture, and feeds hungry plants. However, when applied improperly or used at the wrong time, mulch can actually do more harm than good. Here are some tips for when to avoid using mulch.
When to Avoid Using Mulch
When garden soil is cold and wet. In many gardening zones, early spring weather is cold and muddy. Everything, including the soil, needs time to warm up, wake up, and dry out before planting can begin. Applying mulch before the soil has had a chance to warm up will delay your ability to dig in the dirt and may slow the growth of existing plants. Spring is a good time to move aside the mulch you applied over winter-at least until the soil warms up and your plants start to grow.
When plants are sensitive to late-winter moisture. Some plants, such as chrysanthemums, coral bells and blanket flower, are very sensitive to late-winter moisture. Mulch that is piled heavily around their crowns encourages standing water and can result in rotting stems. Either avoid mulching around these plants entirely, or remove mulch in the early spring before new growth appears. If you remove mulch too late your plants may rot or develop long, gangly stems.
When plants are young. Mulch should be applied around plants only after they become well established and grow tall enough so that the mulch will not smother them. The exception to this is using light mulch like straw or salt hay to prevent erosion, conserve moisture, and shade the soil during seed germination (e.g. when sowing grass seed in hot weather).
When your soil lacks adequate nitrogen. Some woody mulches, such as raw wood chips or sawdust, deplete the soil of nitrogen while decomposing in a process called "nitrogen mobilization" (the carbon molecules in wood need to bond with nitrogen in order to breakdown). To avoid starving your plants of important nutrients, use well composted wood chips, or compensate for nitrogen loss by feeding plants with a water soluble fertilizer. Rubber should never be used around garden plants. As the rubber breaks down, it leaches zinc and other pollutants into the soil. It also smells terrible when heated up by the summer sun.
When pests become a problem. Over time, mulch can attract rodents and other types of pests. They may burrow under the mulch to hide, nest, or to hunt for seeds and insects. Unfortunately, they may also start to nibble on your plants. As the growing season progresses, mulch may also attract slugs, snails, and other insects, which when left unchecked, can inflict serious damage to your plants. Inspect the mulch around your plants regularly. If you see problems starting to develop, remove the mulch near susceptible plants until you can get the problem under control.
Too Much Can Be Harmful!
Have you ever heard the term "mulch volcano"? This is how horticulturists and arborists describe mulch that has been piled up around the base of trees and shrubs. Too much mulch can be harmful. In general, depths of 2 to 4 inches are usually plenty during the growing season-double that depth for winter protection.
Trial, Error, and Common Sense
Most gardeners use mulch on a regular basis. A few, like me, use it religiously. Mulch is incredibly useful, but using it incorrectly can end up causing your plants more harm than good. Certain types of mulches are less desirable in certain situations, so it pays to experiment. For example, cocoa mulch is very nutritious for your soil, but it can be harmful (even deadly) if ingested by dogs. Wood chips can attract subterranean termites, and are not a good choice near houses or buildings.
What type of mulch is great for all garden situations? The answer is compost. Applied 2 to 3 inches deep, compost will help improve your soil, feed your plants, suppress weeds, and fight disease. Plus, the rich black color really sets off the color of garden plants.
June 14, 2011
0

found this helpful
I have something growing from the mulch in my garden, it looks like a long finger. It's yellow with a an orange tip. Any idea what it is? Thanks.
By Tom
Answers
June 14, 2011
0

found this helpful
Hard to say or tell w/o a photo. Can you download a pic of it for us TF readers?
June 14, 2011
0

found this helpful
I am willing to bet it is a mushroom of some sort. It ought to wilt and die within a few days.
June 21, 2011
0

found this helpful
Does it stink? Sounds like a stinkhorn. I have no sense of smell and took one once to our local nursery. They kept backing away from it and and said "can't you smell that?" Lol, to be truthful and I hope I don't offend anyone but it looks like a male appendage!
June 21, 2011
0

found this helpful
Maybe it IS a finger ! No , just kidding. Maybe a mushroom of some kind? I have a lot of mushrooms in my mulch with all of the rain we have had here in Indiana.
June 21, 2011
0

found this helpful
Without seeing a photo it is difficult to truly say what is in your garden. However, it sounds like a fungi possibly from the "Staghorn" group. Without positive idenification be careful. Some fungi are deadly. I would take a photo and take it to my local Agriculture Extension Center for identification and what to do about the problem. Good luck. Sharon G
June 22, 2011
0

found this helpful
It is a mushroom, a fungus, and it's telling you your soil under the mulch is too wet. I've only seen this where certain conditions exist:
1-it could be the mulch is way too deep and keeps the soil too wet.
2-Sometimes the fungus is in the wet, too deep mulch.
3-In beds that have been built over paving, or construction debris.
I worked years as a landscape maintenance contract administrator, also was a US 3-state Master Gardener active since 1991 until my move to Scotland last year, and saw the paving problem in urban settings like apartment buildings and commercial buildings where the car park was turned into landscaping by adding two-three feet of soil right on top of the asphalt; the too thick mulch, and the construction debris problems in private gardens.
You can spend time pulling them out (trust me, more will form) or you can rake the mulch off to check the depth of the mulch (should be no more than 2-4" at the very most), your soil moisture condition under the mulch, and if you are trying to garden over an old driveway or some construction debris (you can dig, or you can try probing with a broom handle-you may have to use a hammer to get down two or three feet where the debris and/or paving usually lurks).
Good luck, hopefully it's just too thick an application of mulch. Spread it out, let it dry, and then reapply in a much less thick layer when dry. The soil will benefit from drying out too, but while the mulch is drying out, apply a fungicide to the soil to kill off the fungus-it's got a foothold in there and the only way to be rid of it is with a fungicide. You might want to treat the mulch, too.
Answer

this Question

...