Instead of going out to Jo-Ann Fabric's to buy things for children's crafts, use some everyday items like aluminum foil and tissue paper.
The aluminum foil, when wrapped tightly will stay in the position you put it in. The kids will love to make their own sculptures by molding the foil into dinosaurs and sea creatures.
With the tissue paper, little children can make flowers by scrunching the paper up and wrapping tape around the end or "stem". They will then have colorful flowers to play with!
Bring these two items out for parties and get-togethers and the kids will spend hours sitting at the kitchen table seeing what they can make.
By Claire from Columbus, OH
Use a dryer sheet to line small craft items, it smells nice! The square dangling off the bottom are scrapbook stickers, I used 2 similar ones that matched the cloth for the bird. I edged the bird with purple nail polish. The stitches are so small, it took all afternoon
By Veronica from Sedalia, Missouri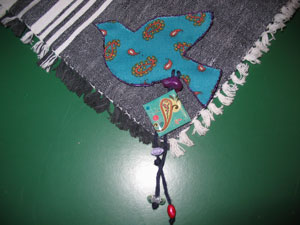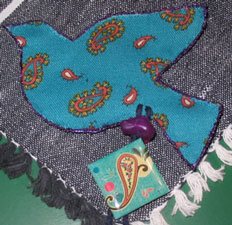 Answers:
Use Everyday Items For Crafts
You do beautiful work. It looks like it took days to do that fine work. (06/16/2007)

By Janice C.
Use Everyday Items For Crafts
Actually JANTOO, it was done in only part of an afternoon while watching TV lol Thanks! :) (11/18/2009)