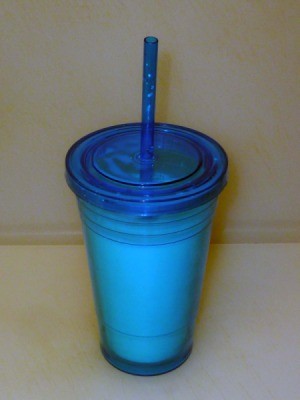 I have an interesting product review for anyone who has any issues with their balance. A couple of days ago I bought a double, insulated, hard plastic, tall glass. The top actually screws on and has a straw inserted through the middle and the straw cannot fall out unless you unscrew the top.
I really like it because I can carry it around the house and not have it spill if I lose my balance and the top doesn't pop off. It's only for cold liquids. The other afternoon one of my dogs jumped up to warn me about a squirrel out on our back deck and the glass fell over, filled with milk.
The milk came out of the straw a little but it sure beats the entire glass emptying all its liquid all over the table, on my newspaper and surrounding floor. I thought it was a little pricey at $6.99 but am going to get another one for a backup.
I bought mine at Walgreens and have never seen any others where the top actually screws on.
By CPJ from Madison, AL
Comments
May 14, 2012
0

found this helpful
I received one for Mothers Day and I know I'm going to get a lot of usage out of it. It fits in the cup holder in our vehicle and worked well for holding ice water for our trip back home, a 4 hour drive.
May 20, 2012
0

found this helpful
These kinds of cups are being sold all over now. I have one and like to use on the go. I can fill with ice and water and it stays cold for hours, even the ice stays frozen for a long time. It fits in the cup holder of my mini van and I find it's easy to pick up and take a sip while driving. I do not have to fiddle with any opening of a lid to drink. I only hand wash my cup like this. I don't think they do well in the dishwasher.
May 20, 2012
0

found this helpful
I work in a call center and this is the best way to keep something at my desk to drink. All liquids have to be in sealed containers with screw on lids and an actual bottle of water or soda is awkward and has to be opened and closed every time you need to take a sip.
Got mine at WalMart and it even has gel between the double walls so I can freeze it the night before and it keeps things even cooler.
May 20, 2012
0

found this helpful
I bought cups like this at Christmas for my grandsons. It was time to give up the small sippy cups and move up to something a little older. As far as balance goes, I haven't had a problem with them. I love the cups and use one myself because I hate the condensation on the outside of cups. These cups work great, no wet hands, they are larger for growing boys and I would order more. I also appreciate the straw that comes with it but sometimes use regular straws with no problem.