Using Jackfruit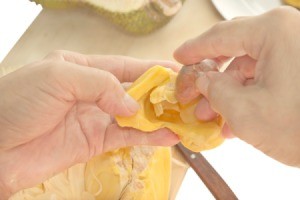 Long a favorite in Asian markets, these strange looking, delicious fruit are finding new fans and being enjoyed for their flavor and nutritional value more each year. Many people compare the flavor to JuicyFruit gum, it is sweet and firm. It is also commonly used as a vegetarian meat substitute. This is a page about
using jackfruit
.
Solutions
Share on ThriftyFunThis page contains the following solutions. Have something to add? Please share your solution!
It is jackfruit season! At my local Asian grocery market, this was 2 lbs. for 99 cents. This jackfruit was roughly 20 lbs, around $15.
Don't be discouraged to buy an entire jackfruit. It is easy to cut if you're prepared! You need to be sure your floor is well protected with some newspaper and be prepared by wearing gloves to make the aftermath easy to clean up. The tip to avoid jackfruit sap (the sticky white latex) is to use oil, I used vegetable oil. Apply the oil to your knife and reapply as you cut. Repeat until you are finished cutting your jackfruit.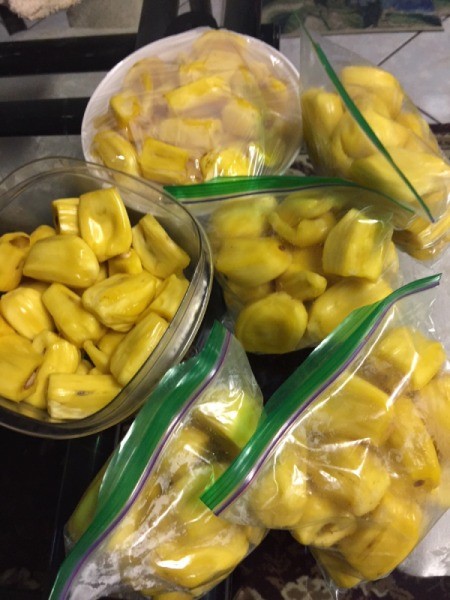 You will save a lot of money buying an entire jackfruit and cutting it yourself than to buy partial or already cut jackfruit. This is the best way, fresh and saves you money!
Source: My parents (dad as the demo in the photos)
My daughter is allergic to pineapple, so much that she has to carry an epi-pen if she accidentally consumes it. We have found a great substitute. It tastes about the same, but has a slightly denser texture than pineapple. It's canned "jack fruit". You can get it in Asian or International markets. We have tried it in lime gelatin, and it tastes almost like pineapple without the allergy fear. I'm sure it would be delicious in upside down "jack fruit" cake.
Source: We saw huge fresh jack fruit in the store and didn't want to purchase that much, so we decided to try the canned version. We were surprised how much it tasted like pineapple and have been substituting with it ever since.
By Donna Landrau from Salisbury, NC
Advertisement
Categories
Pages
More
Categories