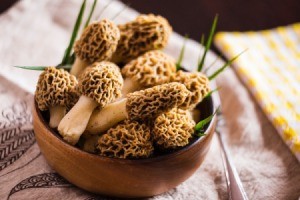 When frying those delicious morel mushrooms, instead of dipping in egg, I dipped them in condensed cream of mushroom soup and coat them very well before I place them in my flour or cracker crumbs. Then I fry them in butter. Egg tends to slip off, whereas the mushroom soup clings perfectly. I do not add water to the soup, but if it's too thick to work with, just slightly add water and stir - make sure you keep the thickness. It is sooo good. I will never go back to egg!
By Patty from Illinois
Comments
May 14, 2011
0

found this helpful
Top Comment
Patty, that sounds like a good idea! My son used to get the morels by the bucketful but he moved so now I don't get them anymore and really miss them.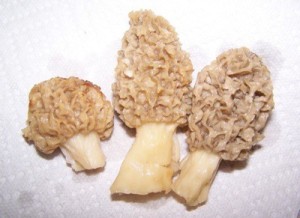 The buttery rich flavor is unbeatable and they are free!
Ingredients:
12 mushrooms
1 Tbsp. butter
1/2 tea. minced garlic
salt and pepper
garlic salt
1/4 cup wine
Directions:
First of all make very sure you know what you are picking or have someone pick them that does know what Morel mushrooms are. Then wash and wash and wash them. There will most likely be sand or dirt in them.
Slice them in half lengthwise, blot dry and put in skillet with melted butter. Add garlic and seasonings. They will shrink quickly and start to weep liquid almost immediately. After a couple of minutes drain off most of the liquid and add the wine. Simmer until tender, won't take but around 5 minutes or so.
If you haven't tried them you are really missing a wonderful treat. This recipe could serve 3 or 4 but can easily be eaten by my husband and myself.
Servings:
2
Time:
5 minutes Minutes Preparation Time
8 minutes Minutes Cooking Time
By Ann Winberg from Loup City,NE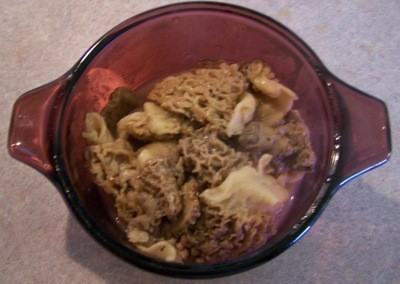 What are hickory chickens? Does anybody know?
Answers
January 16, 2017
0

found this helpful
They are morel mushrooms. Look for 3 varieties throughout Appalachia: morchella esculenta, which can be found under old apple or pear trees when the oak leaves are about mouse-ear size; morchella angusticeps (fat morel), which can be found under oak, beech or maple forests, when the serviceberry is in bloom; and morchella crassipes, found on swampy ground near jewelweed.
January 16, 2017
0

found this helpful
Hickory chickens are a morel mushroom. I found this out on a site about Appalachia.
January 17, 2017
0

found this helpful
The answers are absolutely correct. I now remember being told about Hickory Chickens many years ago. An older couple from Appalachia told me about them. I had forgotten all they told me except the name. Now, I recall the lady telling me how delicious they were when battered and fried.They both agreed they tasted like chicken.
I'm in the Piedmont near Appalachia. I'm going to check with my ag agent and see if he knows whether Hickory Chickens grow near me.
Thanks
January 22, 2017
0

found this helpful
from checkig around, they are actually mushrooms... what a crazy name LOL... they are sppsed to be in season now...???!!!
January 22, 2017
0

found this helpful
I really love all kinds of mushrooms, but had never heard of this one so this peaked my curiosity.
I found a great article from Field and Stream (although it is from an earlier date) that may be of interest to some (maybe even likekinds):
www.fieldandstream.com/.../finding-cooking-morel-mushrooms
And in case you are curious as to the cost of this delicacy:
January 22, 2017
0

found this helpful
It is a kind of morel mushroom, we have them here some years. They come out in the spring, when it gets really warm after a rain.
January 23, 2017
0

found this helpful
There is a type of mushroom/fungus that grows on tree trunks. It looks like a tiny shelf attached to the tree. When the couple was telling me about hickory chickens, that's what came to mind. I was really surprised to see what they actually looked like.
I've cooked mushrooms just a few times. The way I like them best is sliced and quickly sauteed in a medium sherry (not sweet, not dry) along with butter and a pinch of salt. Simple, delicious.
January 24, 2017
0

found this helpful
The reason for that nick name is, they are often found growing around hickory trees and when battered and fried they are said to taste like chicken.
January 24, 2017
0

found this helpful
Very interesting. Thank you,
Answer

this Question

...