Using Your Computer as a Dictonary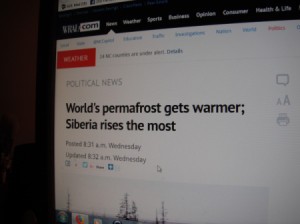 Thanks to a comment on my 10-10-2017 posting, "Increase your Vocabulary" I now have a quicker and easier way to look up the definition of a word when I'm reading the news or other articles on the internet. Just a few days ago, I saw the 10-16-2017 comment and I responded to it with my gratitude.
I know if you did not see it, you have missed it, therefore I wanted to share the how to tip just in case there are some other computer dummies out there like me. I have found it to be very helpful.
For an example, I'm using the word permafrost. I was reading an article in the news and I did not know what permafrost meant. That's not a word that I would be using in my everyday language, however to understand the article, I needed to know what permafrost is.
Source: Thriftyfun friend, Lee Anne Collins
Steps:
To get the definition of a word, go to the top of the screen to the search block beside the web address block.

Copy and paste or type the word in that block then click on the arrow or hit enter on your key pad. It will take you to the dictionary. Now if it is a simple word, such as cat, you will need to type define before the word to get the dictionary. If you type cat, you will get lots of stuff, but not the dictionary. If you type "define cat", you will get the dictionary. So to be sure and possibly save a little time, you can type define before the word you are looking up.

The dictionary gives you the word, pronunciation, and the meaning.

To go back to your article, click on the arrow at the left top of the screen.

You are back where you started and you can continue reading and have a better understanding of what you have read.

The whole process takes only a few seconds.
Read More

Comments
2 Links

I recommend using "Word Web", a free software program that is a one-click English thesaurus and dictionary for Windows. It is not a spell checker but a dictionary/thesaurus. I have been using it for many years and use it daily.
Read More...
Published by ThriftyFun.
© 1997-2023 by Cumuli, Inc. All Rights Reserved.
https://www.thriftyfun.com/Using-Your-Computer-as-a-Dictonary.html