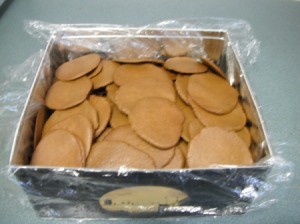 This is one of my favorite cookie recipes. You will love it too if you love the taste of ginger cookies or ginger bread. It was a big hit with my co-workers at the office and a hot item at our bake sales. When I retired, my office mate gave me a baker's roller from Pampered Chef knowing I would use it making these cookies.
Ingredients:
1/2 cup butter
1 cup molasses
1/3 cup brown sugar
3/4 tsp. ginger
3/4 tsp. cloves
3/4 tsp. cinnamon
1/4 tsp. nutmeg
1/4 tsp. allspice
dash of salt
3/4 tsp. soda
3 3/4 cups plain flour (sift before measuring)
Directions:
Place the butter and molasses in a saucepan and heat until butter is melted.
Mix sugar and spices, salt and soda together and then add to the molasses and butter. Stir well. Add the flour gradually, mixing well after each addition.
Refrigerate and then set out the day you want to bake them. Let the dough come to room temperature.
Preheat the cookie sheet and spray with butter flavored cooking spray. Make balls and press them onto the warm baking sheet. Pat down with a fork until desired thickness. Or you can roll them and cut with cookie cutter.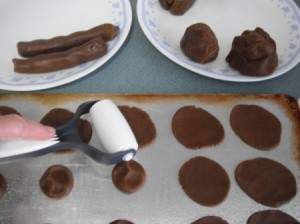 Bake 6-7 minutes at 350 degrees F. I use an insulated cookie sheet so baking time can vary. Remove with spatula and transfer to cooling rack.
Source: This recipe is from a Moravian cookbook my co-worker had. I have been baking them for about 20 years.
By littergitter from NC
Read More

Comments

sandy
Bronze Request Medal for All Time! 87 Requests
I found a kitchen tool and don't know what it is. It is used in one hand. It has a roller on each end. One of the rollers is about 3 inches wide. The other roller is about 1 1/2 inches wide. All I can think of is something to use with pastry but other than that I am lost.
Sandy from Halethorpe
Answers
By Sara (Guest Post)
June 30, 2008
0

found this helpful
Sounds like a baker's roller. I have one from pampered chef. look at their website.
http://www.pamperedchef.com

Julie
Bronze Feedback Medal for All Time! 149 Feedbacks
June 30, 2008
0

found this helpful
sounds like either a pasta cutter or what i've heard called a dounut braid cutter. try looking for kitchen tools on ebay just to compare the picture of it to know what it is.
does it appear to be old antique?

June 30, 2008
0

found this helpful
Does it look like the pasta cutter on this page?
ilforno.typepad.com/.../the_old_fashion.html
I cant tell if the wheels are different sizes or if the angle of the shot just makes it appear as such.

June 30, 2008
0

found this helpful
Yep. I agree with Sara. I think it's a baker's roller. I have one made out of wood. I use it to help stretch pizza dough and to even out pie crust right in the pie plate.
It's small enough to get into the corners. HTH

June 30, 2008
0

found this helpful
From your description, sounds like a pampered chef roller. I've got one myself! As some of the other readers posted, it's used to stretch out dough into a pan, hence the different size on each end. Mine has a little pick tucked in the handle. It looks like a tiny fork, and that is used to make "breathing" holes into the dough.

sandy
Bronze Request Medal for All Time! 87 Requests
July 1, 2008
0

found this helpful
thank you ladies. the only difference on my "bakery roller" is my rollers are wood. thank you again sandy
By Jazzylazzy (Guest Post)
July 2, 2008
0

found this helpful
It sounds like a pizza dough roller. If you don't do alot of baking, it works great as mini massager on someones tired shoulders. Just apply slight pressure as you roll it across.
Answer

this Question