November 19, 2020
0

found this helpful
I haven't found very many singles or sets in the 5 oz. size but there are a lot of other sizes listed for sale. Glasses are not fast sellers but there have been a few sold on eBay over the past several months.
Judging from the sold prices I would say your set would probably be valued in the $35-$45 range but many items like this can remain listed for months/years before they sell - or if they sell. Of course, the holidays are near so yours might sell faster.
You can look on eBay and Etsy for similar glasses to see asking prices but only a 'sold' item represents current value as this shows what someone was willing to pay for that item.
Here is a link to eBay's sold listings so you can see for yourself what glasses are selling for.
Remember when looking at listings that many sellers do not know this pattern is called 'windowpane' so that name may not be in their listings.
www.ebay.com/.../i.html?_from=R40&_sacat=20696&_nkw...
If you decide to sell your set I would recommend you try sites like Facebook Marketplace, IOffer, LetGo, OfferUp or any other sites you're familiar with. You will need several good pictures and a good description of your set.
Start your price higher and list with best offer considered and if no offers you can lower your price.
November 19, 2020
0

found this helpful
Can you please share a photo? With more information, I may be able to help! Thanks.
November 22, 2020
0

found this helpful
I will have to attach picture separately. I have 8 Pasabahce glasses 5" tall and hold 8 oz .
I have one glass 6" tall and it holds 13.5 oz.
November 22, 2020
0

found this helpful
Pghgirl40 Here is the picture. I don't think they were ever used because they are in perfect condition. Thanks for your help.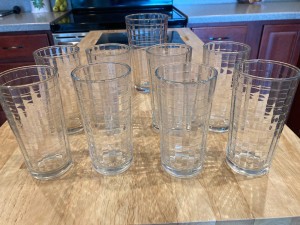 November 23, 2020
0

found this helpful
These are the PASABAHCE Optic Block pattern. They consistently sell in the $3-$6 dollar a piece range. They are very fragile so unless you are a very experienced eBay seller and comfortable with the process to double box fragile items, you would be best sell them in a local venue. Thanks for sharing and for the extra photos.