I have a set of 8 Pasabahce 5" tall windowpane glasses and they are numbered on the bottom. Are they worth much?
Answers

November 19, 2020
0

found this helpful
Best Answer
I haven't found very many singles or sets in the 5 oz. size but there are a lot of other sizes listed for sale. Glasses are not fast sellers but there have been a few sold on eBay over the past several months.
Judging from the sold prices I would say your set would probably be valued in the $35-$45 range but many items like this can remain listed for months/years before they sell - or if they sell. Of course, the holidays are near so yours might sell faster.
You can look on eBay and Etsy for similar glasses to see asking prices but only a 'sold' item represents current value as this shows what someone was willing to pay for that item.
Here is a link to eBay's sold listings so you can see for yourself what glasses are selling for.
Remember when looking at listings that many sellers do not know this pattern is called 'windowpane' so that name may not be in their listings.
www.ebay.com/.../i.html?_from=R40&_sacat=20696&_nkw...
If you decide to sell your set I would recommend you try sites like Facebook Marketplace, IOffer, LetGo, OfferUp or any other sites you're familiar with.
You will need several good pictures and a good description of your set.
Start your price higher and list with best offer considered and if no offers you can lower your price.

November 23, 2020
0

found this helpful
Best Answer
These are the PASABAHCE Optic Block pattern. They consistently sell in the $3-$6 dollar a piece range. They are very fragile so unless you are a very experienced eBay seller and comfortable with the process to double box fragile items, you would be best sell them in a local venue. Thanks for sharing and for the extra photos.

November 24, 2020
0

found this helpful
Best Answer
I think everyone has been both correct but also incorrect about this question and the names of the glasses.
I made a mistake originally as I read the original question incorrectly and read the 5" glasses as 5 oz but then questions and answers became even more confusing.
As it stands I'm not really sure about the size of the glasses as here are the comments about the glasses:
I have a set of 8 Pasabahce 5" tall windowpane glasses
8 Pasabahce glasses 5" tall and hold 8 oz .
I think mine are 5 oz and I haven't found those.
However, the actual name was confusing so I asked a Pasabahce representative and this is what he sent me:
" These vintage Pasabahce glasses are in the Scotch pattern. The geometric windowpane Block Optic design has texture on the inside of the glass, the outside is smooth. Beautiful reflective quality and glass feels pleasant in your hand."
Does this Block Optic design describe your glasses?
He also said he has seen them called many names but the design is 'Block Optic", the name is 'Scotch", other names describe the glasses:
Windowpane Optic Block
Artisan Square
Clear, Vertical & Horizontal Lines
After reading this I found that Replacements has a few of these glasses and they also have the name listed as 'Scotch'.
So maybe when listings glasses you could place all of the names in the description and maybe have it all covered.
Here's wishing you great success with your sales and also a pleasant, safe Thanksgiving.
Answer

this Question

I purchased a set of 6 glasses many years ago at a garage sale. I've researched the archer, I believe this is the makers logo, however I've come up with nothing so I may be incorrect about that. I'm curious who the maker is? When they were made? I'm also very curious if these would be considered an "Industrial Age" design? What type of barware are they? High-ball glasses?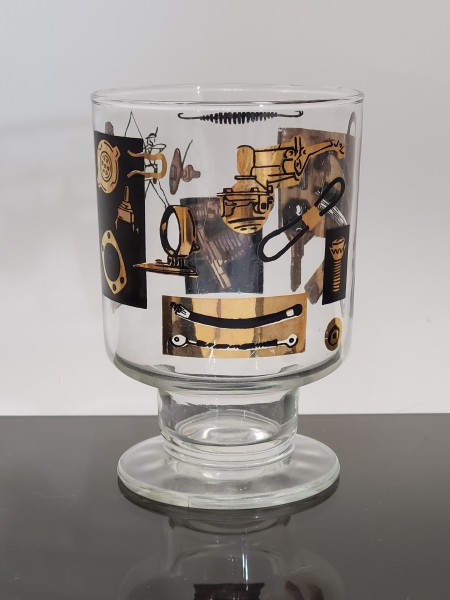 Thank you in advance, I appreciate any help with my mysterious barware set.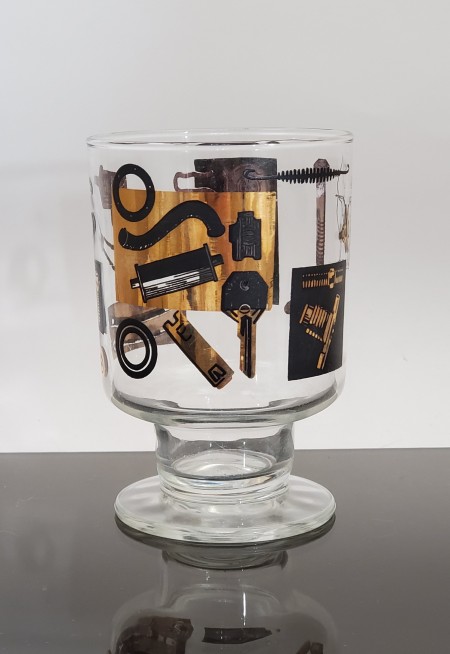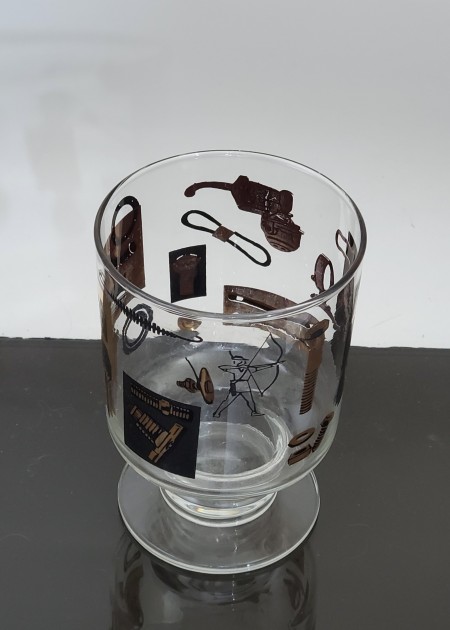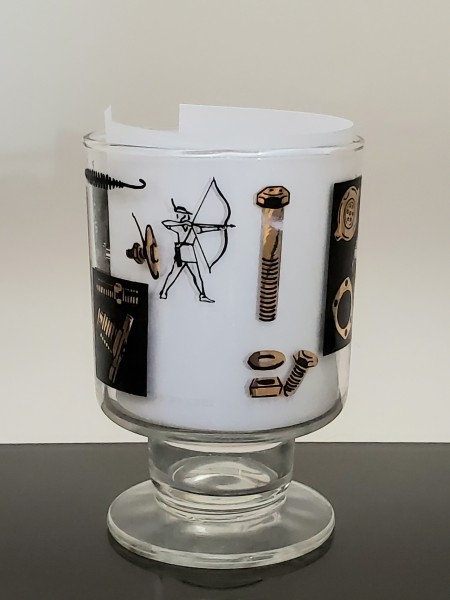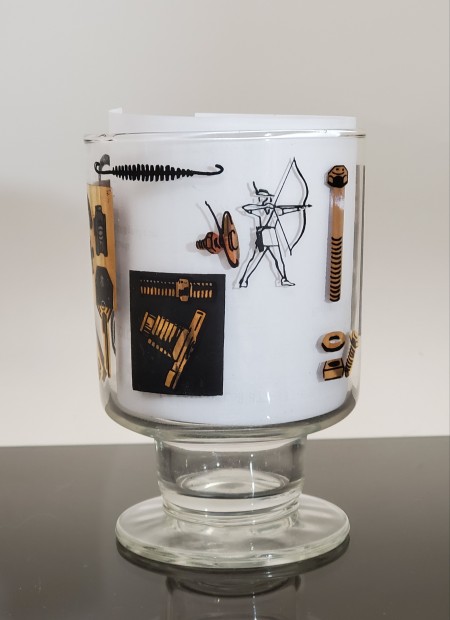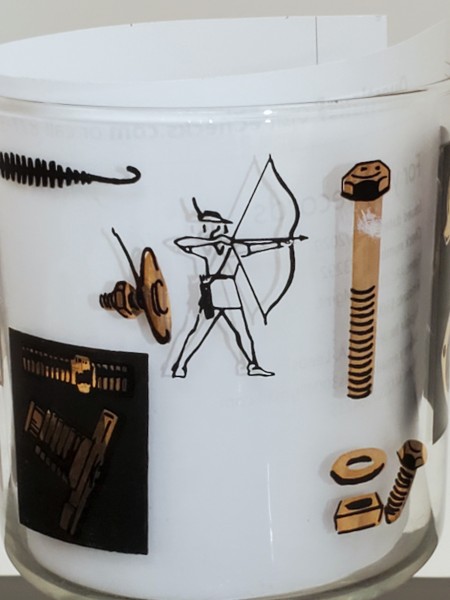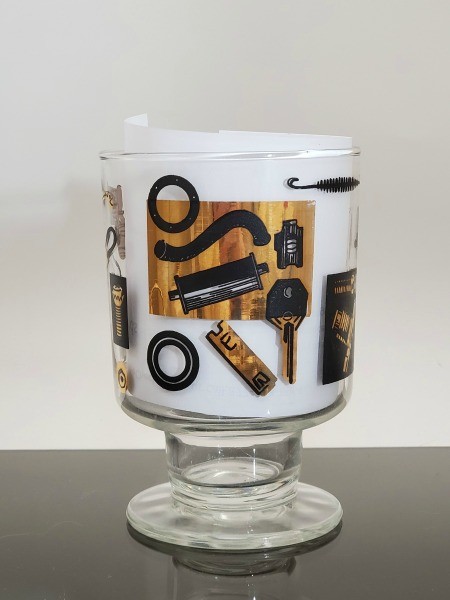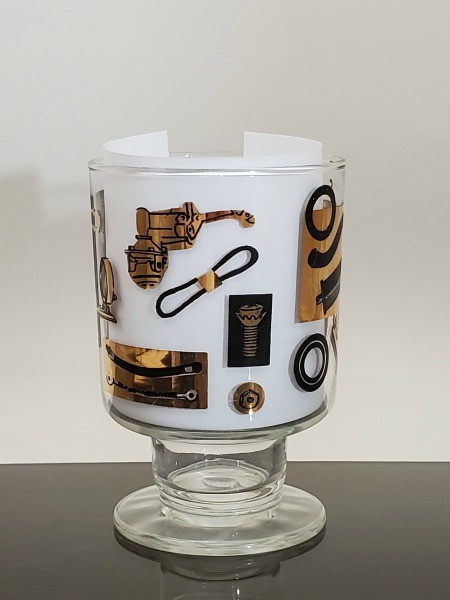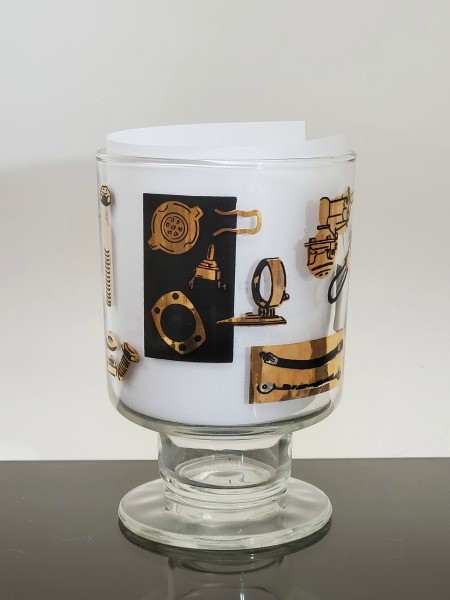 Answers

Iceskater
Silver Answer Medal for All Time! 320 Answers
November 3, 2020
1

found this helpful
Best Answer
These are so groovy!! Definitely a mid-century modern design. The type is footed rocks glass. At one time there might have been a pitcher with the set, but this is really cool - and worth some significant coin.
I was trying to figure out the theme of the graphics...do you think it might be telegraph or radio parts?

November 3, 2020
1

found this helpful
Best Answer
www.etsy.com/.../federal-glassware-car-part-and-tools
Federal brand, pint glasses, usually sell in the $3-$14 each range. There are a lot on the market which drives prices down. Fewer up drives prices up.
Super fun find!!!
Answer

this Question

Hi, I have a 16 piece set in pristine condition. I found out some info on the maker. I can't fine the pattern name or value. Can anyone help?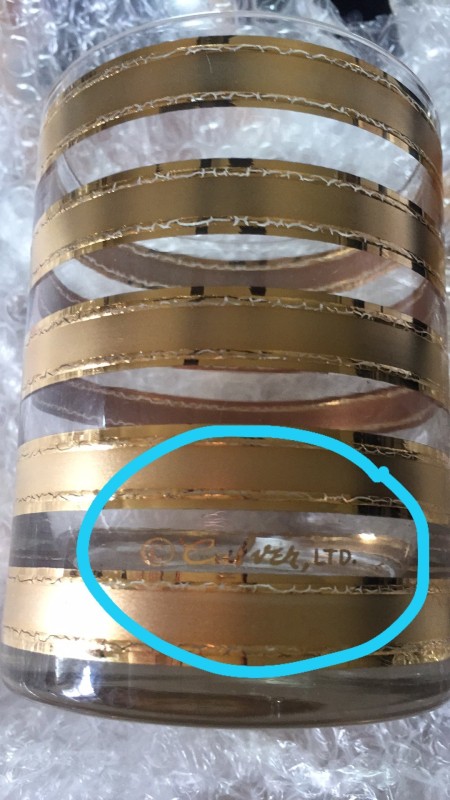 Thank you!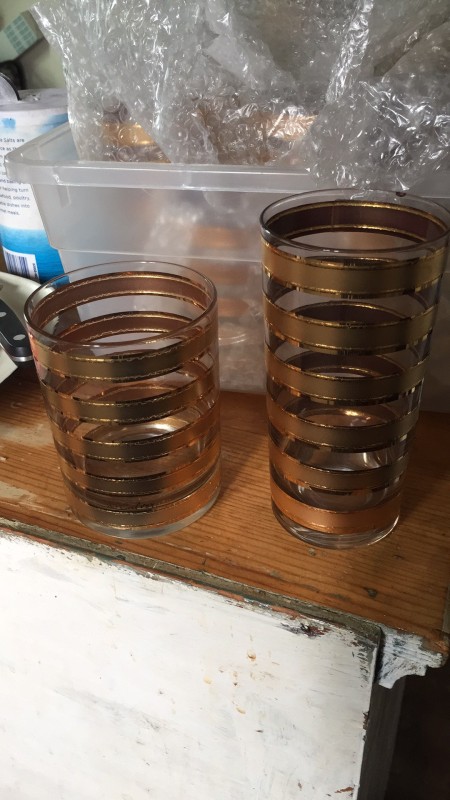 Answers

poehere
Bronze Post Medal for All Time! 105 Posts
September 3, 2020
1

found this helpful
Best Answer
The history on these glasses is quite interesting. The company was founded in the 1930s. Later they moved to beautiful downtown Rahway, New Jersey. The company was known for lavish designs and the use of 22 and 24 Karat Gold over those designs, they gained notoriety and became highly collectible. In 1996 the company was sold. In 2018 the Culver glass company was back in business and now run by Moderne Glass Company. The original company signed their glasses from 1930 until 1970 with Culver, LTD in the script. You can find some of the glasses like the ones you have that have the circled C alongside or before the name. This signature came after the copyright implementation. The 1980s and 1990s had them using either foil labels or a rounded, block print with the copyright C and no LTD.
Here is a link so that you can see the original glasses that Culver had made. I searched here and did not find your design at all. www.pinterest.com/.../?lp=true
On this site, you can see what Culver is making now. This is the Culver design or label that is used on the glasses that are now made by Moderne Glass Company. culverbrands.com/.../128;jsessionid=76486613D4BB1A2CE880DEB49F2F2A06...
As for pricing, this one would be hard to determine.

September 4, 2020
0

found this helpful
Best Answer
Culver designed and made beautiful glassware.
I remember when it was sold in high end jewelry stores - placed on velvet along with the high value jewelry and watches.
Sellers are quoting the name of glass pattern as 'Gold Rings'.
I'm not positive that 'gold rings' is the official name for these glasses.
I did find some of these glasses for sale but did not find any sold sets so current value could not be established.
One 8 piece set - smaller 'rocks' glasses - is listed on Etsy for $184 and the second set - 6 small drink glass - is listed with asking price of $82.50. These are asking prices.
Both sites have useful information.
www.etsy.com/.../culver-rocks-glasses-culver-gold...
www.etsy.com/.../wedding-table-glasses-set-of-6-by...
Perhaps these asking prices will help you decide what would be a good starting point for an asking price but I think I would sell them in sets of 4 or 8 and be sure to add shipping cost.
If you want to search for more information you can ask your question on this site:
www.antiquers.com/.../
www.antiquers.com/.../
You can also ask Culver:

September 5, 2020
0

found this helpful
Best Answer
Still quite a popular brand! The pattern "official name" on replacements.com is "cuv 85". Their naming conventions are so bizarre. It is my understanding that they give a number to the pattern they can't find the official name for. Here is a link to the site:
www.replacements.com/.../104929241
Cybergrannie gave you a link to what most sellers who try to sell them call them, which is gold rings. I have also seen it called gold stripes....but they are not exactly stripes (to me). If you are selling, be sure to note they are "signed" as that adds to the value.
Since there are no examples of sold prices (which would be today's market value). I suggest you start high on these and take best offer, whatever that may be and that will set the standard for the value for today.
I personally would not sell these in any venue where you had to ship them. My mom had a very similar set and they were so fragile that you could pick it up wrong and the glass would shatter in your hand. I shutter at the thought of packing them and putting them into a postal system. They will be beautiful shards.
If you have a good vintage shop--especially one that specializes in mid century modern (MCM) themes, you should do quite well with them.
The MCM phase is waning slowly, so if your intent is to sell, do so now.
If your intent is to add to your collection, Replacmenets.com does not have them in stock. And I didn't see any current sales on eBay. The Etsy ones are high in price as you can see.
Post back with what your intent is and if you sell, what you fetch.
Thanks for sharing!
Answer

this Question