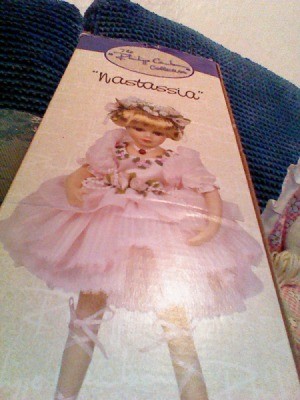 I have two porcelain dolls by Philippe Cannon; they are ballerinas still in they original boxes. They are about thirty year old. Any guess if they are worth anything? I would be grateful if you could let me know. Thanks.
By G Barnes from West Yorks, England
October 10, 2013
0

found this helpful
A good way to check on the "value" of anything is to search for it on ebay. There you will see what people are "asking" for specific items, and what buyers are willing to pay. The identical item (for instance, a Franklin Mint Princess Diana doll) will be listed with a range of asking prices, some of which will be ridiculously high. There are straight auctions, where buyers bid and the winning bid might end up being high or low; then there are buy-it-now listings, where you can pay the listed price and be done with it. Sometimes sellers list an item both ways - you either bid on it and wait for the auction to end, or you can "jump the gun" and just pay the buy-it-now price, which is usually higher, sometimes by just a couple of dollars, and sometimes by a lot. [I'm in the US so I'm using dollars for example, but ebay is available worldwide].
I use the auctions to get an idea of what prices things are going for, to see if a price I found somewhere else is reasonable or not. I also use it to see if there is interest in something I want to sell. If there are no bids on an item by the time the listing expires, and several listings for the same item end without bids, it tells me that people aren't buying that item these days.
I did a quick search for Philippe Cannon porcelain dolls and nothing came up, so I searched for "porcelain ballerina dolls", and there were over 300 listings today. Many of them don't mention the manufacturer or brand name, so it's possible that dolls like yours are listed there, but not by that name. You might want to take a look; it's easy to scan down the list (be sure to include photos in the list options) with your scrollbar.
I find ebay very educational as to what is selling and popular, and what is not. Ebay lets you sell within your own country, or internationally. At least it will give you some idea of a fair price for your dolls. Your other options, of course, include seeing an appraiser, perusing antique and collectibles shops and shows, and looking through classified ads in local and national newspapers. Good luck!
October 11, 2013
0

found this helpful
The value of dolls seems to go up and down and of course the value is really determined by "what someone is willing to pay".
Information given by the first responder is very good (for almost anything!). eBay is usually a good place to check for the "true" value of an item.
You will probably need the names of the dolls rather than the designer for your doll. If you cannot find a name then you can post a question (with photos) on the doll discussion board on eBay and I feel sure someone will give you some information. There are plenty of experts on eBay and they share their info with everyone.