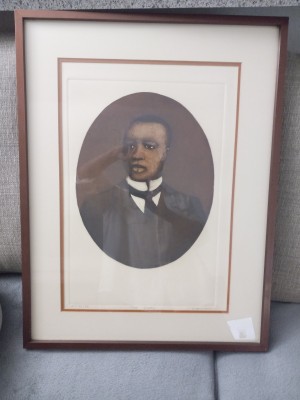 I have 2 separate signed and numbered Susan Dysinger's etchings. I'd like to know their value, but don't really know how to go about it. #1 Apparently while in storage, a rat (or something) decided to chew on the Scott Joplin A.P. VII/XX Certificate! #2 Then there is "At The Club Zangibar" 48/80 July 9th, 1979. Who could tell with the hungry critter's appetite?
I live in So. Ca. close to Laguna Beach, which I'm fairly sure is where Susan Dysinger's main studio is. Should I bring it down there and ask for a new valid Certificate? Can that even be done? Does it even matter? I don't know. Any help, or comments would be greatly appreciated.
Thank you,
Lee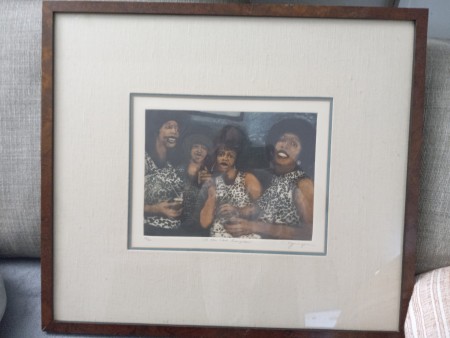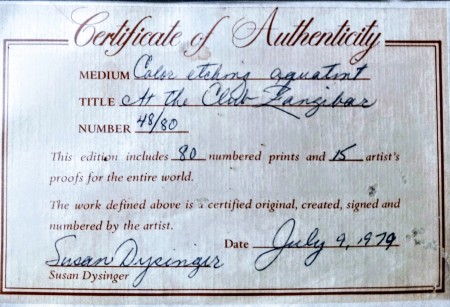 Answers

Pghgirl40
Bronze Feedback Medal for All Time! 196 Feedbacks
September 3, 2021
0

found this helpful
Best Answer
What neat items!! So sorry that a critter chomped on it.
Her items are usually estimated in auction (real auctions--not eBay) are given "estimates to sell"--which is what the auction houses hope to get for anywhere between $100 and $1000 (huge range--depending on the print size and condition.
The solds I have seen on sites I frequent--eBay and Live Auctions range from the high $50 to the mid $200...I have not seen one go high in ages--but we are in a depressed economy and one with high supply since people need money and are selling things off...and sadly high supply, usually drives down values unless the demand matches it.
Here is an example of the Joplin one and the range they are saying they could expect: www.mutualart.com/.../CC3DA4EEB4223D1
Through a deep dive Google search you may find multiple examples of SOLD prices--start high level search with just her name and prints--use the See Images link and then look for yours--then click to the examples. SOLD prices indicate value--asking prices do not as people can ask what they want, only what people pay = value in today's market. The market changes daily too!
I would call and see if you can get the certificate--only so people don't know that the other one was eaten. That may be a turn off to people knowing a critter was up close and personal...but we all know that stuff happens, even in our own homes sometimes.
If you are an experienced seller and comfortable with the wrapping and shipping process, eBay will get you the eyes--but the best way to sell is a venue with no shipping--either an auction house or higher end vintage resale store. You may fetch a little less, but you will not risk having the items damaged in transit.
Post back how your sales go!!

DianaHM
Silver Answer Medal for All Time! 440 Answers
September 18, 2021
0

found this helpful
Best Answer
Susan Dysinger was born in Corsicana, Texas, Susan studied drawing and painting at the University of California, Santa Barbara and the State College in Plattsburg, New York. In 1973, she began printmaking at the Laguna Beach School of Art where, combined with her love of music, she created a unique style of etching in aquatint and mono-type that today represents a vivid portrait of American Blues and Jazz musicians.
Susan works in her own printmaking studio in Laguna Beach, California. This allows her to maintain complete control over the many steps involved to produce her work. Susan Dysinger is a long time exhibitor at the annual summer Laguna Beach Festival of Arts and also at the Sawdust Festival.
Your Susan Dysinger "Scott Joplin" is part of a limited edition that includes 100 prints. The number of your print is written lower left. Also your print has the signature of the author lower right.
You asked about the certificate of authenticity.
Only the number 2 from your print number is visible on the certificate of authenticity. You did not write which number is written in front of your print. I can't make out the number in your photo. If it says 2/100, then the important data on your certificate of authenticity is preserved intact. If your print has one more digit number, then it is better to replace this certificate of authenticity. Since you live close to Laguna Beach, then even if your print has the number of 2/100, then it is better to try replacing the certificate of authenticity.
And try to get a certificate of authenticity for your second print as well.
Certificates of authenticity are used to validate the value of a piece of art or collectible. When you have a certificate of authenticity you are showing that either the artist or an expert on the piece has certified that it is real and not a counterfeit. Many buyers of antiques and artwork will not go through with the transaction unless they are presented with a certificate of authenticity. In other words, having a certificate of authenticity (in good condition) can help you get a better price.
Contact the artist to receive a certificate of authenticity.
Here is the contact information for Susan Dysinger's studio in Laguna Beach: www.artistsnearme.com/.../
If you are unable to receive a certificate of authenticity from a more direct source, you can bring in the piece to a well known and established appraiser. For a fee, he can generate a certificate of authenticity. His qualifications should be included on the certificate of authenticity. Make sure that the certificate of authenticity has all of the required information printed on it. The full name and contact information should be given for the individual that has created and signed the certificate of authenticity.

Judy
Gold Post Medal for All Time! 677 Posts
September 3, 2021
0

found this helpful
The number of her studio is 949-494-6351. I would call first and ask for guidance.

September 24, 2021
0

found this helpful
The Susan Dysinger's work has been offered at auction multiple times, with realized prices ranging from $ 70 USD to $ 236 USD, depending on the size and medium of the artwork. Since 2013 the record price for this artist at auction is $ 236 USD for At the Club Zanzibar, sold at Michaan's Auctions in 2013.
The Estimated price of framed Susan Dysinger "At the Club Zanzibar" etching with number 76/80 and with Certificate of Authenticity signed by the artist is $ 400-600. This lot was sold for $ 200 (starting price) www.liveauctioneers.com/.../15053500_105-susan-dysinger-at-the...
Estimated price of unframed Susan Dysinger Scott Joplin with number 92/100 was $ 200-300 (certificate not specified). Lot passed with started bid $ 100 www.liveauctioneers.com/.../104801478_susan-dysinger-etching....
Contact the author to obtain a Certificate of Authenticity.
Answer

this Question