Does anyone know if a Thomas Kinkade library edition print, titled Forest Chapel, is worth anything? It's in a beautiful matted frame and about 24x20. Also, any ideas of where I could sell it? I tried to sell it at a yard sale for $200.00, Craiglist and eBay with no buyers.
By angie from Cleveland, TN
Answers
January 12, 2011
0

found this helpful
I wouldn't believe they are worth very much as they are produced by the thousands. But you should be able to find a art dealer in your area and ask them. They would have a better opinion.
January 12, 2011
0

found this helpful
First check to see if it is signed. Usually the signature would be at the bottom. Also look to see if it is a numbered print. It will have for example 121/300 near the bottom. That means it is the 121st print of 300. If it is signed and numbered it may very well be worth something. If it isn't you would be lucky to get 12.50 for it. That is the going price online.
Good Luck.
Gem
January 12, 2011
0

found this helpful
I think the Thomas Kinkade art is very pretty, while not exactly my taste. What did you pay for it?
I looked him up on line and he is a real character, to say the least. I was shocked! Sounds like a good man gone very wrong. Sad.
January 12, 2011
0

found this helpful
Thomas Kincade has put his paintings on everything, the value is very low maybe just for the frame. He has no value maybe an origional might be worth something, but most he has is prints and such, sorry to find out what it is or not worth, buy for the beauty of his paintings, not for future investment value.
January 13, 2011
0

found this helpful
I've tried ebay and can never find one as big as mine and one that says library edition. I didn't purchase it it was a gift from my mother-in-law several years ago when he was so popular. Not my decor choice either but very pretty and thoughtful gift. We don't really have an art dealer around here and Thomas Kincade store still has high prices on them but doesn't buy back. Thanks for help.
January 13, 2011
1

found this helpful
I am not familiar with Thomas Kinkade, but I suspect that if he has loads of these prints sold, it is worth the price of the framing, and not any more. I would suggest you find someone who likes this sort of thing, and gift it to them.
January 14, 2011
0

found this helpful
Have you come up with a price? I might be interested in buying it.
January 16, 2011
0

found this helpful
I am thinking $150.00 is what I would take for it.
Answer

this Question

...
I own a Thomas Kinkade print, The Forest Chapel, the library edition. I am getting married and we could sure use some extra cash. We want to post this on Craig's List or eBay, but are not sure what to even ask for it. We are not trying to break anyone, but don't want to give it away. Can anyone suggest what we should ask for it?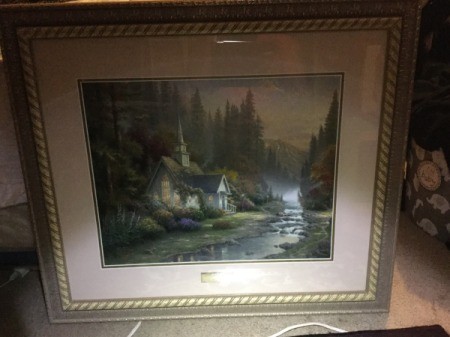 Answers
August 24, 2015
0

found this helpful
You should google for information. There are likely similar prints on eBay or similar sites. You could also take it to an art shop or antique and collectibles shop and see what they would give you for it. I have no idea of the value of Thomas Kinkade prints, but I do know that unlimited edition prints (or even limited editions of 500 or so), framed nicely, are not that valuable. New, I can buy one from a quite popular and famous local artist for about $600, but half of that cost is the framing. Second hand, I don't know what people would pay. Prints do not appreciate in value, because there are so many of them.
August 24, 2015
0

found this helpful
I have googled Thomas Kinkade prints, the official website, and see a framed print that looks like yours for $195. You should have a look for yourself. If that is the case, and this is like your picture, you could maybe get $175, although I think $150 would be more realistic. However, if you offer it for auction, you might do better because people can get carried away. I see on the website that there are some framed prints that are being sold for nearly $1000, but I suspect that these are very large, printed on canvas with the artist's thumbprint on the back, and very elaborately framed. I'm sorry if you thought you might have a more valuable piece, but I suspect not. Good luck with your wedding.
September 24, 2016
0

found this helpful
Library edition of Thomas Kincaid's large framed picture (chapel in the forest)- what's the value?
January 26, 2017
0

found this helpful
I purchased two of them, one is The Hidden Farden and the other is Forest Chapel both framed nicely. I paid $150.00 for both. Hopping for resale price. Not to hopeful.
March 25, 2017
0

found this helpful
Is it signed and numbered?
Read More Answers
July 9, 2014
0

found this helpful
What is the value of a Thomas Kinkade library edition print titled "Cottage Garden"? It's a large print, the size you would hang above a sofa, nicely framed and matted.
By Sharon
Answers
August 22, 2015
0

found this helpful
Why not try buying one just to see what others might be asking?
August 22, 2015
0

found this helpful
you can do the research yourself.
Check out the listings on eBay or Craigslist.
There are a LOT of Thomas Kinkade library editions but maybe not too many of yours.
Sellers do their research before they list but the true value is what is sold.
eBay has a sold listings to check also.
The value of the painting will depend on the condition, size, framed, and how many are available.
Most are selling for under 100.00 and many for 25 or less.
Then there is the problem of shipping if you go with eBay.
maybe the true value is much less than you thought and you might check out local shops to see if they would be interested.
August 22, 2015
0

found this helpful
From what I am seeing it is between $60.00 and $250.00. Also if you do have to ship be sure to find a piece of plexiglass to go on either side of the painting. Would be a real shame to have a the poked thru the painting itself.
February 23, 2017
0

found this helpful
I've got a Thomas Kincaid cobblestone village with papers proving authenticity,
Answer

this Question

...
August 7, 2014
0

found this helpful
Can anyone advise regarding a very large print by Thomas Kinkade, using his Girrard signature? It is a Victorian beach scene with both red and blue striped tents, sailboats, sidewalk and wooden, dining-room style chairs in the sand on the left, lots of white buildings upper left. Several flags wave on a flagpole. It's similar to Summertime Resort. Thanks!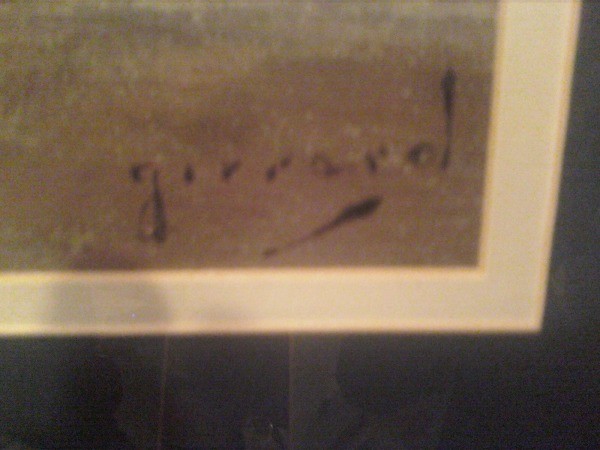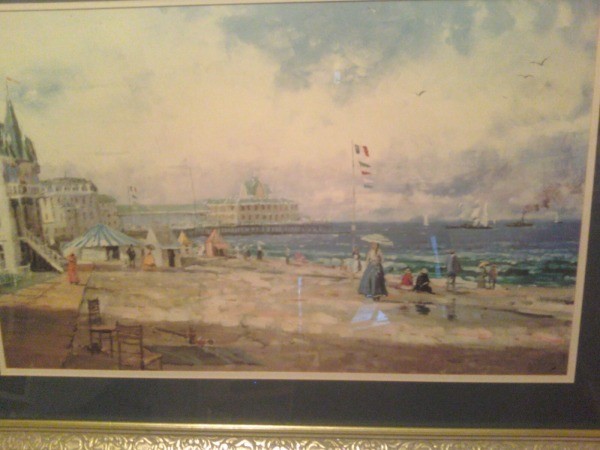 By Wendy G.
Answer

this Question

...