poehere
Bronze Post Medal for All Time! 105 Posts
May 16, 2020
0

found this helpful
Best Answer
The markings on the plate are used to determine the year the plate was made and in what month it was made in. The first digit the 9 tells you the plate was made in September. The second digit the 9 tells you the plate was made in 1916 and the N is for the Newell potteries in Newell, West Virginia. It is a shame that people are not interested in these plates any longer or in buying good China for their home. The plate is over 100 years old according to the marking on the back of the plate.
I am afraid if you try to sell this online you won't receive much money for it at all. There are some people trying to sell off single plates for as little as $5. I think you should try and talk to someone about this and see if there is a higher value for the plate than what you are seeing online. Maybe go to an antique store because of the age of this plate and check with them.

May 16, 2020
0

found this helpful
Thank you very much for the information on the plate. I received this from my grandmother and didn't know anything about it. I understand it's in pretty bad shape and didn't plan on selling it. Thanks again for your help!

November 25, 2021
0

found this helpful
It was going to charge me 29.95?

November 25, 2021
0

found this helpful
Still charging top much not $1 it's $29.00! Jus to answer a question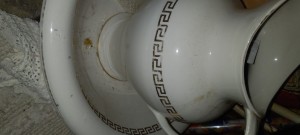 February 7, 2022
0

found this helpful
How about marking (F 47 N 6) how to read these ? When it was made

May 17, 2020
0

found this helpful
Best Answer
It is really neat to have something like this that you 'think' about who and when some past relative might have used it.
Homer Laughlin made a tremendous amount of china and it was sold to so many stores - difficult to image that it was sold in F.W. Woolworth (a typical 5 & 10 cent store) as well as Sears and other 'common' stores.
Republic is a shape more than a name but you can read all about this design, how to date your piece, and history about the company on this site.
Very interesting reading.
www.laurelhollowpark.net/.../hlcbackstamps.html
www.laurelhollowpark.net/.../republic.html

May 20, 2020
0

found this helpful
You are welcome.
Reading Pghgirl's comments about making jewelry reminded me of something along those lines that I wanted to try. I found the site that was so interesting to me so if you decide to 'make' something with your plate you might look at this:
"If you just can't force yourself to throw out that broken china and you really want a simple project for repurposing it - turn those pieces into fridge magnets. This is a project that really doesn't take much work. You just add a magnet to the back of your chunks of china. You may want to smooth out the edges just a bit but this is the perfect way to display that china pattern that you just can't part with and keep it simple at the same time."
here is the site: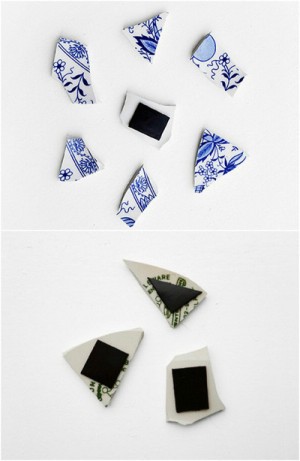 May 17, 2020
0

found this helpful
Here is a book that has some info about the Republic backstamp.
books.google.com/books?id=wFbCvKExeRoC&pg=PA82&lpg...
Is there a photo of the front of the piece? Do you have the name of the pattern under this mark?
Are you looking for the value to sell or just to decide if you should use or break up the piece for jewelry (which is what a family member did with some of our HL plates)?

May 17, 2020
0

found this helpful
It is not very clear but I believe this picture is the front of the plate.
I did not look for the pattern name or number but it seems the republic history says the plain gold border was used in the early years.
Hope you are well.

May 17, 2020
0

found this helpful
Wow! I see it now on the big screen. This is the front! With all the damage it looked like the back!! I have never seen this kind of craziness/staining on a front.
There is a cream and gold leaf pattern like this that used to be quite valuable and sought after, as recent as a year ago.
I forget if had a name or number on Replacement.com. It is going to be curious to see how values shake out post virus. With more people cooking and eating at home. I have seen people use nice dishes again! It would be nice if they made a comeback!
Thanks for clarifying, cybergrannie. We are as well as can be expected. Hope you are safe and well!

May 18, 2020
0

found this helpful
Thank you for the information. This is all the information I have regarding the plate. I've never heard of someone making jewelry out of a plate, but would like to see a pic of one. I just planned to put it in my display cabinet, but wanted a little info on it. Thanks.

May 19, 2020
0

found this helpful
This is the necklace that was made for all of the women in our family, from my hubby's grandmother's china. The person who made it nipped pieces with a glass nipper, then she soldered silver plate material around it and added the loop and the chain (which I see now is tarnished). BV (before virus) when that side of the family go together, we would all wear our necklaces to celebrate their granny!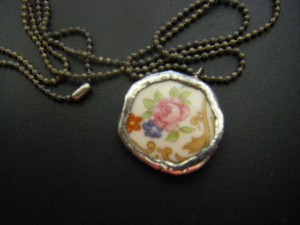 May 19, 2020
0

found this helpful
Oh how interesting and thanks for sharing your story!

May 19, 2020
1

found this helpful
You are most welcome! It is a special piece! Maybe you can make something lovely from yours!

May 20, 2020
1

found this helpful
This is so interesting...
I found a link with instructions (while searching for something else) but thought I would offer it - just in case someone wants to try it.