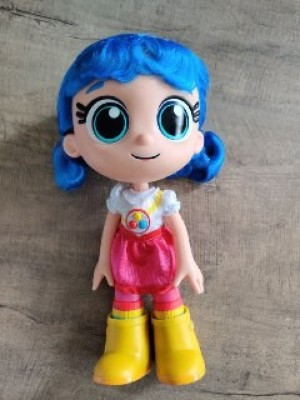 This is a prototype doll that was developed by a company that ceased operating in 2019, so it remains a one-of. It is the main character from the childrens' television show "True and the Rainbow Kingdom"
It measures 11x5x5 inches, is made of a soft plastic with mobile limbs and head. The shoes are removable and made of a rubber material. The buttons on the chest activate a series of recorded phrases.
Would anyone have an idea if there's a market for this? It appears that the collectors' market is mainly for antiques.
Answers

poehere
Bronze Post Medal for All Time! 105 Posts
April 16, 2020
1

found this helpful
In the collector field there is always a market for dolls like this that are one of a kind or prototypes that never went into production. Now to find this market is a bit harder and eBay or Etsy will not help at all. What needs to be done is a lot of research for one of a kind collectables. I can give you a few websites to check out. I did find that they hold auctions for one of a kind item at a website I found out of Florida.
You would need to contact these companies and explain what you have. I do believe they would auction the item off but I am not really sure how all of this works for an item like you have. Here are a few sites you can write to to ask them your questions to see if they can help you out a bit more.
www.oakauctions.com/default.aspx
www.invaluable.com/.../one-of-a-kind-collectibles-auctions...
www.onekindcollectable.com/.../

April 17, 2020
1

found this helpful
She is cute.
Do you have papers stating any of the information you provide?
Did you purchase this doll or was it a gift?
Do you know if you have a legal right to sell this doll?
I'm only asking these questions because from what I've seen all of the toys from this show have copyrights but sometimes you can still sell something that you purchased or was legally presented to you.
The pattern for the stuffed doll is copyrighted but they can legally sell the pattern and the kit to make the doll (that is the reason they are almost all exactly alike).
Sometimes you can sell an item but you cannot advertise it for sale by any of the 'names'.
There are some sites about the companies online but I'm not going to venture anything legal in a case like this.
This seems to be about their website but very detailed.
trueandtherainbowkingdom.com/.../
Maybe when another member joins in (Pghgirl) she will be able to shed some light on this as all of this legal stuff is too far in my past to be viable.

April 18, 2020
1

found this helpful
I think your daughter has a really unique item and not one like anyone else will have!
You could probably sell it but just one 'picky' person can sometimes cause a lot of problems over nothing and I know you would not want that to happen.
Someone may ask 'who gave it to you?' and did they have the legal right to give it to you?'
I remember when there was such a fuss over people trying to sell 'promotional' records on eBay and eBay stopped all sales but there was a law suit and the judge ruled that 'promotional' items were given as 'gifts' and the owner had relinquished their legal right to determine what could be done with those items. eBay then allowed the sales. So you are probably in the clear and could sell it - your choice.
Truthfully - your daughter could enjoy it now and maybe sell it when she is older - for a lot more money...

December 13, 2021
0

found this helpful
I have been look for a doll like this for my daughter, she loves True! Its a shame they didnt make more. I hope she is enjoyed and loved.
Answer

this Question