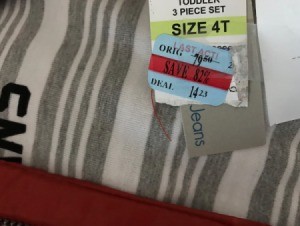 Do you verify the tags of items you are purchasing? Or the quantity. For instance; if you are purchasing clothes, do you look at the tag to see if it is a 1 piece, 2 piece, 3 piece or so forth? If you are purchasing cups, do you check to ensure the correct number of cups are in the box?
You should! Because, sometimes you can come across an outfit you like but a belt is missing, or the top, bottom. Same with the cups, someone ahead could have taken it out and never put it back and it is missing. If you do come across anything "missing" in your outfit or quantity of some product, chances are you will get a further discount!
Just ask the employee, if they can give you a discount since it is missing partial. Like today, I was able to save a few more bucks, because the pair of pants was missing from the outfit! Had I not pay attention to the tag, I would have never known it was a 3 piece!