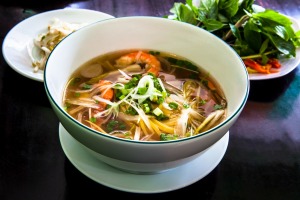 Spicy, low fat soup. My husband and I had wonderful soup at a local Vietnamese restaurant and I tried to duplicate it at home. It's not exactly the same, but pretty close!
Ingredients:
5 (14 oz.) cans vegetable stock
2 Tbsp. garlic chili sauce* (Tuong ot toi veit-nam)
1 Tbsp. Sriracha hot chili sauce* (Tuong ot sriracha)
1 bunch of scallions, chopped
1 bunch of fresh cilantro, chopped
8 oz. of stir fry vegetables**
1/2 package of plain Chinese noodles (broken into smaller pieces)
dash of lemon juice
1 (8 oz.) container of bean sprouts
*These are distributed by Huy Fong Foods, Inc and can be found in the Asian or Ethnic section of most grocery stores.
**I use Marjon fresh stir fry vegetables in a bag - the veggies are napa cabbage, Chinese cabbage, cabbage, carrots, red cabbage, bok choy, onions, savoy, broccoli and snow peas
Directions:
Pour the stock into a large pan. Add the garlic chili sauce and hot chili sauce. Add 3/4 of the scallions and 3/4 of the cilantro. Turn the heat on low and cook for about 20 minutes. Add the vegetables and cook for 10 minutes.
Add the Chinese noodles, a dash of lemon juice and 3/4 of the bean sprouts and cook for 5-10 minutes.
Serve the soup and put the remaining scallions, cilantro and bean sprouts on the side adding as you like.
I usually also make vegetable egg rolls or spring rolls to go with the soup.
Servings:
2
Time:
5 Minutes Preparation Time
45 Minutes Cooking Time
By Lisa from Tampa
Read More

Comments