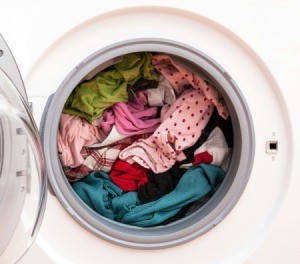 Top load washing machine not getting dust and debris out. I have done a search and figured out that it is probably an uncleared drain. It is draining the water, but my clothes could be more wrung out I suppose. I have removed the drain pipe from the back and all seems clear. It looks as though I need to find my way into the inner workings of this Maytag stacking "heavy duty" washer (older model). Now that I look at it, it has a "self clean washer filter".
Any clues as to the best way to go about this? I am often very dusty from work and I have animals. My clothes come out with dust smears all over them and at least as many animal hairs as when I put them in the washer! I can even give some of my (clean) clothes a shake and have dust poof out! Thanks in advance!
Answers

Judi
Bronze Feedback Medal for All Time! 239 Feedbacks
December 9, 2008
0

found this helpful
I think it would help to shake them out outside before putting in the washer. I've had to run some very dirty jeans (coated with mud) through a rinse cycle before actually washing to get them clean. If your water is really dirty the detergent can't clean. Also, maybe you're over loading the machine.

December 10, 2008
1

found this helpful
I upgraded to front loaders last year and it was the best! If you can't afford it you should try washing in smaller loads, use liquid instead of powder detergent and put white vinegar in your rinse to break down the soap scum. Top load washer use 40+ gallons of water per wash load and you need to literally soak your clothes. If you clothes are really dirty you should only be washing 5-6 items to get proper water circulation. The more clothes, the less the water circulates and the less crud comes out of your clothes.
I would HIGHLY recommend you look into a front load washer. They use about 13 gallons of water total and they get your clothes super clean. My husband is a mechanic and his clothes were never clean before. Now I can wash 6 pairs of jeans, 4-5 shirts on the super load and they are cleaner than I could ever imagine.
Take your work clothes to a laundromate once as they are usually front load washers and you will see what I'm talking about.

December 10, 2008
0

found this helpful
It might not be possible to find a manual for an old machine, but try the home repair section of the public library. Some of those big ones have really detailed repair guides...ask the reference librarian to help if you can't find what you need.

December 10, 2008
1

found this helpful
I read something once about disconnecting the washer (with a pan to catch water), then take off the drain hose, then use a wet/dry vac to suck out whatever is in the drain part.

December 11, 2008
0

found this helpful
A lot of powdery dust/dirt will "cake" in warm/hot water and gum on to clothing rather than wash out. Try rinsing the dusty clothes in cold water first in the machine, then washing them the way you normally would.

December 11, 2008
0

found this helpful
When this happened to me, Maytag also, I finally had to call a repairman. He had to take the agitator off which takes some kind of a special tool. He found a coin had fallen right on top of the drain hole so the clothes weren't spinning out all the way and were becomming dirtier and dirtier.
The repairman was worth it to have this major problem fixed. We were VERY poor in those days but no choice on this one.

Louise B.
Silver Feedback Medal for All Time! 337 Feedbacks
December 11, 2008
0

found this helpful
How much water is going into the machine? It almost seems, from your description, as if there is hardly any water in that machine. Or, as others have suggested, that you are overloading the machine. Maybe you are filling your machine up with clothes and there is only a small amount of water in the bottom. When I wash the blanket that my cat sleeps on, which has loads of cat hair on it, there are clumps of hair left on it, and also stuck on the sides of the machine.
However, when I run these through the dryer, the cat hair all comes out, and is in the filter.
Another thought about the animal hair is that perhaps it needs to be wiped out of the interior of your machine. I hestitate to suggest this, as anyone who is prepared to dismantle their machine likely knows to clean animal hair out of the inside, but perhaps there is some places it is getting caught, and then just recirculating all the time.
By Phoebe (Guest Post)
December 11, 2008
0

found this helpful
Thanks everybody. I REALLY want a front loader and I probably do overload the clothes. I hang my stuff to dry so I don't get the benefit of the dryer shaking out and filtering the "fluff" and dust. I know the washer fills completely and in fact does not know the difference between a small load and a large one (still fills all the way up). I always put in the powder and let the water dissolve it before adding clothes.
I'll try everything!
Answer

this Question
My washing machine is not cleaning my clothes, and there appears to be black grease or something of that sort.

How do I get rid of this problem.
Wendy H.
Answers
By Michelle from Canada (Guest Post)
April 26, 2005
0

found this helpful
Are you sure it's coming from the washer? I had that problem too. The grease marks looked like 2 lines that didn't meet at the ends. Almost like trying to draw the human eye maybe?? It could be your dryer. I went out and bought a new washer just to find out mine was fine. Inside the dryer between the drum and the door there's supposed to be these little tabs that keep the clothes form getting caught.
If they're missing then just install new ones. Run some CLR through your washer and clean out the filter (if your model has one) and both units should work fine after that. I hope I helped!!

April 26, 2005
0

found this helpful
We used to have a Hot Point washing machine that did the same thing. We took it in to get it looked at and they said the transmission was out of it. They told us it would be cheaper to get a new washer, so we did. Hopefully, you don't have to do the same. Good luck!

April 27, 2005
0

found this helpful
We had this problem... when we washed the clothes, we'd get black dots all over the items.. we had it looked at and the motor had developed an oil leak... it was cheaper to just go out and invest in a new washer.
Answer

this Question