janice
Bronze Request Medal for All Time! 53 Requests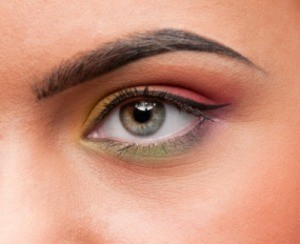 I don't know if there is such a thing, but I was wondering if anyone has a recipe and/or tip for waxing eyebrows. I had mine done at a salon for my wedding last year and cannot afford to keep paying for this. Is there a recipe for making your own eyebrow wax? and does anyone have tips for waxing so I don't look "scary" after doing this? Thank you in advance for any advice on this!
jmz2005 from illinois
Answers

April 19, 2006
0

found this helpful
I was getting mine waxed too and a tip I remember from my salon was to put a little baby powder on your brows before applying the wax...this helps it stick and helps with redness. Another thing they used to do was apply pressure right after they ripped the wax off...just for a few seconds...this also helps with redness.
I now buy a brow waxing kit at walmart for a few bucks and it lasts a long time. I just reheat the wax in the microwave when I want to wax my brows. And to keep them looking great in between waxing pluck out the hairs as they grow in (daily). If you do that you really have no need to wax them regularly.
My Mom uses one of those little trimmers, they are battery operated and are really easy to use. I prefer that for my upper lip "fuzz".
By Daisy (Guest Post)
April 19, 2006
0

found this helpful
I've been waxing my own eyebrows for years. Here are a few tips I've learned along the way: apply a little baby powder before you start; when you're all done, rub a cotton ball with baby oil over your eyebrows to get rid of any extra wax bits (works on getting wax off bathroom counters too); wax before bedtime, since you'll have all night for the redness to go away.
By Kam (Guest Post)
April 19, 2006
0

found this helpful
I have done my eyebrows for years. No one can tell I do not get them done at the salon. Just go to your local beauty supply store have someone working there help you find the right wax, strips, and applicator sticks, for your eyebrows. Get all your supplies ready in front of a mirror. Wear tight head band to pull all your hair back off your face. Make sure you have something not valuable you can place the wax jar and supplies on. (you do not want to spill wax on anything valuable, bkz you will have a hard time removing it. With an eyebrow pencil mark the section of hair you would like to remove (once you get the hang of it you won't need to pencil). NEVER over heat the wax in the microwave (mine takes 40 seconds to heat up and it's still very hot), you could burn yourself badly. You just want the top of the stick you place in the wax to be covered with wax. Wipe off most of the wax on the stick on the inside of the jar.
Make sure no wax is about to drip off stick. Blow on the wax and then apply only to the eyebrow hair you want to remove. TRICK: when you apply do not spread wax to high, (otherwise you may remove too much hair) once you press the strips to remove wax, the wax will spread higher. You can always go back with more wax to the spots you missed. Clean up all left over wax off your face with removal strips. Coat I mean coat your eyebrow area with aloe lotion and or antibacterial cream to stop the burn and prevent scares and swelling. Fold up used strips around used sticks and throw away. Give yourself plenty of time to do the process neatly and quietly. Spillage is brutal!! Start here and you can become a pro. I brazilain wax myself also, and I found a great product that doesn't hurt too bad. My man loves it. And you save a bundle doing it all yourself.

April 19, 2006
0

found this helpful
a little baby ora-gel to numb
By jmz2005. (Guest Post)
April 20, 2006
0

found this helpful
Thank You for the great tips, I will be trying these.
By Brooke (Guest Post)
April 22, 2006
0

found this helpful
Hi I am a beauty therapist from the Gold Coast, Australia. Buy a good quality wax from a beauty supplies shop. Melt wax and use a very small amount on your brows and tilt your head back slightly. It might take a few goes - but you should be able to get it right eventually. whatever you do don't shave or use electric trimmers on them.
If you can afford it, have it done professionally once more and as soon as hair grows back, wax it at home so you don't lose the shape of them. Use an aloe vera gel or even a cold compress after will help to soothe - unfortunately you will still have redness for a hour or so. Hope this helps!! From Brooke.

June 12, 2006
0

found this helpful
I get the wax that can be melted in the microwave for about a minute, It's quick and less messy. I purchased it at the beauty supply store.

July 14, 2006
0

found this helpful
Have you considered using a cosmetology school? The one near me offers eyebrow wax for $6 and for every $6+ service purchased, I can get another $6 service for free. Plus I am a student so I get 1/2 off also. What I usually do is get a facial and eyebrow wax for less than $6! A great way to get pampered inexpensively.
By me (Guest Post)
December 6, 2006
0

found this helpful
what happens if you use body wax on your eyebrows?

March 22, 2007
0

found this helpful
I used to get mine done too, but now I do mine at home too. I use the baby powder trick as well. And apply the pressure ... it works too. I used to buy the wax kits, but I recently tried to gel kind and LOVE it!!! I don't have to worry about heating it, and if I make a mistake applying it, it rinses right off!!
The kit I bought was pretty cheap and can do any part of the body! I didn't think the gel kind would work until I bought it!! I also pluck in between waxing...that helps a lot!!
Read More

Answers