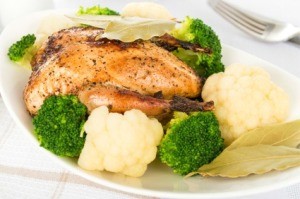 What to do on those nights when the cupboards are almost bare and payday is 2 days away? Here are 3 quick ideas.
Pizza
Buy pizza dough frozen and defrost. Spread with spaghetti sauce jar or canned. Add meat and cheese of your choice and cook according to pizza dough instructions (Any pizza instructions).
Quick Pizza
Ingredients

English muffins
Spaghetti Sauce
Grated Cheese
Optional: peppers, cooked ground meat of any kind, whole onion rings
Directions Broil on a cookie sheet until bubbly and eat quickly to totally enjoy. So fast you won't notice an increase in heat in your kitchen, I am guessing. :) Teriyaki Beef Kabobs
Take bite sized pieces of beef and soak them in teriyaki sauce overnight. Put pieces beef on skewers with peppers, mushrooms, pineapple, and anything else you just love. BBQ, cook over range grill, turning every 2 minutes, or broil turning after first 3 minutes.
Serve any of the above recipes with fresh greens, cooked green beans, or mung sprouts. If you are making kabobs, serve them with tiny little biscuits you can bake fresh using Bisquick. Make them tiny so they cook really, really fast in the oven.
By Kittyhassparkle
Read More

Comments
When you don't have enough time to cook healthy but don't want fast food, make my specialty dinner combo. Just take a roll or a wrap and add your favorite veggies, fruit, and meat.
Read More...