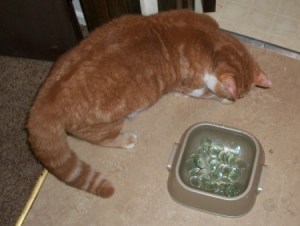 Cornelius has a habit of moving his water dish. And, even though it's wider at the base, he can tip it. So, I thought of something I could put inside that would not only weigh it down, but alert me that he is low. Summer is upon us, and pets can sometimes get left for the day without water.
I put some of the dollar tree clear rocks in the bottom of his water bowl. They weigh down the bowl and when he is low, I will hear them move around when he is trying to get to the bottom.
Now, before anyone starts warning me about a choking hazard, please don't. Cats don't have the "it's there, I must eat it" mentality that dogs do. Plus I made sure they are too big to even get in his mouth, much less down his throat.
As you can see from the photo, he was a bit, "what is that in my water dish," leery, but only for about 10 seconds, then enjoyed a drink from a bowl that will stay put.
Hope this helps.
By Sandi/Poor But Proud from Salem, OR
Read More

Comments

My dog has just recently started putting her paw in her water bowl before drinking, then she'll drink a little bit, stick her paw in again, drink a little more, then purposely spill the whole bowl. Then I'll fill it and and a little while later it will happen again.
The dish is clean, the water is fresh, I don't know what she's trying to tell me, or if it's just a little dog game! Has anyone ever experienced such behavior with their pet?
Answers
By (Guest Post)
September 16, 2005
0

found this helpful
Try a different water bowl, there are many flat bottom or even wide-bottom bowls that state "NO-TIP" These, however didn't work with my too-smart +Shelties. Every day I'd come home to a flooded floor. What I finally did was get a water bottle like you would use for a guinea pg and hang it from a low shelf.
They could drink from this, and I didn't have to swim in the door every day. They did outgrow the tipping behavior. If you see them getting ready to tip, yell no, and spray them with a stream from a water bottle.

September 16, 2005
0

found this helpful
With a dog, some of their glands are in their feet (with humans its their nerve endings). When the dogs walks/steps in water they are trying to cool themselves off, and hence step...drink...step...drink. I'm surprised that you haven't caught the dog laying in the puddle of water after she spills it. Be patient,summer is almost over. Beverly (Havana,Arkansas)

September 16, 2005
0

found this helpful
My dog loves to play this game when he's outside playing. He just loves to put his right front foot into the water bowl -- reminds me of the old dish soap commercial lady: "Relax. You're soaking in it."
I dont think it indicates any medical problem. Nothing to worry about. Indoors, we have an elevated feeder that holds Magic's water and food bowls very steady, so he can't pull this little trick in the house.
Magic is a springer spaniel, and he adores water, so I always thought that was the reason. Good luck, and remember, always be smarter than the dog (not an easy task! LOL).
By Tori (Guest Post)
September 16, 2005
0

found this helpful
When my dog accidentally knocked over her water bowl, I put a piece of the rubberized shelf liner underneath the bowl which stopped the problem. This is the stuff that comes in solid colors and has a mesh look to it. It is basically the same material those rubberized jar openers are made with. Tori

Harlean
Bronze Post Medal for All Time! 148 Posts
September 17, 2005
0

found this helpful
My female rat terrier does this to cool off. When she was just a tiny puppy, I had one of those water bowls that you turn a 2 liter soda bottle upside down and it empties into the bowl as needed. It didn't take her long to learn how to scoop the water onto the floor. She would repeat the action until the bottle was empty, and then lay in the puddle that she had made. She is now 10 years old, and that water bottle is gone, but she still puts her front paws in the bowl as she drinks.
I use a flat bowl with straight sides,(I think it is a large plant saucer) and have no problem with tipping, but have to change her water often in the pen, as I spread Cedar chips to deter ticks and fleas, and she transfers them into her water dish.
Harlean from Arkansas

September 17, 2005
0

found this helpful
Find a heavy rock....scrub it down real good so its clean, place in center of bowl....works great!
By Martha (Guest Post)
September 17, 2005
1

found this helpful
If it is outside use a bunt cake pan (the kind with a hole in the middle)as a water bowl. Put a stake in the hole in the middle and drive it into the ground.
By michael (Guest Post)
February 17, 2009
0

found this helpful
I have an outside dog every time I fill my dogs water bowl he knocks it over I've tried a metal bowl an a 1gallon bucket and he even knocks it over, or pulls it down. What can I do he wont do it if I'm watching he wont do it what do I do?

March 6, 2009
0

found this helpful
Hi my dog keeps running into the kitchen to run outside and accidentily knocks the water bowl over can somebody please tell me how to stop this?

Judi
Bronze Feedback Medal for All Time! 239 Feedbacks
March 6, 2009
0

found this helpful
sal55, you can get a very heavy bowl! Our dogs like to stand in their water bowl in the summer so we got them a LARGE marble (so the guy said!) bowl. We also bought a smaller one for food. They can't turn these over and visiting dogs (our son's) can't carry them around in their mouths!
Answer

this Question