My dog has just recently started putting her paw in her water bowl before drinking, then she'll drink a little bit, stick her paw in again, drink a little more, then purposely spill the whole bowl. Then I'll fill it and and a little while later it will happen again.
The dish is clean, the water is fresh, I don't know what she's trying to tell me, or if it's just a little dog game! Has anyone ever experienced such behavior with their pet?
Add your voice! Click below to answer. ThriftyFun is powered by your wisdom!
Add your voice! Click below to answer. ThriftyFun is powered by your wisdom!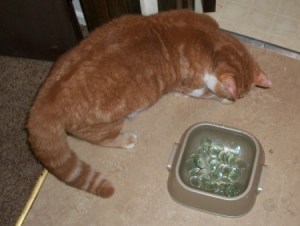 Cornelius has a habit of moving his water dish. And, even though it's wider at the base, he can tip it. So, I thought of something I could put inside that would not only weigh it down, but alert me that he is low. Summer is upon us, and pets can sometimes get left for the day without water.
I put some of the dollar tree clear rocks in the bottom of his water bowl. They weigh down the bowl and when he is low, I will hear them move around when he is trying to get to the bottom.
Now, before anyone starts warning me about a choking hazard, please don't. Cats don't have the "it's there, I must eat it" mentality that dogs do. Plus I made sure they are too big to even get in his mouth, much less down his throat.
As you can see from the photo, he was a bit, "what is that in my water dish," leery, but only for about 10 seconds, then enjoyed a drink from a bowl that will stay put.
Hope this helps.
By Sandi from Salem, OR
Comments
June 14, 2011
0

found this helpful
Our big kitty would put his paw into his water bowl to determine the water level, I think, and it'd invariably move on him. So, we found a nice heavy crock bowl for him. It works very well too. I used to think Kit was just playing in the water since he does like water, but I think he may have gotten water in his nose when he went to get a drink from his water dish, so that's why he tested it with his paw. The crock worked though. Good idea you had. No way would a cat ever get choked on a glass glob. LOL They eat and drink so daintily.
Pookarina
June 14, 2011
0

found this helpful
I got a large low heavy bowl and my one knucklehead cat still pulls it around. I have to be careful not to overfill it as he sloshes the water all over! Cats are just goofy! Guess that's why we enjoy them so much. :-)
June 14, 2011
0

found this helpful
They do make bowls with the rubber bottoms which prevent them from easily being moved. But your idea sounds great and I know that cats wouldn't try to put one in their mouth. They are much smarter than dogs in that respect ... actually in most respects! Whenever I'm concerned about meat I have being past its prime (cooked or raw), I put a little piece/chunk in their food dish. If they sniff and don't eat, I know the meat is no good and trash it. If they eat it, I will too. I've never had one get sick from this test and neither have I! I currently have 4 cats.
June 14, 2011
0

found this helpful
Have you considered a simple brick in large water bowl? And with no disrespect why would anyone even consider feeding any animal meat past it's "use by date" and to suggest Cats are smarter than Dogs is ridiculous my German Shepherds would like a contest with that statement. Just love your Cat for what they are.
Read More Comments