What Breed Is My Dog?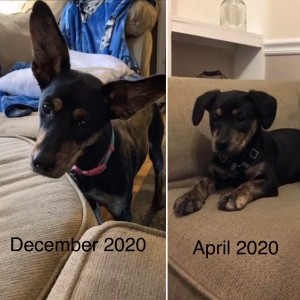 Ruby is now 10 months old and weighs 28lbs. She loves to run and has a slim build. She also loves to tear the stuffing out of all toys/stuffed animals. The only thing they told us when we adopted her was that she was a lab mix. Her two sister were all black and definitely looked like labs but Ruby has this beautiful brindle coloring. She alsohowlswhen she wants our attention from the other room, kinda like a husky. She is very alert and barks at anyone passing the house, before we can even see them coming. Maybe because of those HUGE ears! Any ideas of what she may be mixed with? TIA

Add your voice! Click below to answer. ThriftyFun is powered by your wisdom!
December 20, 2020
0

found this helpful
What I'm offering is just suggestions on what breed or breeds your dog may be. You may be right about her having Husky in her bloodline. I also think it's possible your dog could be a lab/Kelpie mix or possibly a lab/Australian Cattle dog or Blue heeler mix. Kelpies or Kelpie mix dogs are very alert and can be quite protective. Love those ears!
December 20, 2020
0

found this helpful
I agree with Ana that she looks like a min pin mix (the legs are too long and the size is too big to be a full breed)! We had a cousin min pin and your sweet pup looks like it could be her cousin.
Hugs to Ruby!! May you have lots of amazing adventures together!
December 20, 2020
0

found this helpful
This is difficult as she is still very young and very few breeds have such large stand-up ears.
It would be better if we had a picture of her standing so we could see her body shape as well as her tail position. She is still young enough to have a lot of changes in size and weight before her true dominate breed will show up.
At 10 months old and 28 pounds she is much too heavy to be a mix with a small miniature breed so that kinda places her in the Shepard class. She seems to have the markings above her eyes that many Husky's have. The German Shepard's have large stand-up ears so I'm thinking she may be a Shepsky - German Shepard/Husky mix.
Take a look at some of these links and see if you see some of this in her.
k9deb.com/.../#1_Shepsky_8211_German_Shepherd_Husky_Mix
www.google.com/search?q=black++German+Shepherd+&tbm...
You should ask your vet for their opinion as they can see how they are growing and see all of the features and bone structure. The vet cannot tell you about breeding for sure but they see a lot dogs so they generally know more than most.
There are DNA test kits available that can tell the breeding and also provide important information about what to look for in health issues. These kits can be purchased online, pet stores and your vet. The cost usually runs from about $65 to hundreds but the cheapest tells most everything you would wish to know.
The most important thing you can do for your baby is to be sure she goes to the vet and receives all of her first year shots/vaccinations to protect her from all the germs floating around in her everyday world.
www.dummies.com/.../
December 20, 2020
0

found this helpful
I see Pinscher in the face and ears.
Add your voice! Click below to answer. ThriftyFun is powered by your wisdom!
Published by ThriftyFun.
© 1997-2020 by Cumuli, Inc. All Rights Reserved.
https://www.thriftyfun.com/What-Breed-Is-My-Dog-1526.html