July 14, 2010
0

found this helpful
I would say definitely an American Pit Bull not mixed. Im sure if you look it up you will see for your self. But a breeder veterinarian will tell you for sure.
July 15, 2010
0

found this helpful
The broad chest and legs are definite signs that it is an American Bull Dog. It is not a boxer (people often confuse the two)
July 15, 2010
0

found this helpful
I read somewhere there is not a breed "American Pitbull", but what is commonly known as the Pitbull is the result of 6 dogs. They are Boxer, Mastiff, American Bulldog, Bulldog, American Staff and Staff English, I think. So ain't some bound to look like their old forms because of the blood lines it shares?
July 15, 2010
0

found this helpful
It really looks like a pitbull. Don't let that bother you. My son had a pitbull and she was the sweetest dog I had ever seen.
Her only problem was if a cat came into the yard and she caught it it was bye bye kitty. She played with the little grandkids and was as gentle a dog you could ever imagine.
July 16, 2010
0

found this helpful
I am so surprised no one has figured this out! He is so obviously part Boston Terrier by his markings! Look them up and you will see his markings are almost perfect by the breed standard. His size and floppy ears indicate that he is mixed with something else however and I would say Boxer. Boxers, Bulldogs, and the now extinct English Terrier were all part of the makings of the American Boston Terrier. I don't see Pit Bull at all. So many people are, unfortunately with good reason, prejudiced against Pit Bulls they see them everywhere there is a Boxer or American Bull Dog.
July 16, 2010
0

found this helpful
In my opinion definitely a pitbull. I would guess not a mix.
The head is pitbull not american bulldog or boxer. I understand they can be very sweet dogs.
July 16, 2010
0

found this helpful
He is definitely part pit, but he is taller and has lankier legs than most pit bulls. I agree with the person who says he is mixed with boxer. He's a very handsome dog.
July 27, 2010
0

found this helpful
Your dog looks exactly like my friend's dog! His is a boxer/bulldog cross. Very sweet, but extremely protective!
July 28, 2010
0

found this helpful
He looks part Boston Terrier to me but no matter what he is he is very regal looking...great looking dog and I hope he is as wonderful as he looks.. Good luck~ A pic of our Boston Terrier!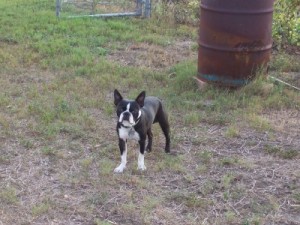 June 1, 2011
0

found this helpful
I would say he is a Mastiff cross Pit, to be honest.
March 4, 2014
0

found this helpful
You have nothing to worry about your dog is pit bull. They come in a variety of colours. Pitbulls were made up over 7 breeds of dogs. They are still pitbull ears some pitbulls ears sit differently. I had two brothers both purebred and both their ears were different to each other's.
You can tell from this dogs head eyes feet chest and back legs that he is pit bull some are more slender then others a lot of the pictures you see people have trained their dogs to build that muscle. He's a very good looking dog :)
March 13, 2015
0

found this helpful
I have two American Pit bull Terriers whom are littermates and they look nothing alike. One takes after the mother and the other the dad. They are 15 weeks Ares is my male black brindle he is 25 lbs and Athena my white brindle is 19 lbs, they have same diet (she even eats his food too) same play and excercise and she is just leaner n longer than him.