My kitchen cabinets are Maple Champagne with a Chocolate glaze and my counters are a brown and tan granite. I just ordered a new dinette set in a dark wood to pick up on the chocolate glaze. I am having a problem on what color to paint my wall in.
They are currently Navajo white (Off White) and it is too blah. I want the kitchen to feel warmer and inviting. Help me choose a color.
Fanny from NY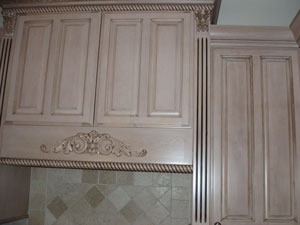 Answers:
What Color Should I Paint My Kitchen Walls?
You have the most beautiful kitchen cabinet's I just love them. That is something I would have loved myself! The colors on those cabinets as well as what I see in the tile on the wall would go beautifully with either a Peach or Blue as both colors go well with the colors on those cabinets. A lot of people might opt to go with a beige and then use drapes and pictures to put color into the kitchen. And this would be fine also. But you could really dress it up if you would paint it with a light Beige or tan in a flat color. (Then using a rag or sponge) buy a metallic gold go over the wall in swirls. This would not only look beautiful but that would be one beautiful knock them dead kitchen with those cupboards and that color. You could also do that with the peach or with blue using different colors on top. If you do not know how to do this technique there are plenty of paint places on line to tell you about it.I f you have a store where you usually buy paint say Lowe's or Home Depot they can help you with this but it is fairly simple and the result would be so beautiful in your kitchen. I would love to see an after picture. Good Luck and please seriously think about this idea you will be so surprised what colors like that can do! Have a good time. Darlene (03/31/2008)
By Darlene
What Color Should I Paint My Kitchen Walls?
I love your cabinets and back splash! They are gorgeous! Depending on what kind of light you get, you could go with a warm color from your back splash. In the picture, there are 3 squares that appear darker than the other ones (I'm guessing from the flash as well as natural variations). You could easily go with that warm caramel-ish color, especially if you get a lot of natural light. If you want contrast, you could go with a light sage, or you could even go darker, too.
If it were me, I would stick with "natural" colors. The sands, the caramels, the sages.
Good luck & have fun! (03/31/2008)

By LAnBfflo
What Color Should I Paint My Kitchen Walls?
The general principle is two colors similar, one dominant and one almost used as much, and then a very contrasting standout accent color. You already have the earth tones well coordinated. Now you need the punch, the accent. Use some red pillows or red toaster cover or what have you. Changing the drawer and cabinet pulls to red is popular but expensive. Make sure you only put the red on things that you will easily change later, not painting whole walls with it. It's like macaroni salad. You have the blonde color of the pasta, the white color of the mayo, and those alone would be blah. But you have snippets of pickle relish or pimento to wake it up. Good luck! (03/31/2008)
By kimhis
What Color Should I Paint My Kitchen Walls?
How about a pale shade of peach? If that is too orangy, try a pale coral, perhaps? I get the impression from reading your question that you don't want something too powerful, but rather just not as bland as an off-white. (03/31/2008)

By purrplekat
What Color Should I Paint My Kitchen Walls?
Goldfinch yellow--a rich Tuscan gold (04/03/2008)

By kibby