DianaHM
Silver Answer Medal for All Time! 440 Answers
March 16, 2021
0

found this helpful
This doll is made in China and the prize is very low $ 10-25. I think inside the box you will find a certificate stating that this doll is one of 5000 dolls. www.ebay.com/.../313321706892 www.ebay.com/.../274592597354
Sellers write Collectible Doll By Unique Porcelain Doll Collection (COA New in Box) or Unique Collection Porcelain Doll.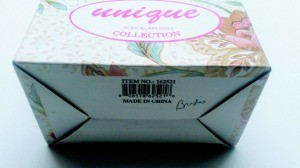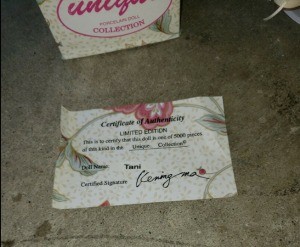 Judy
Gold Post Medal for All Time! 677 Posts
March 16, 2021
0

found this helpful
The company is Unique.
These dolls are mass-produced. Even out of the box, the maximum you could get it $25. They are very pretty nonetheless, so enjoy it.

Pghgirl40
Bronze Feedback Medal for All Time! 196 Feedbacks
March 16, 2021
0

found this helpful
This is one of the doll brands that you may never find an actual name for her because they wanted the new owner to name her. You could open the box and check and see and that will not devalue her because sadly, this brand is one that is sitting unsold on eBay by the dozen at .99 cents to $30. Just open the box carefully and disclose that it is being opened for photos and to protect it during shipping (if you are selling online).
The buyers care about her size, dress color, hair color, and eye color. I would mention that the dress has a star or stars on it also. As much of that as you can in the header will help the right person find her if they are seeking her.
If she were mine and I was going to sell her on eBay, I would first triple box her so she is protected--so add packing material around her--maybe packing peanuts or some other color free material--so her head is cushioned in her box, then that box goes in sturdy cardboard box so the inner box does not touch the sides--at least 2 inches of packing, and that box goes in an outside packing (again--2 inches around). Weigh and measure and then get ready to list those details in the advanced seller tool on eBay. Is this overkill? A few years ago, I would have said yes, but now with the amount of damage in shipping, this is the only way to get her from your home to her new home safely.
Better alternatives are selling her through a consignment store or local Facebook group where she can be picked up (maybe a porch pick up).
She is very fragile and if she sells, the buyer will be sad if she comes in shards.
I always tell doll sellers to start high and take best offer, no matter what venue they sell on. You can start her at $30 and take best offer, which sadly could be as low as a few dollars.
Post back with how your sale goes! Thanks for sharing your lovely!

March 16, 2021
0

found this helpful
Dolls of all brands, sizes, styles, NIB, COA, condition have flooded the market and very, very few sell for over $25-$35 and many more sell for $10 and under.
The big problem is since there are so many dolls available a buyer has a free choice to pick and choose and price is a big consideration.
market research estimates that less than 10% of currently listed dolls will sell within a year - no matter the brand, size, condition or price and most that sell will sell for under $25. Of course, this figure does not include true collectable antique dolls.
You can safely take your doll out of the box and just state that doll removed for pictures. Dolls in boxes are not very pretty and potential buyers want to see all of the doll they 'might' be interested in. This way you can also show the paperwork which will have information and also her name.
You can still describe her as 'new in box'.
Just some examples:
www.proxibid.com/.../43572008
www.ebay.com/.../372090121319
You can always check eBay's sold listings to see what people are paying for this type doll but there will be more dolls that are not this brand than ones that are as the word 'unique' is used quite frequently when listing dolls.
www.ebay.com/.../i.html?_from=R40&_nkw=Unique+Porcelain...

Ana
Bronze Post Medal for All Time! 140 Posts
March 17, 2021
0

found this helpful
This doll is one of very many, that is made in China. There are placed on many sites for sale , and only reaching up to $25 to the right buyer. Very fee of this brand reach $25. It is more less if chosen to sell. There are links that can confirm value - www.justcollecting.com/dolls