Many of my white washcloths have a dirt stain in the center (mostly from cleaning my kids' dirty hands/feet at bedtime on those nights they don't get baths. I only use washcloths once before laundering and use lots of bleach, tried RIT whitener (definitely whitened but dirt stains remained). Aside from turning them into rags and starting with new white ones (or dying them a darker color), any tips on whitening? It's not fresh dirt, it's more of a build up.
Tanya from Dayton, IA
Answers

July 14, 2007
1

found this helpful
Tanya, check out this ThriftyFun page "Using Borax instead of Bleach" and you'll get all kinds of whitening tips.

July 14, 2007
0

found this helpful
Try All Fabric Bleach. A friend gave me some and it removed all the yucky baby barf stains. I was looking for an organic or biodegradable alternative to borax. Put about a 2 tsp in a bucket of hot water and let sit for a couple days. Won't bleach colors either. My son was eating pomegranates in a light blue polo shirt, yikes! Blue as new and no signs of fruit stains.
I've used it in my carpet cleaner, as a grout cleaner and my husband uses it to clean oil stains from the driveway. It's one of those products I can't live without. I got it from shoponestore.com, but other than that I think you have to know someone that sells it. Totally worth every cent.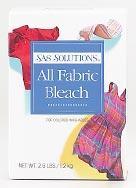 By Mom in PA (Guest Post)
July 14, 2007
0

found this helpful
My mother in law is the laundry queen. She suggest DG Powder Bleach for all whites. It is in an orange box and is the Dollar General store brand, hence the "DG". Good luck!
By Sheila May (Guest Post)
July 19, 2007
0

found this helpful
Tanya, a common misconception about white cloth is that it is woven from white cotton whereas it is usually made from greige goods and dyed white. Therefore, when you use bleach on it, it doesn't whiten your laundry, but removes the dye leaving a greyish color behind.
Any of the other products mentioned above, or Oxy-Clean, used according to instructions, should work just fine. (My family calls me the "stainmeister"). Good luck.
Read More

Answers