What happens when your husband waits too long to start mowing the grass in the spring? Bunnies, of course! Luckily I found these little fellows before I started up the mower. I snapped a few shots before moving to another section of the yard and leaving that corner alone until the babies were grown.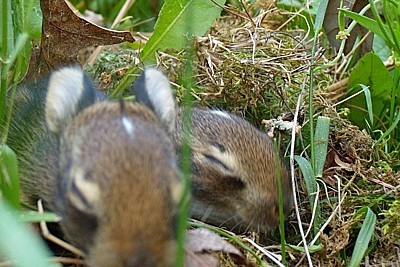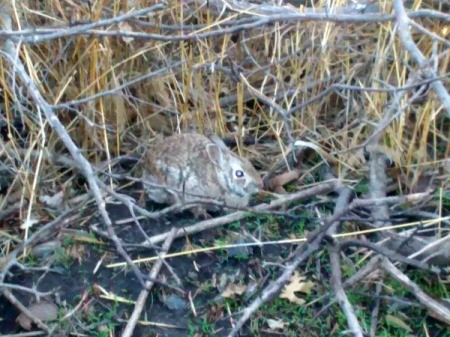 Photo Description
I was about to light the brush pile, when I noticed movement. This family of rabbits usually runs between our brush pile, the barn, and under our camper each evening. This morning, she was hanging out in the brush pile that I was going to burn before I went into work. The rabbits are decedents of some 4H rabbit projects that got loose a few years ago. Surprisingly, they are rather tame and will even sniff noses with our Lab and let us within a few feet of them. The largest one I think is possibly one of the original rabbits as it has come right up to me numerous times and is not afraid of humans. I often put out rabbit food for them and they eat it.
Photo Location
At our farm in rural Northern Missouri
April 17, 2011
0

found this helpful
I was watering my garden the other day and saw this lump of lint and dog/cat hair near the house that started moving. I told my husband about it and he said he thought it was a nest of bunnies. Sure enough there were 5 babies in the nest. They were not afraid of us at all and let me close to take pics.
One got onto a ledge and almost fell and let my husband pick it up and put it back in the nest. Now they seem to be out of the nest a lot and might even be done but they are still in the yard.

By jill
Answers:
Wildlife: Baby Bunnies
Update on the bunnies, they left the nest but mom brought 1 back that got injured for us to take care of. We kept it protected near where the nest was. We took care of the injuries and fed the little guy. After 2 days of our care, mom came and got the little one and we haven't seen them since. (07/13/2010)

By jill
Wildlife: Baby Bunnies
God bless you for looking out for those beautiful and gentle creatures. I'm so glad someone knew what to do for an injured bunny! My kids and their friends found a nest many, many years ago. One boy cruelly stepped on one of the bunnies and I think broke his leg. In our ignorance, we accidentally killed the poor thing trying to ease its pain. It broke my heart! (07/14/2010)
Wildlife: Baby Bunnies
How great for you to have been able to experience this. I love bunnies and feel really lucky to see a wild one hopping around my yard. Thanks for sharing. (07/14/2010)

By cybergrannie
Wildlife: Baby Bunnies
This is very special. We too have seen a little Wild Bunny in our yard from time to time. They are so cute. (07/18/2010)

By Darla