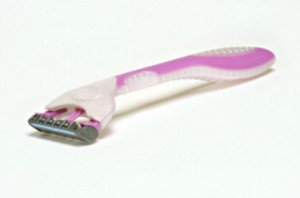 I purchased a Schick Quattro razor for women and it is the worst razor I have ever used. I have to go over my legs 3 or 4 times to get a half way decent shave and even then I can still feel stubble. I used to use the Gillette Personal Touch razor and I loved it, but they have stopped making the blades for it.
Can anyone recommend a good razor for shaving your legs? I prefer to not use disposable razors? Or can you tell me where I might be able to find the blades for the Personal Touch razor? Thank you.
By Kathy from Sylvania, OH
Answers
October 2, 2009
0

found this helpful
lol, I had a Personal Touch for years, too. We just might be dating ourselves, lol. Anyway, I gave it up when I tried a Venus razor. The shave is much better, and I have never gotten a razor burn with this type. The downside is that the blades are horribly expensive. I make mine last as long as possible. I use lotion to shave my legs after I shower, so not only do my legs get an extra moisturizer, the razor blade gets a coating as well. They seem to last quite a long time this way, and the shave is still very good. Still I have a hard time spending that much money for razor blades.
October 3, 2009
0

found this helpful
I agree that the Venus is awesome! Excellent shave, but blades are pricey. In my area they are approx $10 - $12 for 4. BUT, they do last a long time, and if you are the only one using it (my hubby steals mine occasionally!) you will get an awful lot of use out of them! I'd recommend them in a heart beat!
October 3, 2009
0

found this helpful
I called the Schick company and they are going to refund me the full price plus shipping. They gave me a website to order the blades for my Personal Touch razor and they're only $6+ for 8 of them. Yes, I'm dating myself but I don't care. If something works, why change it. By the way, the website is www.nationwidecampus.com and they have many products on this website. Thanks for all your suggestions, but for now I'm going to stick with what I know works. Just call me a kirmudgeon. :)
October 4, 2009
0

found this helpful
My fiance bought the Gillette "Fusion" (5-blade razor). They are awesome, but expensive! Three refills are around $15, however, on sale and with the $4-off coupon I was able to get four packages for $3.99 each. What a close, smooth shave and they last for a very long time. Sam's Club sells an 18-pack of refill blades for $35. Best razor we've ever used (and my fiance has a very heavy beard!)
Read More

Answers