I made this arbor with benches over 10 years ago. I put planter boxes down both sides and then put benches inside. The planter boxes are lined with old tarps over plywood and then stick wood. The stick wood can be alder, cedar, fir, etc. I use all of the above, just make sure it's not rotten. I try to use fresh fallen trees or standing scrub trees. This is also a good way to get rid of old tarps, the tarps can protect your planter boxes so they don't rot so fast. You can use three round logs with thick branches for the top as benches or treated wood. I have done both here. It's a great place to enjoy nature and small children really like playing in the arbor and eating treats. It's a fun project that you can share with your family, collecting thick branches and building the arbor.
Have a creative day!
By Cathy from Stanwood, WA
I am looking for a cheap way to build a garden arbor. Any ideas out there?
Hardiness Zone: 8a
By cbrock2 from Camilla, GA
Answers
June 13, 2010
0

found this helpful
http://www.blue plans-build.html
Look for cheap garden supplies such as trellises in the dollar stores, and garage sales and etc.
June 16, 2010
0

found this helpful
Here is an arbor that I screwed to a post. This one is an old baby expandable baby gate.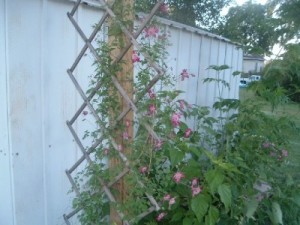 June 16, 2010
0

found this helpful
Here is another from old windows. I posted this here once and don't see it now though.
This is right after I made it. Now it has a clematis growing on it.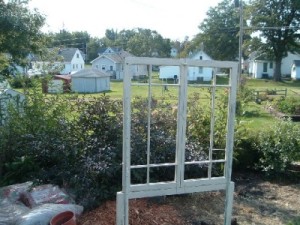 June 20, 2010
0

found this helpful
I grow gourds. The utility of the arbor is much more important to me than the looks, because gourds tend to cover it almost completely. I use something called "cattle panel." It's a piece of galvanized fencing used to make cattle chutes. It measure 16' x 50".
To assemble your arbor, choose an area about 5' wide by 4' long. set in two posts (at least 4' high on the 5' side of your space, you can use nice metal posts, wood posts, or rebar. Lay the panel on the ground with one end touching the two posts (which are spaced about 3' apart). You'll need some help to push this strong, springy fence into place on the other side of the 5; opening and hold it while you pound in the second pair of posts.
From a short distance, the arbor becomes nearly invisible. It's strong, will stand any wind, and lasts "forever." Costs about $20 a panel. I put my plants next to the fence on the inside of the arbor so I can mow right up along the outside. --sarsi
June 21, 2010
0

found this helpful
Sarsi, I use one of those to grow my squash and cukes on. Works good!
Answer

this Question

...
This is a garden arbor my boyfriend built for his mom for Mother's Day. She was thrilled when it was finished. It took him 3 days. He built it from a picture that was in our local newspaper. It turned out beautiful.
By Tena from Champaign, IL