June 16, 2010
0

found this helpful
Here is another from old windows. I posted this here once and don't see it now though.
This is right after I made it. Now it has a clematis growing on it.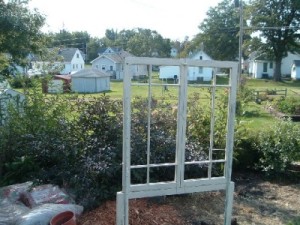 June 20, 2010
0

found this helpful
I grow gourds. The utility of the arbor is much more important to me than the looks, because gourds tend to cover it almost completely. I use something called "cattle panel." It's a piece of galvanized fencing used to make cattle chutes. It measure 16' x 50".
To assemble your arbor, choose an area about 5' wide by 4' long. set in two posts (at least 4' high on the 5' side of your space, you can use nice metal posts, wood posts, or rebar.
Lay the panel on the ground with one end touching the two posts (which are spaced about 3' apart). You'll need some help to push this strong, springy fence into place on the other side of the 5; opening and hold it while you pound in the second pair of posts.
From a short distance, the arbor becomes nearly invisible. It's strong, will stand any wind, and lasts "forever." Costs about $20 a panel. I put my plants next to the fence on the inside of the arbor so I can mow right up along the outside. --sarsi