Making a Heat Therapy Pillow
Solutions
Share on ThriftyFunThis guide contains the following solutions. Have something to add? Please share your solution!
Kim Davis
1

found this helpful
Wouldn't it feel nice and soothing to have a warm pillow on the back of your neck after a hard day at work? Or how about some heat therapy on that knee you messed up a few years ago that flares up every now and then? You can make yourself a pillow that will comfort those sore aching spots with heat. It cuddles that sore spot better than a heating pad.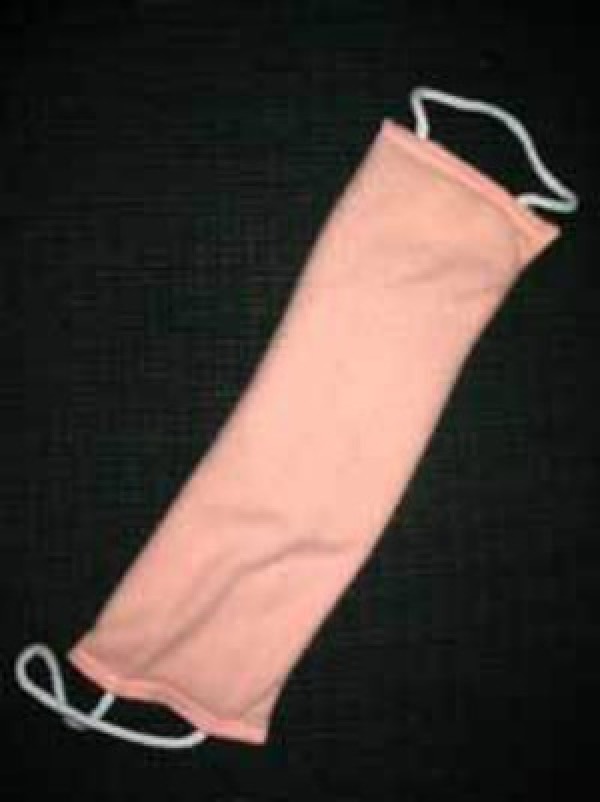 Materials:
fleece material 11 x 16 inches
sewing machine
thread
upholstery chord or very soft thin rope 24 inches long
scissors
measuring tape or ruler
one box of rice
Directions:
First measure and cut one piece of fleece material 11 x 16 inches.
Cut the chord into two equal lengths.
Press up a seam allowance 1/4 from the edges on the 11 inch sides.
Fold the material in half lengthwise, right sides together. Stitch the long side 5/8 inch from the edge. You have now made a tube with two open ends.
Turn the material right side out.
Insert the ends of one of the pieces of chord into one end of the tube to form a handle. Pin in place.
Stitch close to the edge of the end of the tube.
Now stitch again 1/4 inch from the first seam. Remove the pins.
Fill the tube from the other end with the rice.
Insert the other piece of chord into the second end. Pin in place and stitch closed as you did the first end with two seams.
Now, on to the heat part. Place the pillow in the microwave and heat for twenty seconds. If that doesn't feel warm enough for you try a few more seconds. Now place the pillow on your aching spot. Doesn't that feel good? You can hold it in place with the handles or tie the handles together with another chord. The rice holds the heat and surrounds the area unlike a heating pad that just touches the top surfaces. You can even safely go to bed with this. By the time the rice cools you'll be fast asleep and don't have to worry about turning off the heating pad.
After being approached numerous times at mall kiosks to try one of those small, filled "tension relief" pads (pillows) I decided to make my own. The kiosk was charging $20.00 and up for a small neck pillow that can be heated and releases a relaxing scent. I took one of my husband's sports socks (tube socks) and stuffed it with rice and a bit of scented lavender mixed in.
I tied off one end and had my own!
This worked wonderfully! The sock was perfect to place around the back of the neck while releasing the subtle aroma. Granted, it's not really pretty, but it works! I put it in the microwave for about 3-4 minutes. After many uses I just make a new one and it's cheap!
By Cheryl from Winston Salem, NC
Here is a great tip I found that was shared on a website I found this week.
"Basically this is an pillow filled with rice and herbs, you put it in the microwave for 2 minutes or less for warmth and heat, or throw it in the freezer to ease injuries, or for headaches.
You can use scrap fabric... use large scraps for larger herbal cozies (for the back, legs, etc.) and smaller scrap pieces for a small one that you can use on the forehead or on the eyes, to sooth eyestrain and headache.
I sew 'channels' in mine, by sewing a line every two inches, and feeling each pocket - so everything stays in the right place, but that's optional. They can be as simple as a 'pillow' type.
Fill them with rice and herbs. You only need 1 part herb to 5-10 part rice, depending on how strong you want them.
Herbs you can fill them with:
mint - clears sinuses, good for headache
chamomile - eases tension, relaxes
cloves - muscle pain
rosemary - relaxes, muscle pain
lavender - ease tension, relaxes, soothes, good for headache
ginger - soothing, good for muscle pain
cedar shavings - eases aching muscles
Herbs are VERY cheap bought in bulk, or you can use your dried, homegrown, or even cut open teabags."
This tip is for a wonderful frugal but thoughtful gift for anytime of the year. I am busy making them for Christmas. Hope you will try them, too.
The website is http://heart4home.net/
By Bobbie G from Rockwall, TX
If you have children with frequent earaches, here is a great tip: Get a clean sock and fill with 1/2 cup or so of regular white rice. Make a knot just above the rice leaving a bit of "wiggle room".
Just put in the microwave for about 30 - 40 seconds at med-high, testing periodically for comfort.
Read More...
Questions
Ask a QuestionHere are the questions asked by community members. Read on to see the answers provided by the ThriftyFun community or ask a new question.
I have a friend that microwaved my neck pillow too long (3 minutes). The pillow was filled with rice. The rice burned and oozed out of the fabric enclosure. Does anyone know of a filler that will take a lot of heat and retain that heat. Any information certainly will be appreciated. Thank you.

Fran from Springfield, GA
Answers
By cindy (Guest Post)
April 7, 2008
0

found this helpful
You can also fill it with buck wheat. You can get it from a whole food or natural store. You can Freeze it or Heat it. Just remember to heat it at 1 min at a time, after each minute move it around.
By Shelley (Guest Post)
April 7, 2008
0

found this helpful
Corn, you can get a 50 lb bag at Bass pro shop, wal-mart or a feed store for about $5.00-10.00 Put it in the microwave for about 3 min the first time to kill any "boll weevils" and 2 min each time you heat it up from then on. You don't want to cook it any longer because once you burn it you can't get the smell out.
I make a pillow with the corn sewn in and then pillow cases of different materials. The pillows are about 10x12 inches which are nice for your tummy or back. A neck roll is nice too. If you hold it to your body it can stay warm almost all night long. My corn pillow is one of my favorite things in the world.
April 9, 2008
0

found this helpful
Why not start over with rice?
April 9, 2008
0

found this helpful
Flax seed works and they put in lavender and other herbs to make it smell good too.
April 10, 2008
0

found this helpful
Plain Pot Barley - you can get it at any bulk store. Cheap and doesn't hurt it when overheated. Holds the heat longer than rice as well! Adding lavender or other scents works great as long as they aren't over heated.
By (Guest Post)
April 10, 2008
0

found this helpful
I have heard flax seed or bird seed.
April 10, 2008
0

found this helpful
We used dried beans. Any kind works. Have used ours for years and you can empty it wash and refill it.
August 16, 2011
0

found this helpful
I have made herb pillows for friends and family for quite a few years. My daughters friends are always asking for them. I always use flax. It is easier on your neck than corn, or beans, etc. Rice can either burn or mold easily. I buy my flax seed in bulk and add dried rose petals, lavender, different oils, etc. I leave the Ziploc bag, sealed, for 3-4 months. I always have some going. It smells pretty strong at first but after a bit, it calms down. I like flax, because I have sinus issues and so I heat my bag and put it on my forehead and over my nose.
My sister wants me to make a longer one(mine are usually about a foot maybe) maybe 18" , add a velcro strap to it, for her knee that's bad. I plan to make her one for Christmas. Good luck. Oh, you can get the oils cheap at Walmart.
Answer

this Question

...
Can you use synthetic stretch toweling for making rice bags, that you heat in the microwave?
By verna from Melbourne
Answers
May 22, 2010
0

found this helpful
No it's not safe, good luck.
May 22, 2010
0

found this helpful
Ditto what kffrmw88 said. It isn't safe, they prob would melt or start a fire. Plus they wouldn't retain the heat for your pack as well. I think all of the commercial ones for sale I have seen are 100% cotton.
This doesn't address the fabric issue but has a few safety tips on it:
http://www.diam heating_bags.htm
And don't leave them heating unattended etc.
May 22, 2010
0

found this helpful
I've used plain muslin when I make mine, and I'll make a cute cover (think mini-pillowcase) out of cotton flannel.
May 22, 2010
0

found this helpful
I use flannel. I would think what your talking about might melt.
May 22, 2010
0

found this helpful
I use old T-shirt fabric, myself. I've never had a problem with it. :)
May 23, 2010
0

found this helpful
Only use fabric that is 100% cotton. You can make them using old jeans, shirts, sheets, etc.
May 26, 2010
0

found this helpful
Hi. I use fleece and have sold hundreds of them. I make them 12 inches by 12 inches and when you heat them 2-3 minutes you get a moist heat. My people that buy them come back year after year to buy more. Good luck.
Barb from Michigan
Answer

this Question

...
June 19, 2011
0

found this helpful
I bought a linen fabric with 50% linen and 50% rayon. Could I use it to make rice bags?
By Marina L.
Answers
June 20, 2011
0

found this helpful
This type of fabric ravels easily. If you blind stitch it you could probably use it. That is, stitch 1/2 way between the stitching line with fabric on the right side out, then turn the fabric inside out and stitch on the stitching line. This will keep all raw edges enclosed. This will help to keep it from raveling.
June 22, 2011
0

found this helpful
If these are the type of bags you heat up to use as pain relief, I would be leery of the rayon content. it may melt or catch fire. I would stick to all cotton or all linen just to be safe.
Answer

this Question

...
I've made these for years. Kids love them. I keep one in the freezer and one at room temperature. The cold ones are great for minor injuries. I use flannel fabric so it won't melt. Also you can use cracked corn as a filler. You can find it at feed stores. Can you use a different fabric?
By jilled
Answers
February 27, 2012
0

found this helpful
I mistakenly hit 33 minutes instead of 3 minutes in the microwave. It didn't catch fire, but, smelled BAD. I agree, to not use rayon nor any synthetic fabric. I have bought tube socks, filled one of the pair with rice about 2/3s full and sew it closed.
The other sock can be used as a removable cover for laundering. I turn the second sock wrong side out, I snip the toe on the right and left side just 5" elastic inside leaving ends poking out of each slit and sew them down. Turn the sock.
On the other end of the 'cover' sock, sew another length of elastic to each side as you did the other end. Slide the empty sock over the rice filled sock.
I have also cut a plastic (saved from bacon package insert) stencil with words "Hot Sock" and mixed fabric medium with red acrylic paint and applied the words to the outer sock! These sold for $12. Assembly line is the best way to handle many which I do several at a time for gifts. Important: The elastic helps hold it in place around your head for a headache or around a knee.
Answer

this Question

...
Related Content