Homemade Easter Cards
February 6, 2017
0

found this helpful
To convey special Easter wishes make this beautiful card that speaks of luxury and craftsmanship of times gone by. This is a page about making a faberge-inspired Easter egg card.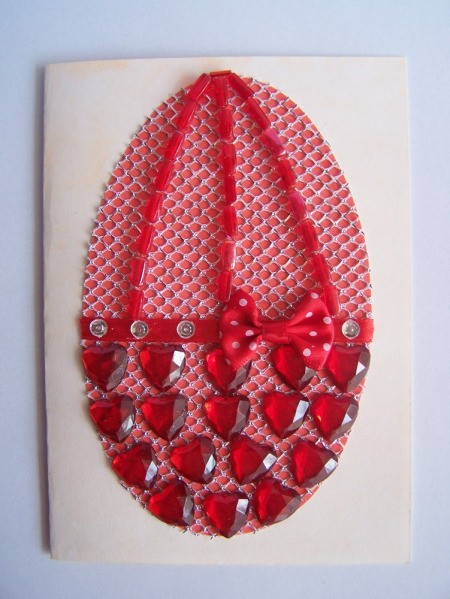 January 31, 2017
0

found this helpful
This cute greeting card features the Easter bunny with some of his eggs hiding in the grass. This is a page about making an Easter egg hunt card.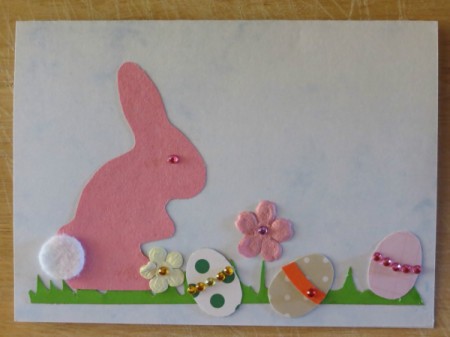 November 30, 2016
0

found this helpful
This is a page about making bunny note cards. These cute bunny note cards are perfect for Easter thoughts and for other occasions.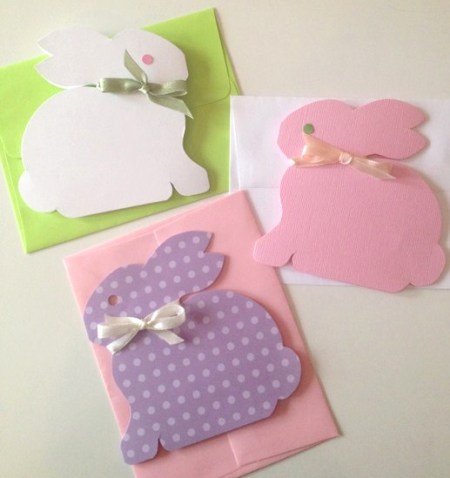 Solutions
Share on ThriftyFunThis page contains the following solutions. Have something to add? Please share your solution!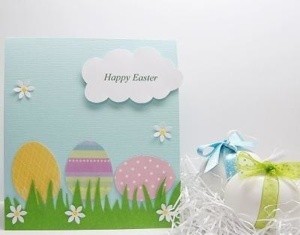 Send Easter greetings to your friends and family.
Approximate Time: 30 minutes
Supplies:
cardstocks: blue, green, white
scraps of patterned paper
yellow paper
glue pen
pencil
double-sided and foam tape
scissors
finished size: 5 x5 1/2 inch
Instructions:
Make card from blue cardstock.
Cut out green cardstock in the shape of grass. Adhere to the bottom edge of card.
Use a template to cut 3 egg shapes from scraps of patterned paper. Adhere.
Punch or cut out little flowers from white cardstock with a small circle of yellow for the centers. Adhere to card using glue pen.
Print "Happy Easter" on white cardstock. With a pencil, draw a cloud shape around the greeting; cut out. Adhere to card with foam tape for dimension.
By Maricel from Fairfax, VA
This 3-dimensional Easter card will bring a smile to anyone's face. It's a great way to wish someone special a very Happy Easter!
Approximate Time: About 30 minutes
Supplies:
Green,yellow and white card stock
pink craft foam
Six 4-inch lengths of thin wire
wiggly eyes
pencil
scissors
glue stick
powder blush and cotton swab
hot glue gun & glue sticks
Instructions:
Fold a piece of 8 1/2 x 11-inch green card stock in half to form a card. Cut an 8 1/4 x 5 1/4-inch rectangle from yellow card stock. Glue the rectangle to the front of the card. Draw a cute bunny onto the white card stock and cut out. Draw a large pink nose onto the pink foam and cut out. Using a cotton swab and powdered blush, apply blush to lower edge of ears to represent the bunny's inner ears. Glue the bunny head to the rectangle. Glue on the wiggly eyes. For the whiskers, curl each piece of wire around a pencil and flatten slightly with your hand. Using hot glue gun, glue ends of wire just below wiggly eyes. Glue foam nose over wire ends. Write an Easter message inside the card and send to someone special.
By Rachel's Mom from Wilkesboro, NC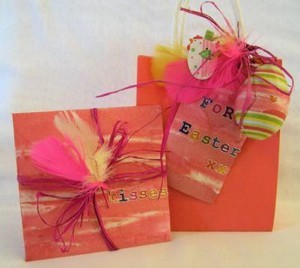 Easter is a special time when everything is reborn after the dark days of winter. Why not celebrate the spirit of this season by sharing cards and gifts with family and friends. Add a colourful touch to envelopes and gift bags using simple embellishments that can be sourced in the home. Don't forget to add some kisses too, to show the special people in your life just how much they mean to you at Eastertide.
Approximate Time: 30 minutes plus drying time
Supplies:
blank cards and envelopes
paper bags
paints and a brush
pieces of scrap card
recycled gift wrap
craft glue
raffia or yarn
glitter glue or rub on stickers
items to decorate
a sharp tool to make holes
Instructions:
Paint the outer sides of an envelope and a paper bag in a colour theme of your choice. Let dry.
Place a hand-made Easter card in the envelope and seal it.
Tear some gift-wrap into strips and glue to the envelope to give a pleasing design.
Wrap a length of raffia or yarn around the envelope and secure with a bow.
To finish, attach feathers and some "kisses" use rub on stickers or a glitter glue pen for the individual letters.
Make a pair of holes on either side at the top of your paper bag.
Plait lengths of yarn or raffia together to make two handles.
Thread the end of each handle through a hole in your paper bag and knot on the wrong side to secure in place.
Fill your paper bag with chocolate eggs or a small gift.
Cut a large gift tag out of scrap card and make a hole at the top of the tag.
Paint the right side of the tag so it complements the colour theme of your paper bag.
Glue strips of gift-wrap to the tag as for the envelope; attach feathers and a special 'For Easter' message.
Thread a length of raffia or yarn through the hole in the gift tag and tie to the handles of the paper bag.
Crafty tips: Mini pegs are a fun way to attach feathers, tags, and other items to gifts. Try using skeleton leaves, painted eggs, or hens to embellish your gifts, too. Make sure children are supervised by an adult when using sharp tools. Happy Easter!
By Anne from United Kingdom