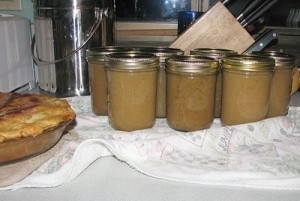 My sons love homemade applesauce and are always thrilled to help make it. We add nutmeg for a little kick.
Ingredients:
8 lb. tart apples (I prefer Gravensteins; Golden Delicious will make a sweeter applesauce)
2 cups water
1 - 1 1/2 cups sugar
cinnamon, to taste
nutmeg, to taste
Directions:
Core and chop apples. I find it works best to use a Apple Peeler Corer Slicer as it speeds the process along and it's much easier to mill the applesauce without the skins. The boys really love this part!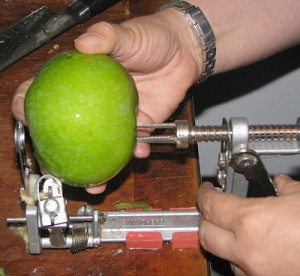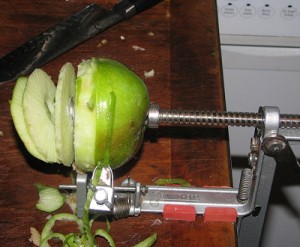 Once I have my apple spirals, I chop them in half. I usually go ahead and do up some extra apples for pies while I'm at it.
Place apples and water in a 8-quart stockpot and bring to a boil; reduce heat and simmer, covered, for 15 to 20 minutes, stirring often.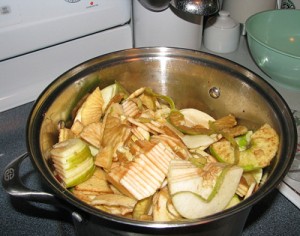 Press apples through a food mill or sieve. You can use a colander if that is all you have. This is another step where I have no trouble finding help :) Return pulp to kettle. Add sugar, cinnamon, and nutmeg, to taste. You can add additional water if the applesauce seems too thick.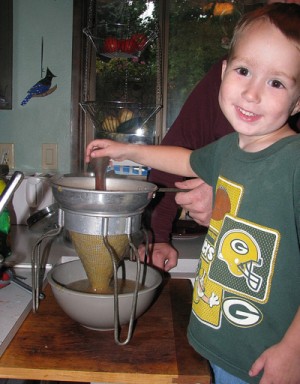 Ladle into sterilized pint jars leaving 1/2 inch head space. A funnel designed for canning jars makes this much tidier. Wipe jar rims and lid with canning lids that have been boiled and ring. Tighten rings. Process in a boiling water canner for 15 minutes (20 minutes if you use quart jars). Makes 6-7 pints.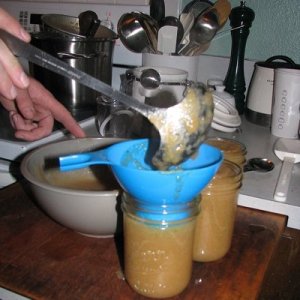 Applesauce can be frozen if you don't want to can it.
By Stephanie from Hillsboro, OR
Comments
September 24, 2010
0

found this helpful
Something else you can add for a kick is a handful of red hot cinnamon candies...really makes a nice applesauce.
September 24, 2010
0

found this helpful
I used to make applesauce a lot when my children were young. Now I just pick them and make applesauce to serve with a meal.
When I serve applesauce, I add butter, sugar and cinnamon and it tastes just like an apple pie.
September 28, 2010
0

found this helpful
Nice to see that you have your children involved in the kitchen. All four of mine loved being in the kitchen and "helping" with everything. They all turned out to be really good cooks too, even my son whose wife doesn't cook. She loves his cooking though, so they are perfectly happy.
Great pictures too. Thanks for sharing the recipe.