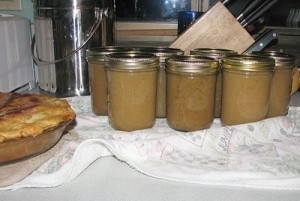 My sons love homemade applesauce and are always thrilled to help make it. We add nutmeg for a little kick.
Ingredients:
8 lb. tart apples (I prefer Gravensteins; Golden Delicious will make a sweeter applesauce)
2 cups water
1 - 1 1/2 cups sugar
cinnamon, to taste
nutmeg, to taste
Directions:
Core and chop apples. I find it works best to use a Apple Peeler Corer Slicer as it speeds the process along and it's much easier to mill the applesauce without the skins. The boys really love this part!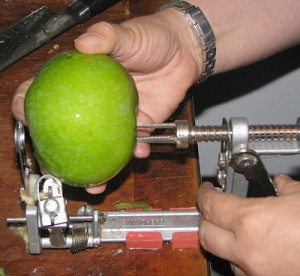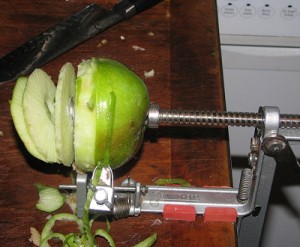 Once I have my apple spirals, I chop them in half. I usually go ahead and do up some extra apples for pies while I'm at it.
Place apples and water in a 8-quart stockpot and bring to a boil; reduce heat and simmer, covered, for 15 to 20 minutes, stirring often.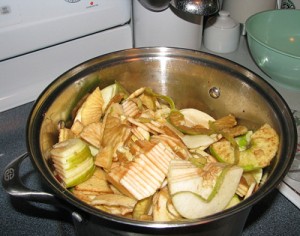 Press apples through a food mill or sieve. You can use a colander if that is all you have. This is another step where I have no trouble finding help :) Return pulp to kettle. Add sugar, cinnamon, and nutmeg, to taste. You can add additional water if the applesauce seems too thick.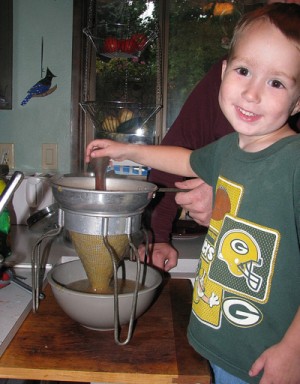 Ladle into sterilized pint jars leaving 1/2 inch head space. A funnel designed for canning jars makes this much tidier. Wipe jar rims and lid with canning lids that have been boiled and ring. Tighten rings. Process in a boiling water canner for 15 minutes (20 minutes if you use quart jars). Makes 6-7 pints.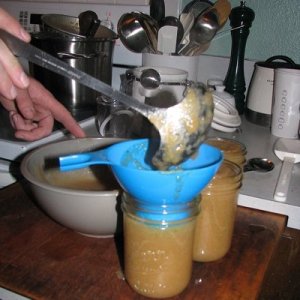 Applesauce can be frozen if you don't want to can it.
By Stephanie from Hillsboro, OR
Comments
Read More

Comments