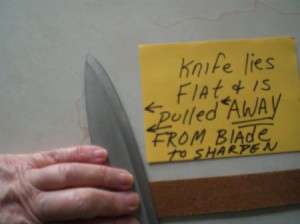 I learned this in my woodcarving club and it is valuable for our kitchen knives as well.
You can use the "back" of a real leather belt to sharpen knives!
This description is for the NON serrated blades only (the straight edged ones) although it could be used on a serrated blade as well if you keep your knife pinned flat down on the belt.
No need to wet the belt nor knife.
Just lie the belt on a flat surface. Lie the knife FLAT down with your fingers BEHIND the blade (as shown) and pull AWAY from the sharp part of the blade!!
AWAY FROM THE SHARP side!!!!!!! That's important! You will dull the knife the other way.
Doing this will rub off any burrs or bumpy edges of the blade, resharpening it.
Flip the knife to the other side then pull it AWAY from the blade side in that direction to finish it up.
Don't use your finger to test the sharpness!!!!
If you must test, woodcarvers will LIGHTLY touch their finger nail on the blade. You can tell if it's sharp by the feel of the knife on your nail.
Note: Don't try to rub the knife back and forth like an olden day barber in the movies! That can cause the knife edge to create a ROLL of metal on the edge of the knife blade, dulling it.