Storing Dry Goods
Solutions
Share on ThriftyFunThis guide contains the following solutions. Have something to add? Please share your solution!
November 10, 2010
8

found this helpful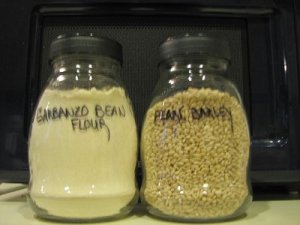 I recently had a major battle with Mealy Bugs (Boll Weevils) in my packages of flour, rice, pasta, etc., and I can't afford to purchase enough glass or metal canisters to store the many food items I had replace. Blessedly, I keep empty metal coffee cans and glass Marie's salad dressing jars and decided those would be the new storage facilities for the replacement food so those darn buggies don't infest almost everything in the cabinet again!
It just so happens that the labels are easily removable from Marie's jars and also from the brand of coffee I buy, so all I had to do is use a Sharpie pen to write the contents on the side of the glass jars and on the plastic lid of the coffee cans.
In the future I plan to dress up the outside of the coffee cans with fabric and the cool thing about the dressing jars is that they already look decorated because of the contents.
Another preventative plus to doing this is that it will help keep other assorted creepy crawly critters besides Mealy Bugs from attacking your food supply too.
By Ann from Richland, WA
November 3, 2005
2

found this helpful
When stockpiling groceries and other items, to save from making unnecessary trips out shopping, whether it's by using coupons, sales, or just your savvy shopping sense and skills. Be sure to rotate the items in your stockpile, like the grocers do, by putting the oldest items in front to use first. Check product expiration dates. The longer you have a food item, it'll eventually lose it's original taste. Aerosol cans tend to lose their spraying ability (ex: deodorant, shaving cream, etc.)
By Terri from NV
February 22, 2000
2

found this helpful
Use a bay leaf in your flour canister to keep bugs out all year. I make a lot of bread and use a lot of flour. This works. The more flour the more bay leaves.

By Sue
Everywhere I read about how we should be storing food due to fires, water shortage, etc. I store dry foods like rice, beans, oats, pasta, bulk foods and noodles by leaving them in their packages dating and storing them in plastic snap lid buckets.
Smaller foods like dry onions, etc., I store in glad storage snap lid boxes. They stack nice in the pantry and can be labeled and dated on the buckets. This keeps the foods from getting bugs in them.
Don't like the labels on the buckets?, Decorate them with wallpaper in patterns to match your kitchen colors or decor. Makes a fun craft project. Nice buckets are available from restaurants and ice cream parlors for free, they are glad to get rid of them. Some charge 50 cents for the buckets and lids. I use the same system for my sewing room for lace, trims, ribbons. etc.
By Jane from Otis, OR
November 30, 2004
0

found this helpful
Living in the country we try to keep a ready supply of food, especially when winter's coming. For more space to store foods we use new 5 gallon paint buckets cleaned and dried really well, then store our sugar, flour, oatmeal, dry milk, rice etc. in these stored under our raised bed. We add in about 5 oxygen pads for longer storage. By Melanie
Read More...
Drink pitchers with tight sealing lids make great containers for dry goods like sugar and cereal. The top is wide for easy filling, and pouring out for measuring is less messy than scooping.
Read More...
Questions
Ask a QuestionHere are the questions asked by community members. Read on to see the answers provided by the ThriftyFun community or ask a new question.
We have a home in upper Michigan and this year we are winterizing it for the first time. Can we leave our canned goods, dry foods, laundry detergent or personal bath items in the home during the winter? Or do we have to remove everything from the home that is boxed, canned or liquids?
By kathy from Westland, MI
Answers
September 10, 2009
0

found this helpful
If you mean insulated, you will still have to remove anything that could freeze and not do well. Insulating a house only works if you are going to heat it. Otherwise it will still take on the outside temperature.
September 11, 2009
0

found this helpful
Glad I am not in Michigan anymore ;-) Fifteen winters there and that was enough for me ;-) Even winterizing, and especially in the UP, will cause the same damage to foods the same way as if you placed them in a freezer. Better off to take them home with you or donate to a local shelter.
September 11, 2009
0

found this helpful
I would not leave the food, it will draw rodents. I grew up in Westland 2 blocks behind the Dunkin' Donuts on Ford & Wildwood.
Boy, that area sure has changed a lot since I was a kid and that's why we have since moved to Hillsdale county. Mary in Camden, MI
September 11, 2009
0

found this helpful
I would only leave dry goods (flour, rice, not beans), powdered laundry detergent, in the house over the winter. If you want to check, get a can and a full bottle of liquid, put them in a doubled plastic bag and leave them over the winter. When you come back in the Spring, see how they weathered the winter. Yes, if it's dry foodstuff, seal it in hard plastic containers (good tip year-round). If you haven't used it over the summer, donate the items to the local food bank for those who stay over the winter and run short.
September 14, 2009
0

found this helpful
I clean homes for several family s who have summer homes here in upstate NY where winters are hard. Some choose to heat their homes others do not. Most leave soap items behind with no problems. I wouldn't leave anything that the mice could get into though. they will chew bars of soap. One client puts all the bar soap in a coffee can for the winter. Liquid soaps should have enough room for expansion so as not to break the bottle when it freezes. I wouldn't think freezing would hurt shampoo and such. Areosols such as hairspray and cleaners shouldn't be let to freeze though. Hope this helps
September 15, 2009
0

found this helpful
I just thought of something else: If you're turning off the electricity be sure to leave the fridge door open to help prevent bad odors or mildew.
Answer

this Question

...
Related Content