Bartering for Goods and Services
Solutions
Share on ThriftyFunThis guide contains the following solutions. Have something to add? Please share your solution!
I'm almost ashamed to admit it but I have not been a frugal person most of my life. Up until 5 years ago, my husband and I both had great jobs and brought home more money than we really needed, however, we weren't really happy.
Our first step toward the life we have now was that we decided that my husband would quit his government job and start his own business, from desk job to manual labor overnight. We still have family members and friends that don't understand that decision. But Steve, my husband, has been so much happier without the stress, cubical, or back-stabbing environment that permeates so many office environments any more.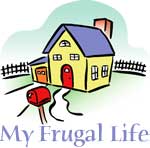 The next few steps were not ones of our own, but ones we dealt with. We suddenly found ourselves with two teenage girls living with us full-time. Then I found out I was expecting. As I made most of the money for the family, and money was much tighter, it was a concern. A few weeks after finding out I was expecting, I was laid off with only 6 weeks severance and no insurance. Now we were solely dependent upon Steve's salary. In 3 short years, we went from two people bringing home over 100K a year, to a family of 4-1/2 living off of about 1/3 of that. Talk about a quick lesson in humility.
Knowing I was unlikely to be hired while pregnant, I set about finding ways to help stretch the money coming in as far as possible and I was amazed at what I was capable of doing. Almost all of our clothes over the last few years have been free (from Freecylce or Craigslist) or I've bought at resale shops on their "sale" days. The only thing I've bought my son is diapers. His bed, clothing, toys, everything is second hand; and he couldn't be happier.
I've also became acquainted with bartering. When our microwave went out, I managed to barter for an extra one someone had. When our lawnmower broke, I managed to get us another one. I also found that a lot of the items my husband was removing from houses during his work were being sought by people on the lists I belonged to . . . so I started selling them instead of letting him throw them away. I found out about items I could recycle for cash or other items.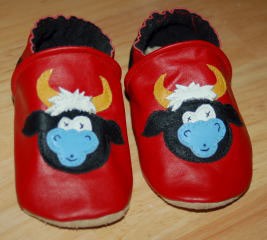 The really odd thing is that we have managed to pay all our bills and acclimate ourselves to this new way of life. By the time my son was born Steve and I decided it was better to continue to live this "frugal life" and let me stay home with my son than for him to be raised by others. As someone who has sewn off and on most of my life, I started taking in a little sewing here and there for some extra income once Will was old enough to have a set schedule. Not much, as I didn't want to infringe upon my time with my son. Everyone that would stop by the house would remark upon my son's shoes, which I made. On a whim, I put out an ad on Craigslist offering the pattern for sell and showing several pairs of my son's shoes. They were a hit.
So now not only do I have a frugal life, I have a small and frugal company of my own. I trace my patterns on free leftover newspaper ends I get from our local newspaper or copy them on a free copier I got off Craigslist on free paper that I swapped old ink cartridges for at Office Depot. Then I mail them off in FREE misprinted envelopes I get free from a local publishing house. If someone orders actual shoes, I make them from recycled leather I buy at resale shops on their sale days on a sewing machine that I bartered some clothing for with thread I received off of Freecycle. My business isn't big, because it isn't the most important thing in my life. It's more a byproduct of my frugal life.
mistymq from Buda, TX
Do you have a frugal story to share with the ThriftyFun community? Submit your essay here: http://www.thriftyfun.com/post_myfrugallife.ldml
Debra Frick
4

found this helpful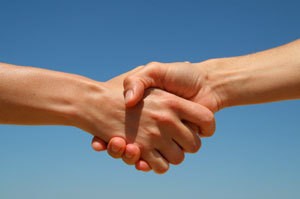 Well, all the economists are talking about recession and I don't really know what that big fancy word means. I do know with rising gas prices and with rising food prices that times are hard for all of us. I do know being a fan of history that bartering is something we should all think of again. Back in the olden days, people did not have a bunch of cash and what little cash they had needed to go for food and other necessities and not for luxury items. Nowadays, we live in a disposable society where we throw away good useable items everyday. Even during the Great Depression, our ancestors knew that bartering was a way to survive with little or no cash.
I have been working on this idea for a couple of months. Bartering will be the wave of the future if our economy continues on it's downhill slide. Cash is something that right now is on the short side and anyone who can should consider bartering for the things that they need. So when you do your spring cleaning, instead of pricing everything for a garage sale, why not think about bartering some of your un-wanted items instead of selling everything!
What is Bartering? Well, call it swapping or trading or bartering, it is all the same thing. The idea is that no cash is spent on any item. It is like when we traded baseball cards, you have Mickey Mantle, and I need him so I trade you one of what I have that you need. You can trade clothes or household appliances or services or those extra zucchinis that you know will flood your garden this summer. Swap your handmade items for other handmade items and you will have a small start on Christmas without having to spend a dime of your hard-earned cash. Trade plants from your garden for other plants. Trade left over 2x4's from your last project for a basketball hoop for the kids. You just might be surprised at the deals that you can make.
The trick to bartering is knowing what you have and it's worth and knowing what you need and it's worth. Now that can take a little research but if you enter into bartering with a little knowledge, bartering can be fun. Admit it, when you get something for something you no longer need, it can be very satisfying. Check out E-bay and the Internet for going prices for your unwanted items, your local library will also have books on collectibles. Remember, you need to put a monetary value based on real value not sentimental value.
Back in the 1970's here in Colorado Springs, we use to have a program on the radio called "Swap Shop" where callers could call in and tell the DJ what they had to swap and what they would like to swap for. No selling was allowed, it was swaps only. If you had something you wanted to give away, you could list that too.
Now with Freecycle, we have the same (sort of) thing but why not start your own swap shop between you and your friends. You don't know how many times in the course of everyday conversations have I heard "I need a vacuum" or "I need some yarn" or "I need a certain book" and it was something I had just donated or given up on Freecycle.
Now you can swap between friends and family or you could start a bartering club. To do that you could ask all your friends and family to invite their friends and their family to join. Once you get the ball rolling, you will be amazed at how many people will want to join. This could easily be accomplished by one person posting everything up for swaps in an email once a week with the email address of the person swapping it and let anyone who wants to swap contact that person. But I would have a few rules, like absolutely no selling, only swapping and no fighting. I mean spirited debate on the worth of something is good but, since this is friends, family and colleagues, you would not want friendships to end or there to be strained relationships.
Another good tip would be to maybe list a monetary value that the person sets himself so that another person would know approximately what they would need to swap to gain what the other person has. If it is right up front then there can be no arguing. Get everyone together if you can and discuss what kind of rules you want to have and what you would not want people to swap like the rules for Freecycle. Generally, they don't allow giving away of guns or drugs or other illegal things. Elect someone to do the emails and have fun with this. Give your group a silly name and be light hearted about it.
If you decide to swap services like housecleaning and babysitting, make sure that you have an upfront monetary value for your service so that swapping can be fair and equal. Swapping services can be harder than swapping real goods so you want to make sure you really know what the going price is for your service.
Really, bartering is no harder than negotiating with someone at a yard sale for a better price. You put out there the price you would like to pay and hope they will come back with an offer somewhere in between. It is the same thing with bartering. I hope this helps you to make the most of your unwanted items and that you make some great deals and most of all I wish you fun!
I got an email the other day about a quote I had made on a magazine site. It referred to bartering. I never really thought about it as it had been posted a few years ago. Now thinking back I can say, without a doubt, our lives were blessed in many ways from bartering.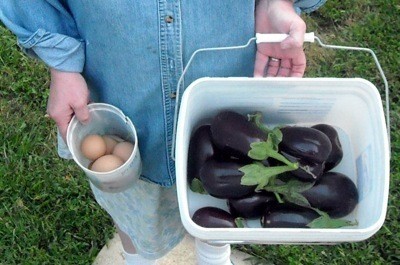 Read More...
February 2, 2006
1

found this helpful
Use the barter system with a friend. I have a friend that sews and I don't. She loves my homemade soup and bread. I love her sewing. So, we trade soup and bread for sewing talents. We end up both happy campers.
Read More...
I'm cleaning a club house for a fancy housing complex for just a little pay and full use of the amenities. This is saving a ton of money because this particular one I'm doing right now has swimming pool, pool table, movie theater room, tanning bed and a full gym.
Read More...
Always consider the advantages of informal "bartering". I have sung for my brunch at a local bistro, and played in exchange for use of an instrument or for a set of strings.
Read More...
My husband and I save hundreds of dollars every year by bartering. We farm, and have quite a few wooded acres. Several years ago, a tornado came through and took out a lot of trees and more large limbs.
Read More...
Many of the things I have (or have had) in my adult life I have traded my skills in exchange for. I have cleaned in trade for (to name a few): my sectional couch, Queen size box springs and mattress, bedding, outfits, and many odds and ends.
Read More...
Questions
Ask a QuestionHere are the questions asked by community members. Read on to see the answers provided by the ThriftyFun community or ask a new question.
I would love anything for household supplies. I am looking for a swap or barter group in Westchester County, New York. I can't find a group anywhere. Could you help? Thanks.
Answers
January 3, 2018
0

found this helpful
Best Answer
Look for a Freecycle group in your area, or start one.
January 3, 2018
0

found this helpful
Best Answer
Join your local Nextdoor.com and post that you'd like to start one. It's a great site for that.
January 4, 2018
1

found this helpful
Best Answer
Swap or barter group.
Step 1
Advertise on kijjijji to start your own group.
January 5, 2018
0

found this helpful
Best Answer
You can create a Facebook Group.
Answer

this Question

...
Related Content