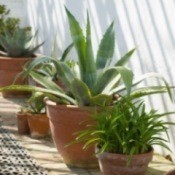 We usually think that growing succulents like cacti, yuccas, and agaves is reserved for gardeners living in the desert. Not so. The truth is, many species are fairly well adapted to growing outdoors-even in cooler conditions. Even if you live in the coldest of zones, succulents can be grown in pots and moved indoors for the winter.
General Growing Tips:
Sun: Although a common misconception, not all species of succulents prefer full sun. Over exposure can result in sunburn (bleached or blackened areas on the side of the plant exposed to the sun), so check the individual growing requirements before planting.
Soil: Because succulents require light, well-drained soils, growing them in containers or raised beds works best. Plant them in sandy or gravelly loam soil, or use a 50:50 ratio of high-quality soil mixed with sand and crushed granite.
Water: Less is usually more. Succulents will appreciate a small amount of additional water during periods of prolonged summer drought, especially when temperatures start to soar over 90 F. As one would expect, plants growing in containers will require more water than those planted in the ground. Yuccas and agaves require little water-cacti even less. None require water in the winter.
Fertilizer: Succulents tend to grow slowly and don't need much (if any) fertilizer. A modest application of balanced fertilizer once in the early spring is plenty. Do not apply fertilizer in the winter.
Cacti
All cacti are succulents, but not all succulents are cacti. Over millions of years of evolution, these familiar plants have developed the ability to survive extremely well in an arid climate-their leaves have been reduced to spines, and their stems have been modified to take on the role of photosynthesis and store water. Cacti come in a variety of shapes and sizes, and under the right conditions, produce showy annual flowers ranging from pink, yellow, red, orange, and occasionally purple or white depending on the species.
Although typically thought of as a plant reserved for warm, arid climates, some native species grow as far north as Canada-even the Arctic Circle! If you live in a cooler zone, consider experimenting with more cold-hardy varieties like fire barrel (Ferocactus acanthodes), hedgehog (Echinocereus engelmannii), or grizzly bear prickly pear (Opuntia erinacea).
To avoid sunburn when transplanting cacti, make sure you position them so they are orientated in the same direction they were originally planted (south and southwest sides facing the sun). The sides of the plant previously facing the sun will have become toughened up and resistant to sunburn and scarring.Cacti have shallow root systems. To reduce the risk of causing damage to them, avoid disturbing the soil around the base the plants.
The thick, waxy stems of cacti are designed to minimize moisture loss, and over-watering them is a common mistake. It's okay to drench the soil each time you water, just let it dry out completely between watering (at least a week or more).
Ice is deadly-even to cold hardy cacti that can survive in deep snow. Cacti grown outdoors will need to be covered before a freezing rains begins. Of course the easiest way to meet their needs is to grow them in containers and move them to ideal locations as the seasons change.
Agave
These large ornamental succulents typically have large rosettes of thick fleshy leaves and depending on the species, may have numerous spines on the tips or margins of the leaves, or no spines at all. Agaves are not cousins to cacti, but are actually closely related to aloe plants. The dramatic, architectural appearance of the agave's leaves makes them popular landscaping plants.
If you're holding out for flowers however, patience will be a necessary virtue. Many varieties take anywhere from 10-50 years before sending up a mast full of short, tubular blossoms. This colorful finale usually appears in the plant's "final" season. Most varieties die immediately after flowering, although many will produce offsets from their base, which eventually develop into replacement plants.
Most agaves are only hardy to 40 F. In colder zones, grow them in pots outdoors and relocate them to the basement for the winter. Applying extra fertilizer will not help speed up flowering and may only end up damaging the plant. Plant varieties with spine-tipped leaves under ground-level windows can help to discourage would-be thieves. Agaves are naturally resistant to fire. In fire-prone areas, plant them around the perimeter of your property as an added layer of fire protection.
Yucca
Unlike agaves, yucca plants will bloom year after year without dying. With its sword-shaped leaves and tall panicles of creamy white flowers, this low-maintenance plant can handle large swings in temperature (some species are hardy to 0 F) and less-than-ideal soil conditions. The diversity of forms and sizes available also offers gardeners lots of choices when it comes to using yuccas in the landscape. For example, some varieties, such the Joshua tree and soaptree yucca, develop thick, woody stems and resemble small, scruffy trees when fully mature. Others, like the spoonleaf and flaccid leaf yucca, remain "trunk-less" and low to the ground.
Be careful not to under or over water young plants. Once established, plants are very drought tolerant and should be watered sparingly-only once every two weeks, unless faced with an extended heat wave with temperatures over 85 F.As leaves mature, it's normal for them to die back and turn brown. It may take a long time, but eventually the leaves will fall off on their own. If the plant looks unsightly in the meantime, use a sheers to cut off the leaves and keep it looking tidy. Yucca plants are light feeders. A one-time application of fertilizer in the spring should be sufficient for the year.